Doc Taylor's Restaurant and Ben & Jerry's, Virginia Beach, Virginia
There are dozens of eateries, restaurants, pizzerias, sandwich shops, and more along Atlantic and Pacific avenues in Virginia Beach, just steps from the Boardwalk. One of those is Doc Taylor's Restaurant, which bills itself as a breakfast and lunch operation. A day at the beach also calls for ice cream, which might mean a visit to Ben & Jerry's.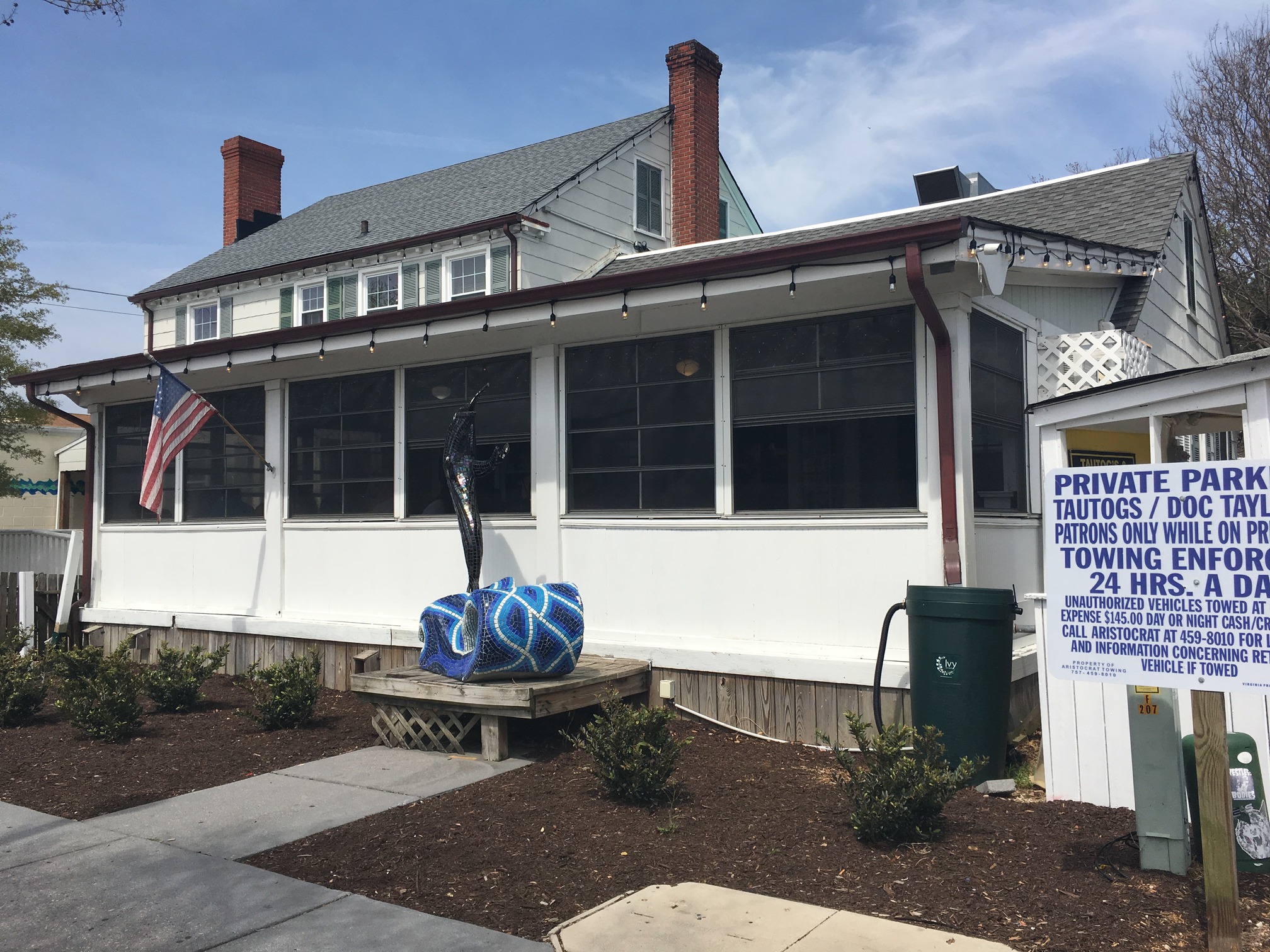 Doc Taylor's Restaurant, with its breakfast and lunch plates, is located at 207 23rd Street, Virginia Beach, Virginia 23451. Doc's is open year-round from 7 am to 3 pm. Next door is Doc Taylor's Seaside Market Lounge, which is a weekend nighttime music venue. On the other side is Tautog's, an upscale seafood dinner place. This webpage will focus on Doc Taylor's Restaurant, as this establishment is a great informal early to mid-day eatery.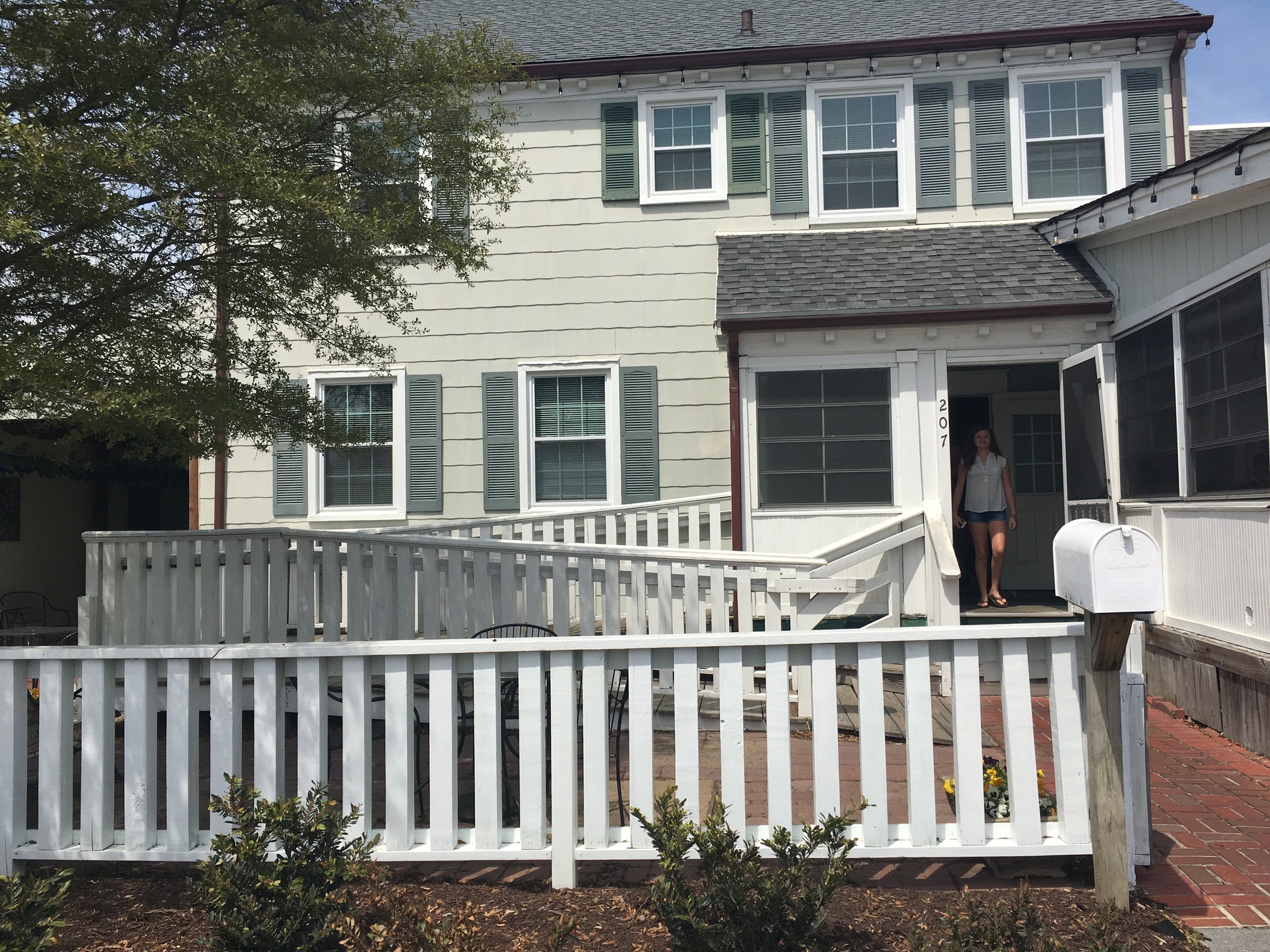 Doc Taylor's is named after the doctor who owned this former beach house and office in 1939; Dr. Waller Taylor Sr. This restaurant is located at 23rd Street between Atlantic and Pacific avenues. There is outdoor eating space, which today—April 12th, 2017—is not being utilized. On Friday, April 14th, this entire area was jam-packed at lunch.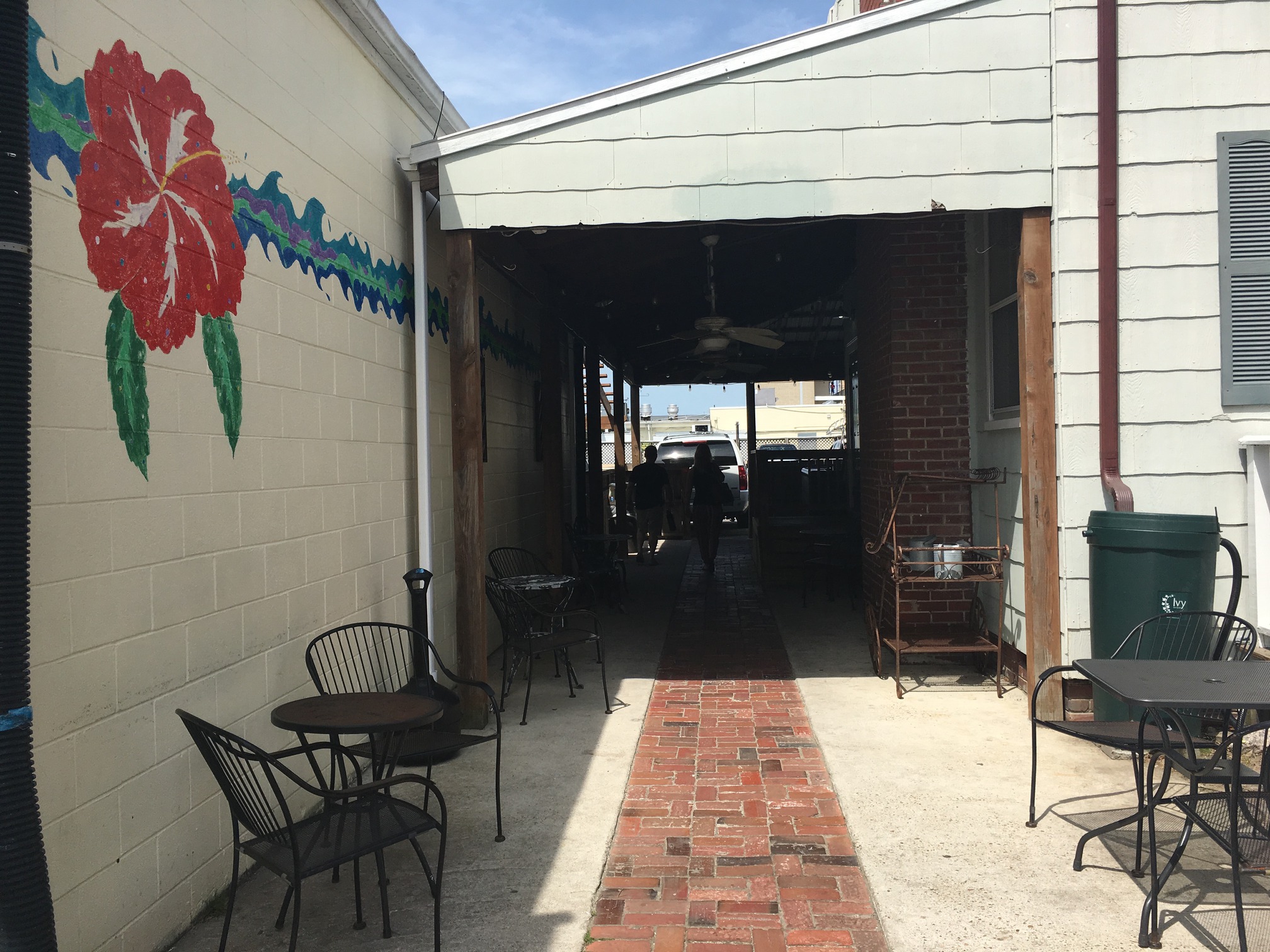 Additional tables for Doc Taylor's Restaurant are right here . . . just to the left of the flowered wall is Doc Taylor's Seaside Market Lounge, which is a weekend music venue. It's closed most weekdays, and opens around 8 pm with bands taking the stage around 9:15. The Lounge address is 209 23rd Street, Virginia Beach. It's at the corner of 23rd and Pacific Avenue.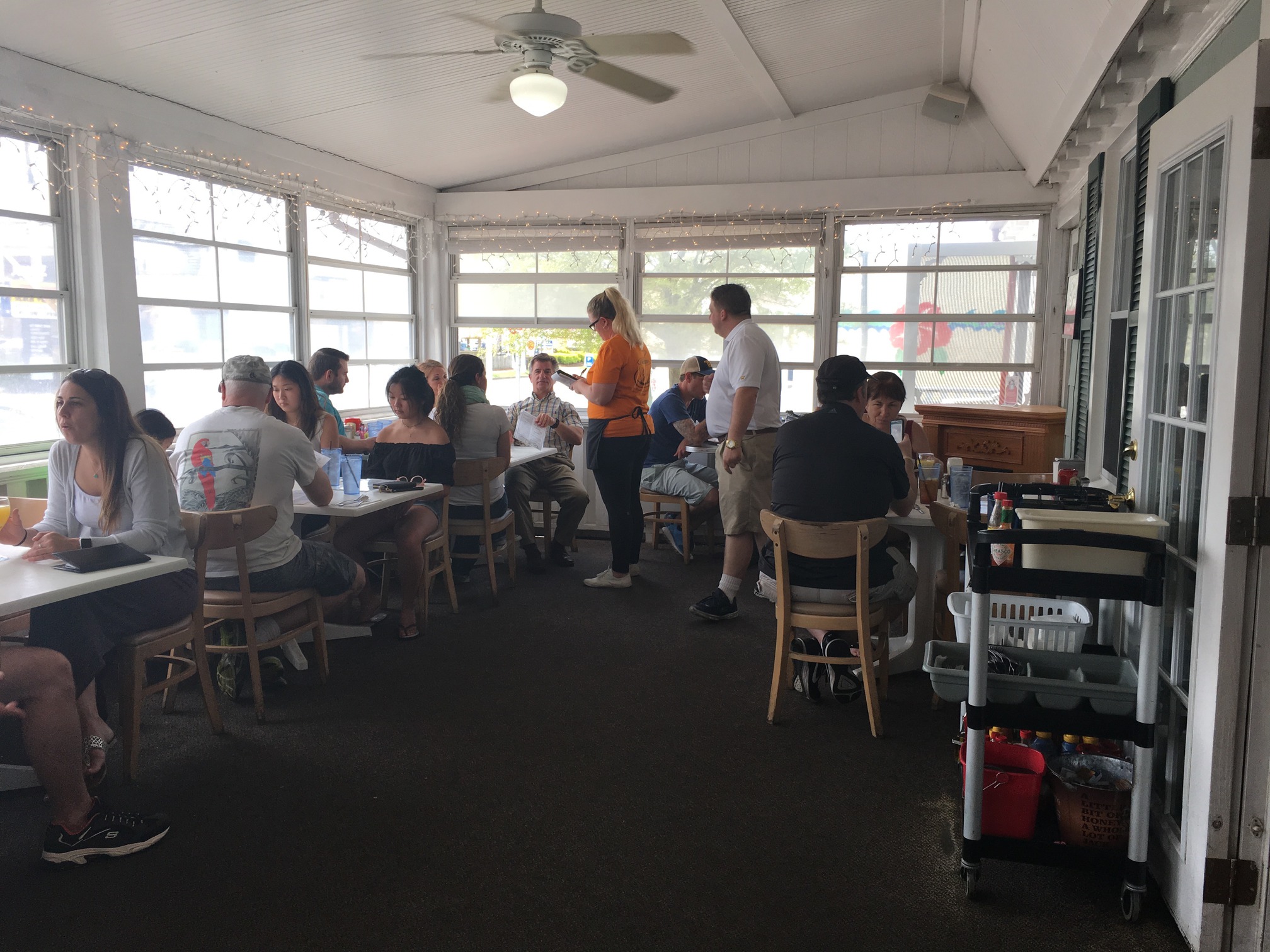 The screened-in porch is a fun place to dine, especially on a warm sunny day. This image was taken at 12:19 pm on the Wednesday before Easter 2017. There was no wait for a table for four here. Now, when returning two days later on Good Friday, there was a 45-minute wait upon arriving at 11:45 am. Every seat, even outdoors, was full.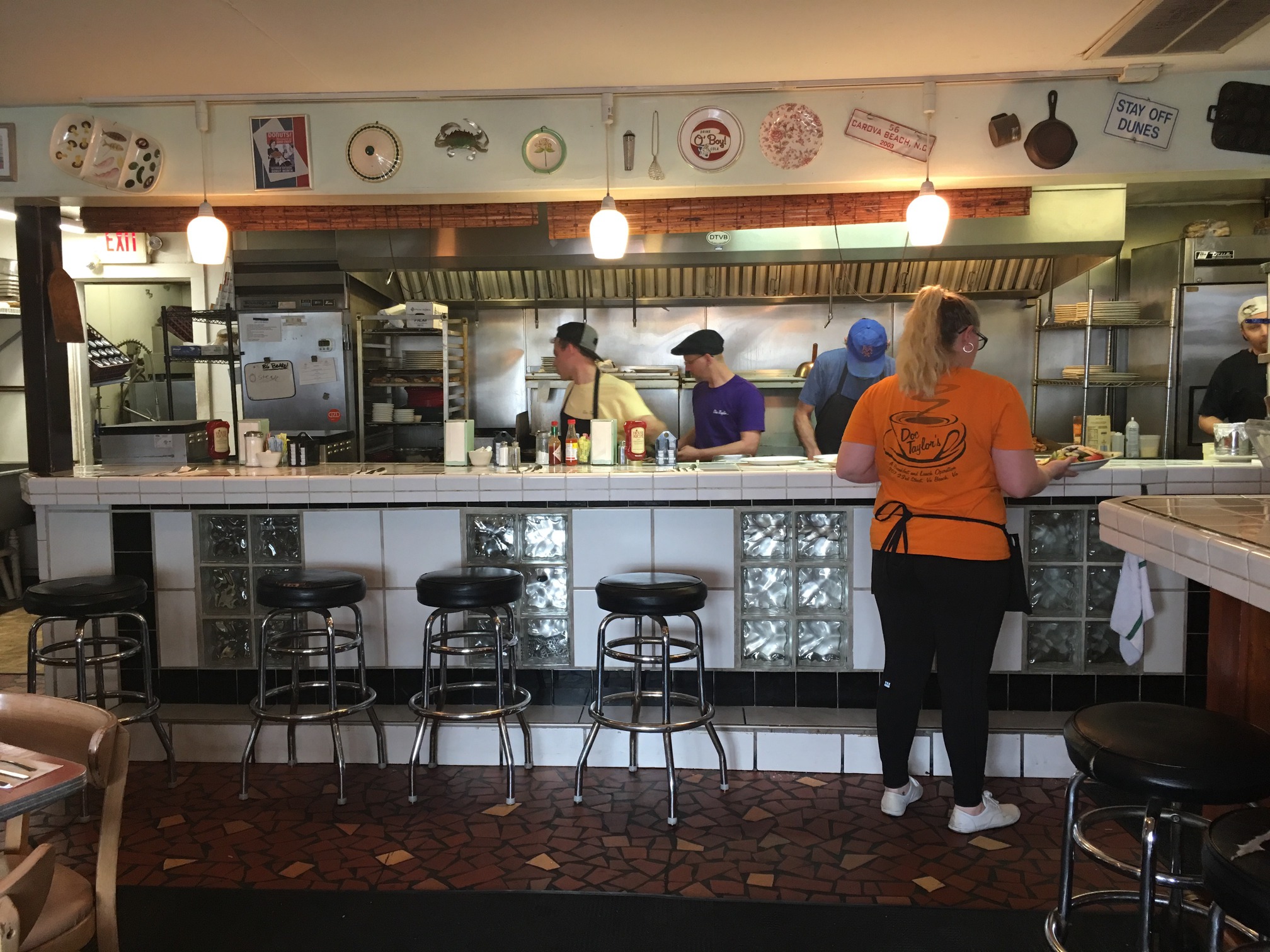 According to the locals, the seats at the bar are prime spots on weekends. Breakfast items are: Corpsman Ken's Ham & Cheese, Scotty's Biscuits & Gravy, Dr. Diane's Healthy Fix, The Heart Attack, The Beach Bum, a.k.a. The Riley Gomez, and The Nurse Ratchet. Breakfast is always served here: "The Doc Taylor" breakfast is a fried egg, bacon, cheese & grilled parmesan tomatoes on an onion roll served with grilled potatoes at $7.95.

The dining room area of Doc Taylor's is quite comfortable. The lunch menu, served during all open hours, has items like these: Dr. Ramon Redford's Spinach Salad, The Candy Striper (grilled pesto chicken breast), Dr. Venner's BLT, The Rony-Rony Catfish Po-Boy, and the Turkey Rueben. These items run $6 to $10. A menu is posted outside.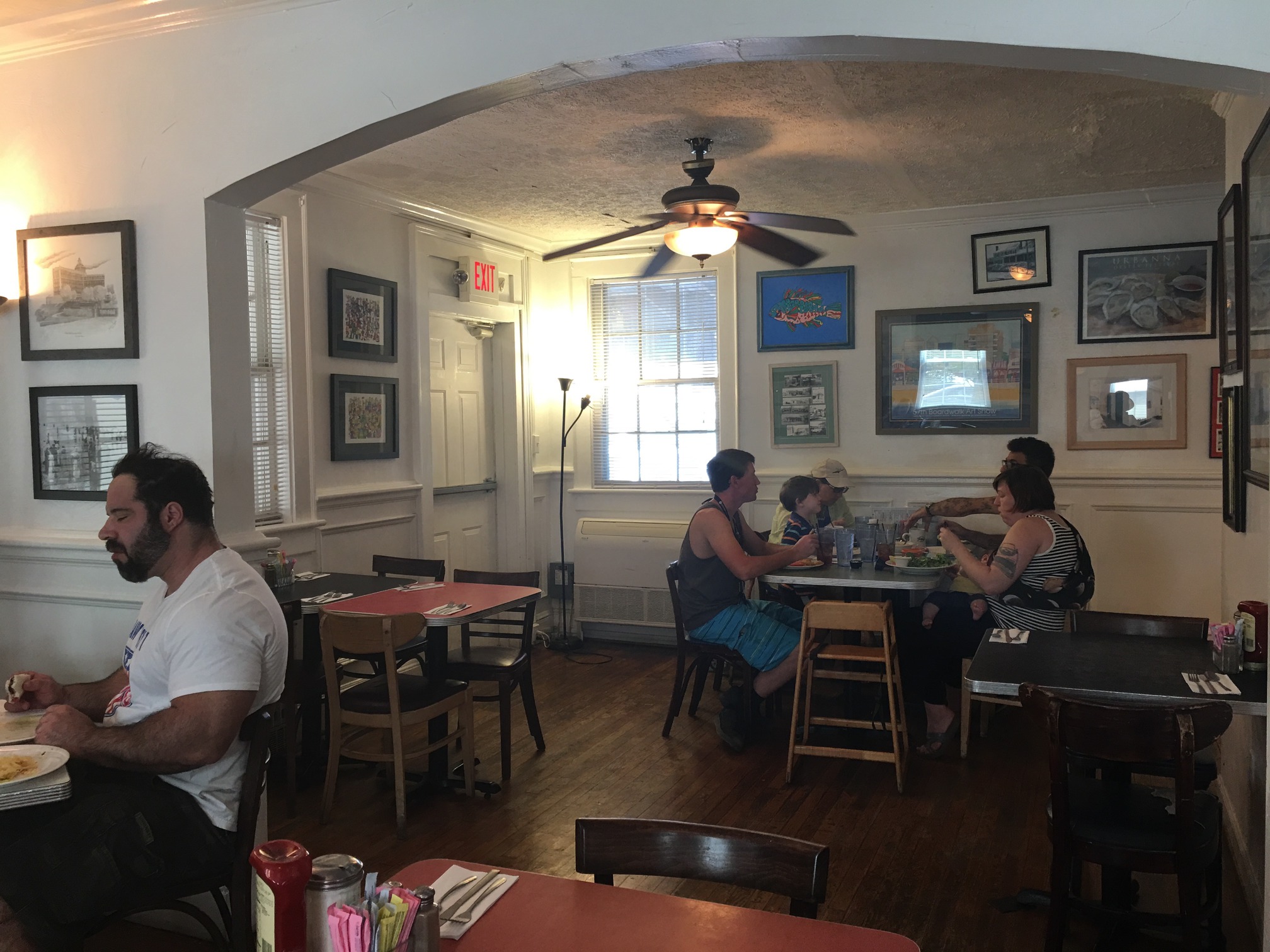 The alcove at Doc's is really cozy. The food comes fairly quickly at Doc's, with our salads hitting the table after about 15 minutes and then our lunches five minutes after that. Our total bill, including tax and tip, was $111.00. That was for two beverages, four salads, four lunch plates, and three brownies a la mode.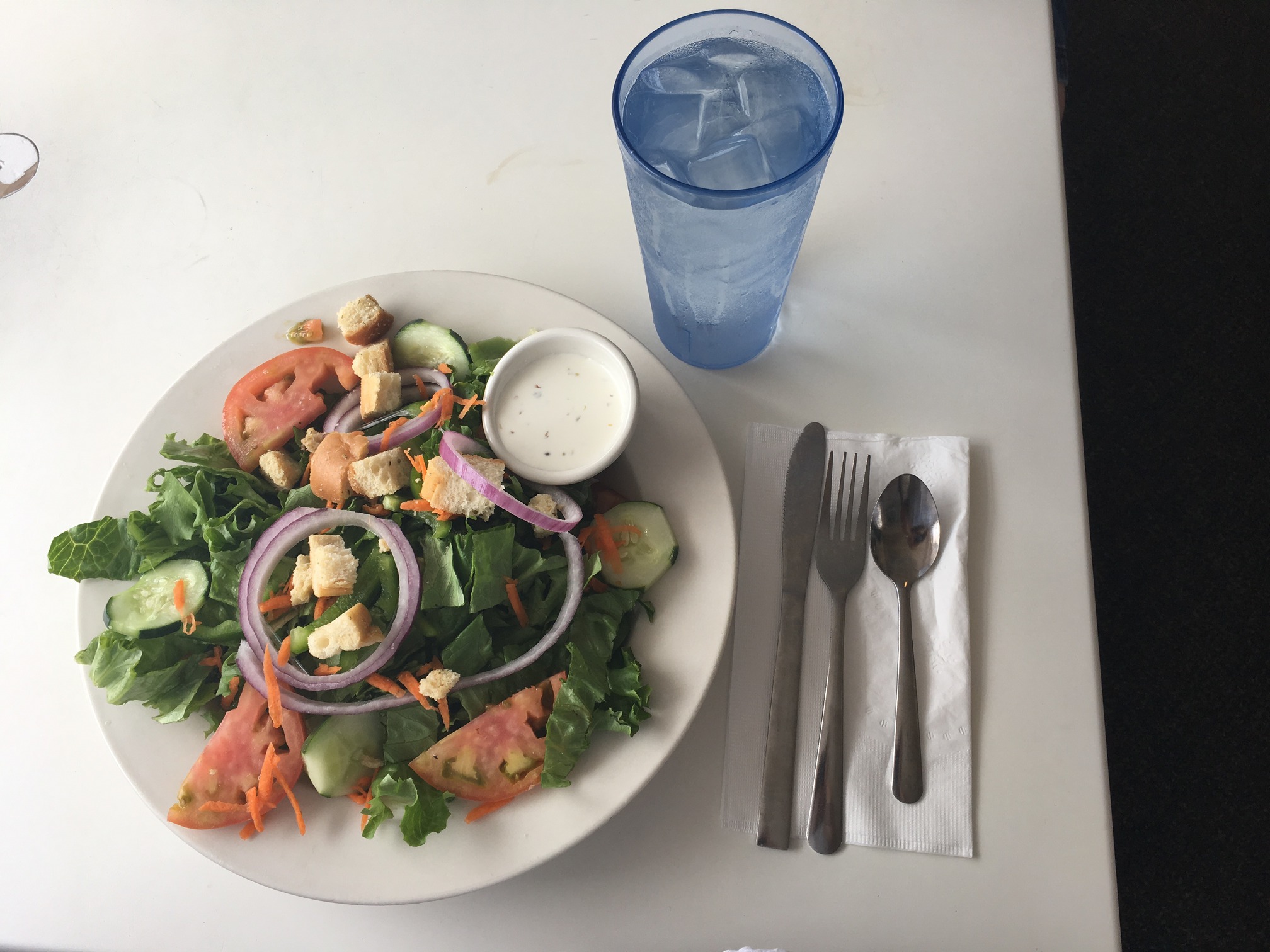 The house salad at Doc's is $5.95. The waitress didn't charge us for an extra cup of dressing. Dressings include house gorgonzola, thousand island, ranch, oil & vinegar, Caesar, Greek vinaigrette, and poppy seed vinaigrette. (This salad has a cup of house gorgonzola, which was tasty.) The croutons are homemade and taste like it.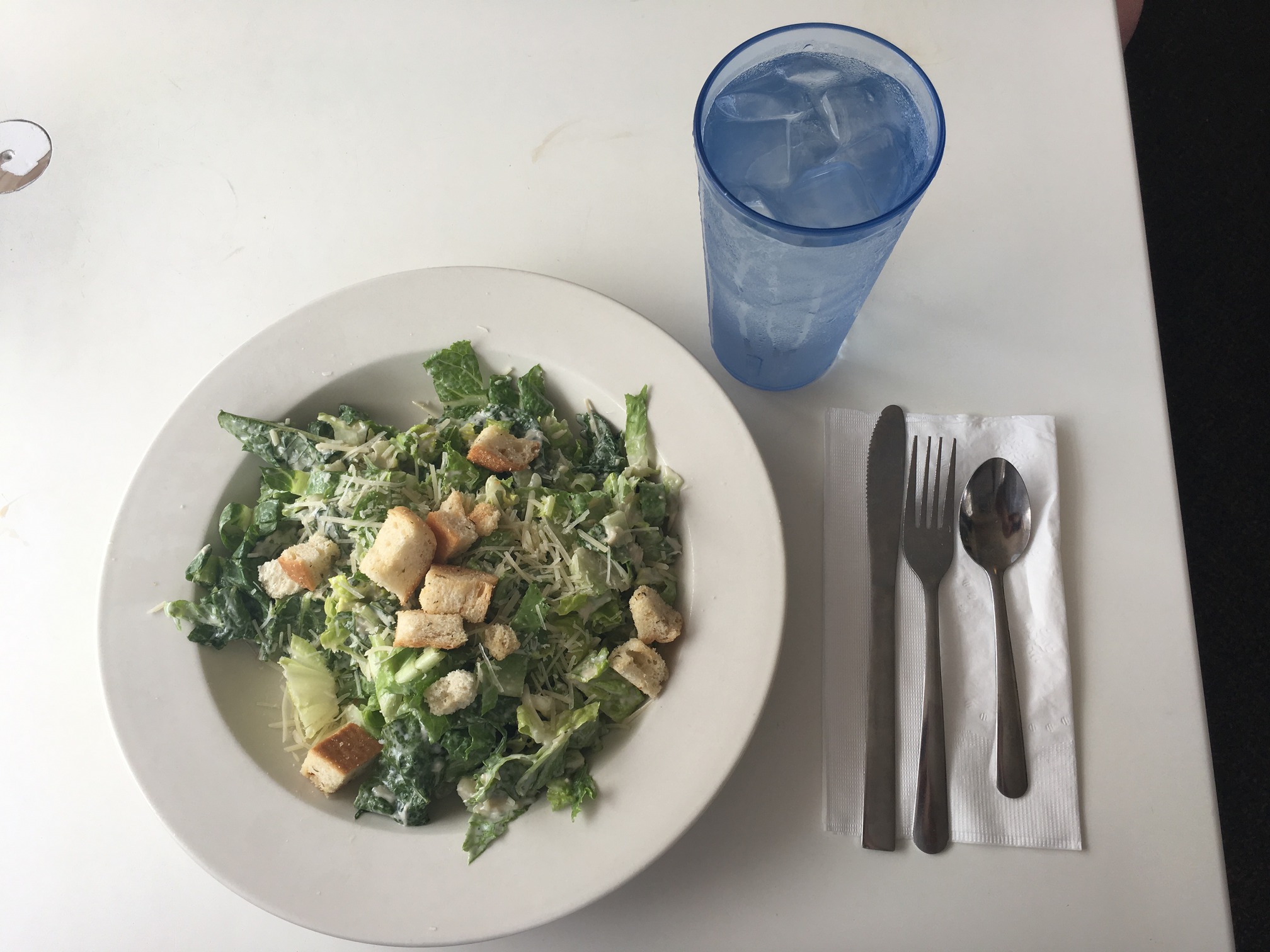 This is the Classic Sid Caesar salad at $7.75. The dressing is said to be "robust," according to the menu, and it was delicious. If desired, the menu states that chicken can be added to a salad for $3.75. There are additional types of salads as well: a spinach salad, a Greek salad, and a Cobb salad.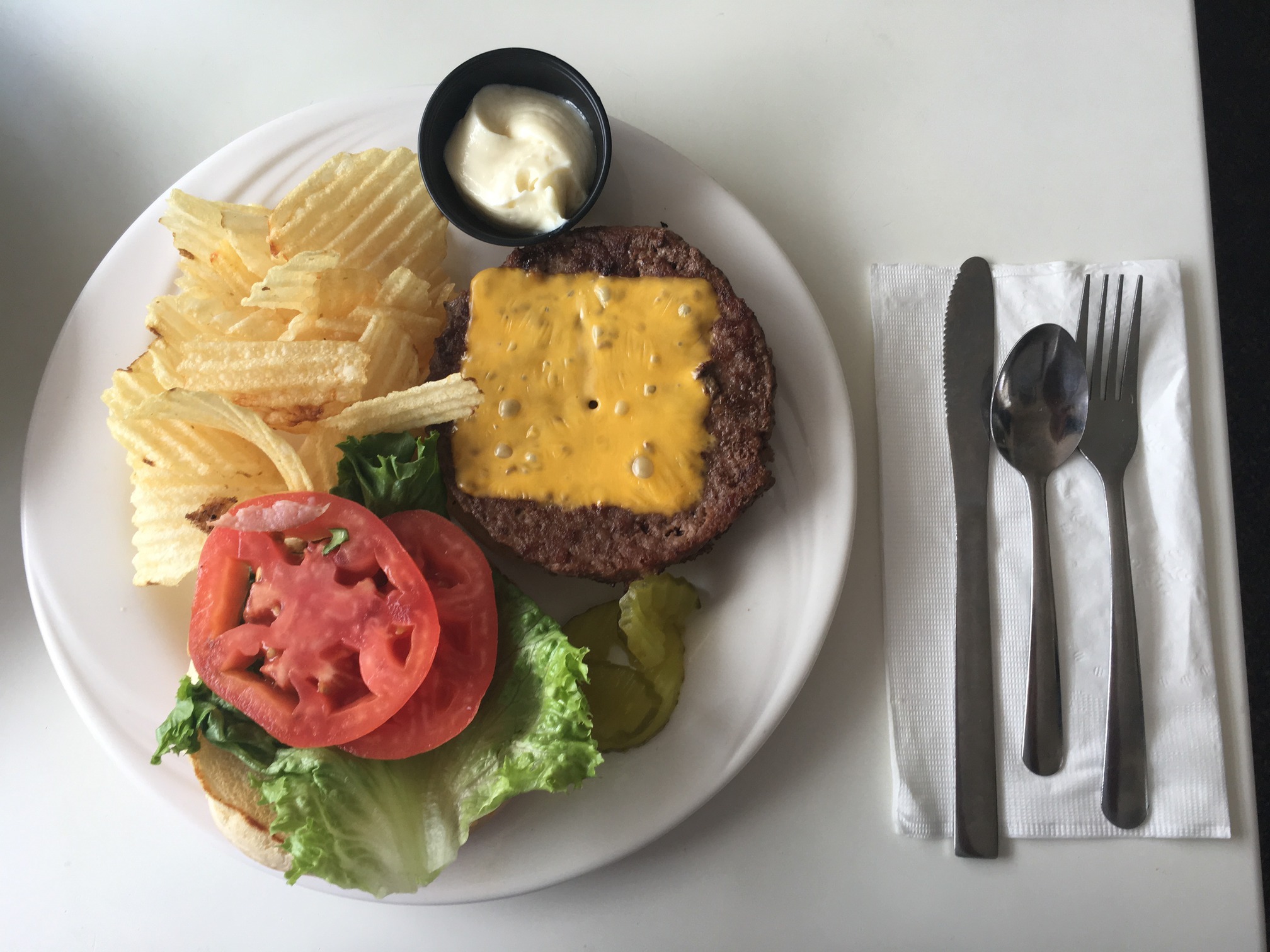 The Spencer Edmonds All-American Burger at $7.95 comes with chips, a few pickle slivers, and lettuce & tomato. Adding a slice of cheese is $0.35. Substituting French fries for the chips is $1.50, and subbing onion rings is $2.75. According to the menu, the patty is Hereford Chuck. The burger was tasty. (Note: there is a tiny piece of ham glued to the tomato. Ugh.)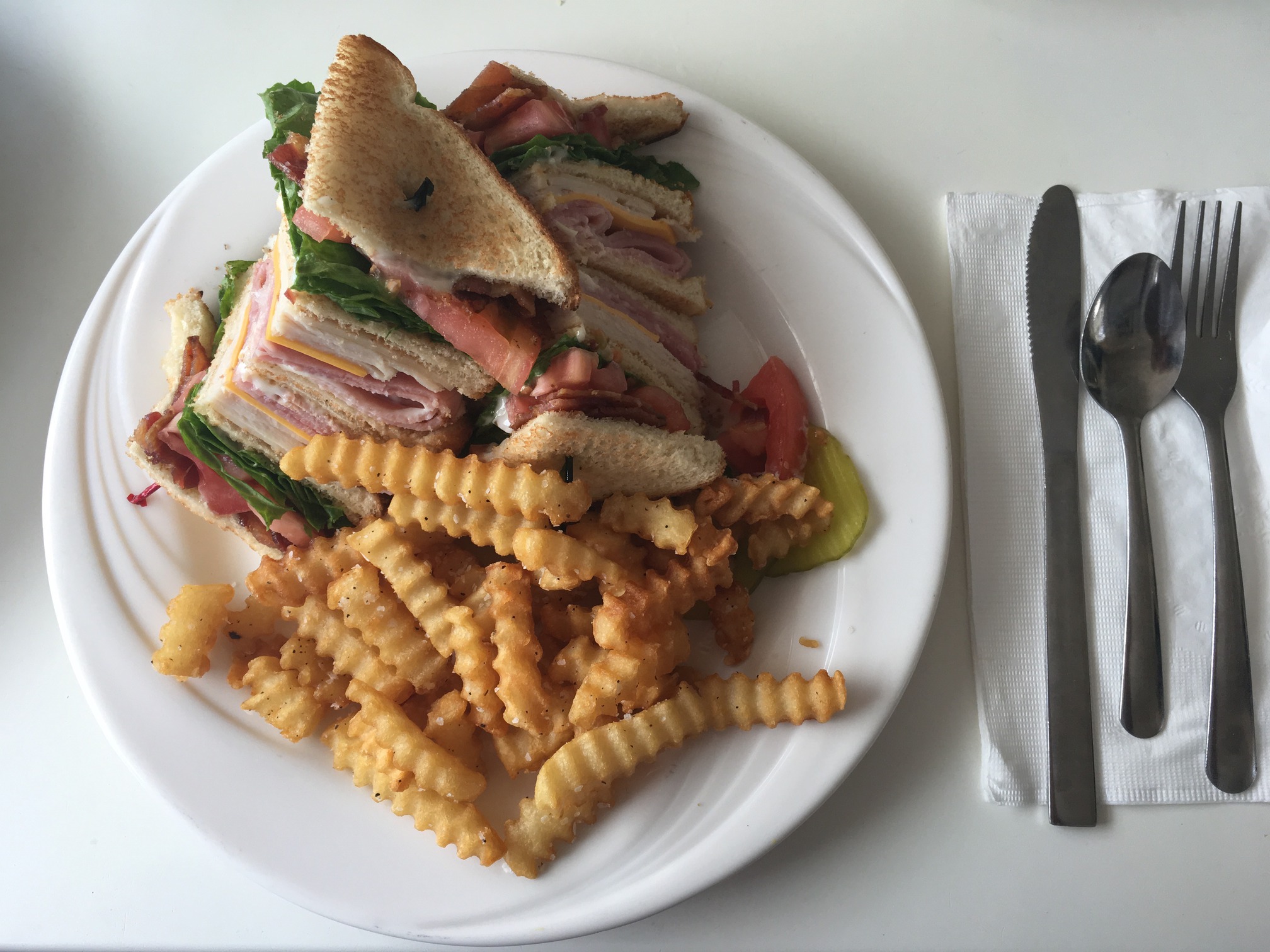 The 36th Street Club was really filling: turkey, ham, bacon, lettuce, tomato, American and Swiss cheese, and mayonnaise, with a substitution of chips for fries. The sandwich with chips is $8.95.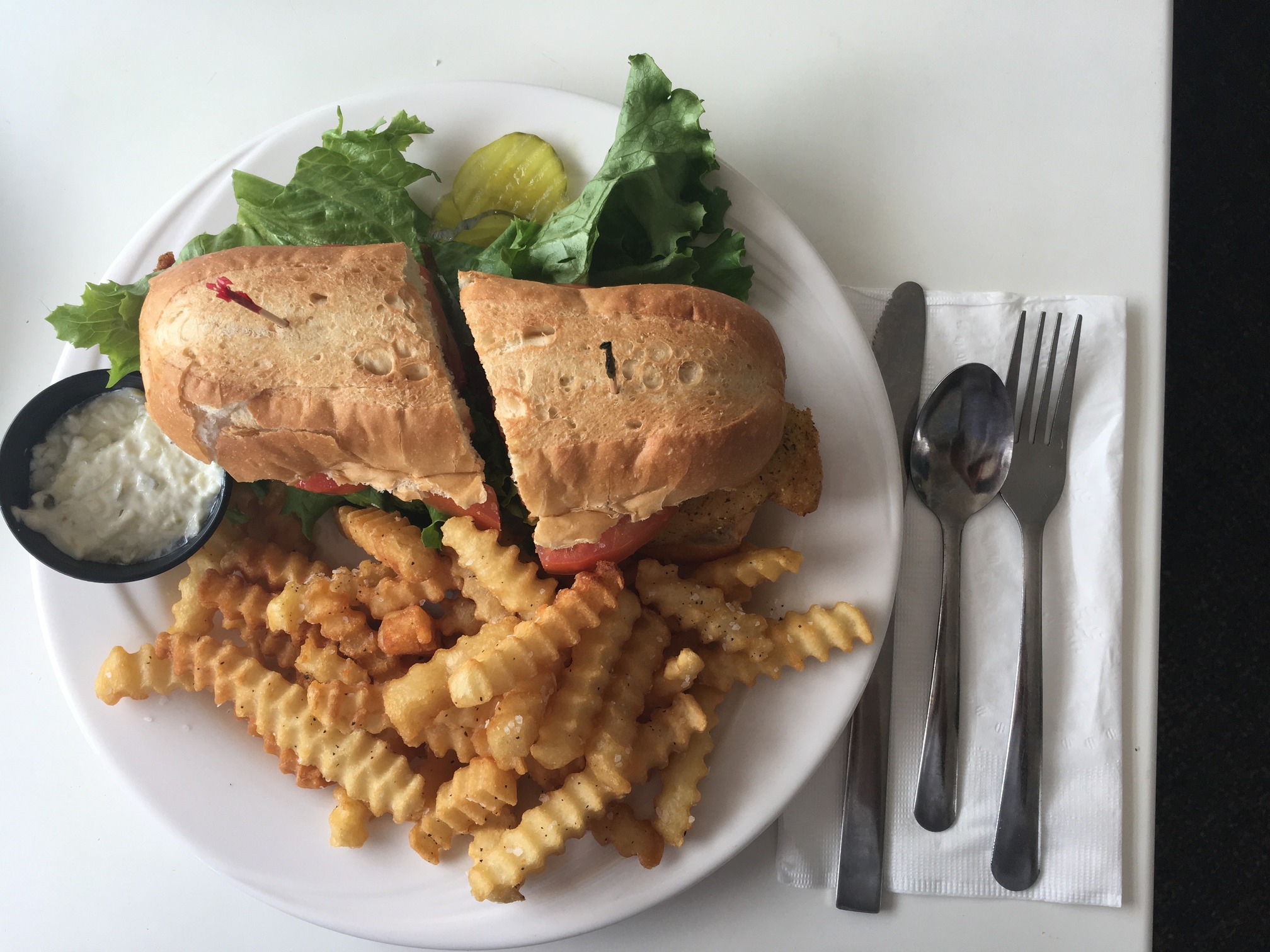 The Rony-Rony Catfish Po-Boy is $8.95, with added French fries for $1.50. Here is the description: Crispy fried catfish on a sub roll with lettuce, tomato, & granny smith apple tartar sauce. A lot of the dishes at Doc Taylor's are named after longtime customers or famous folks in town.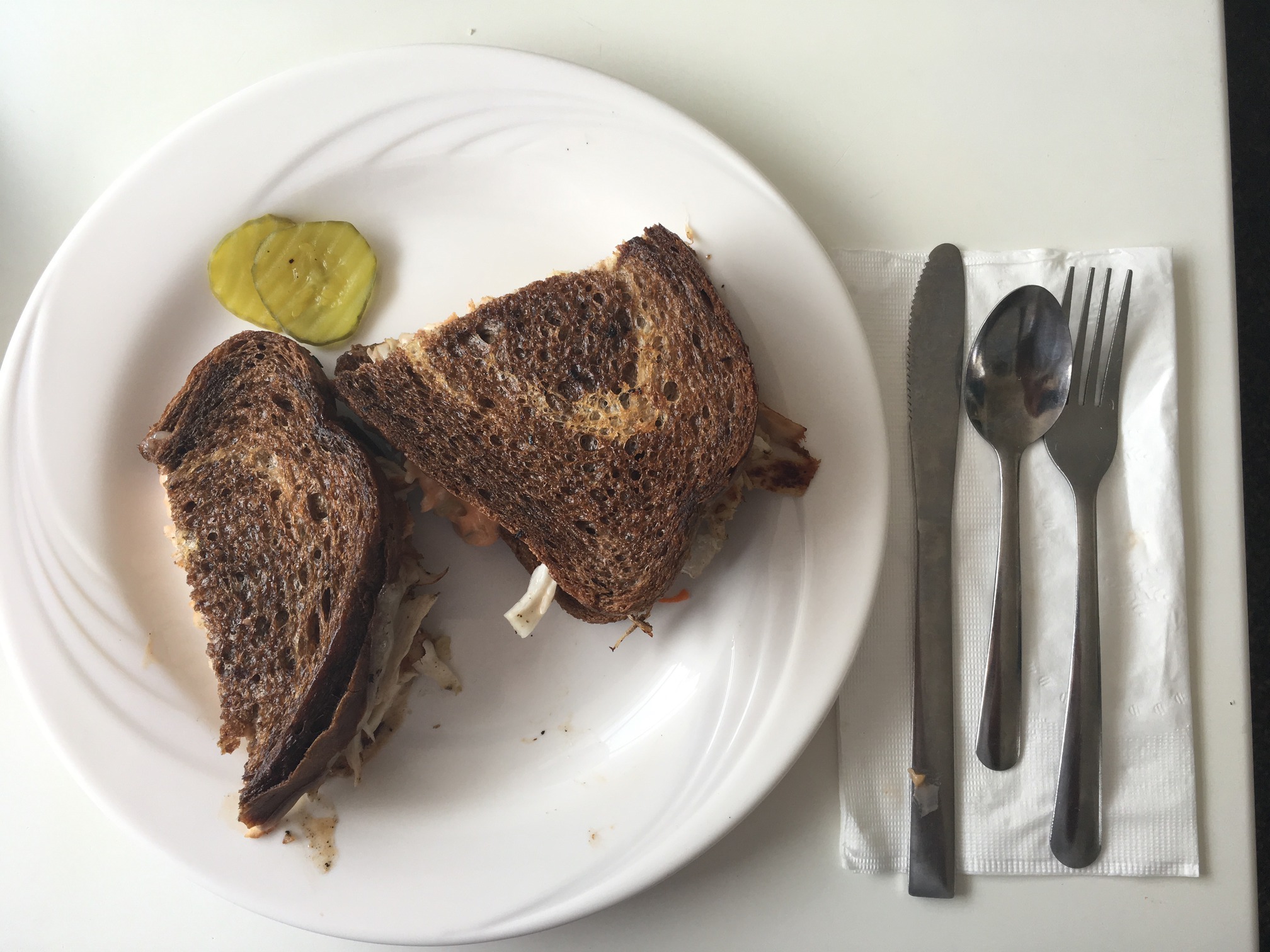 The waitress didn't bat an eye when asked to leave off the chips from this plate, the Turkey Rueben at $8.95. The pickle slivers, on each of the lunch plates ordered at this meal, were a bit of a downer. A price of $8-$10 for a sandwich calls for a pickle spear, or e ven a whole pickle, and not just two thin sliver-chips.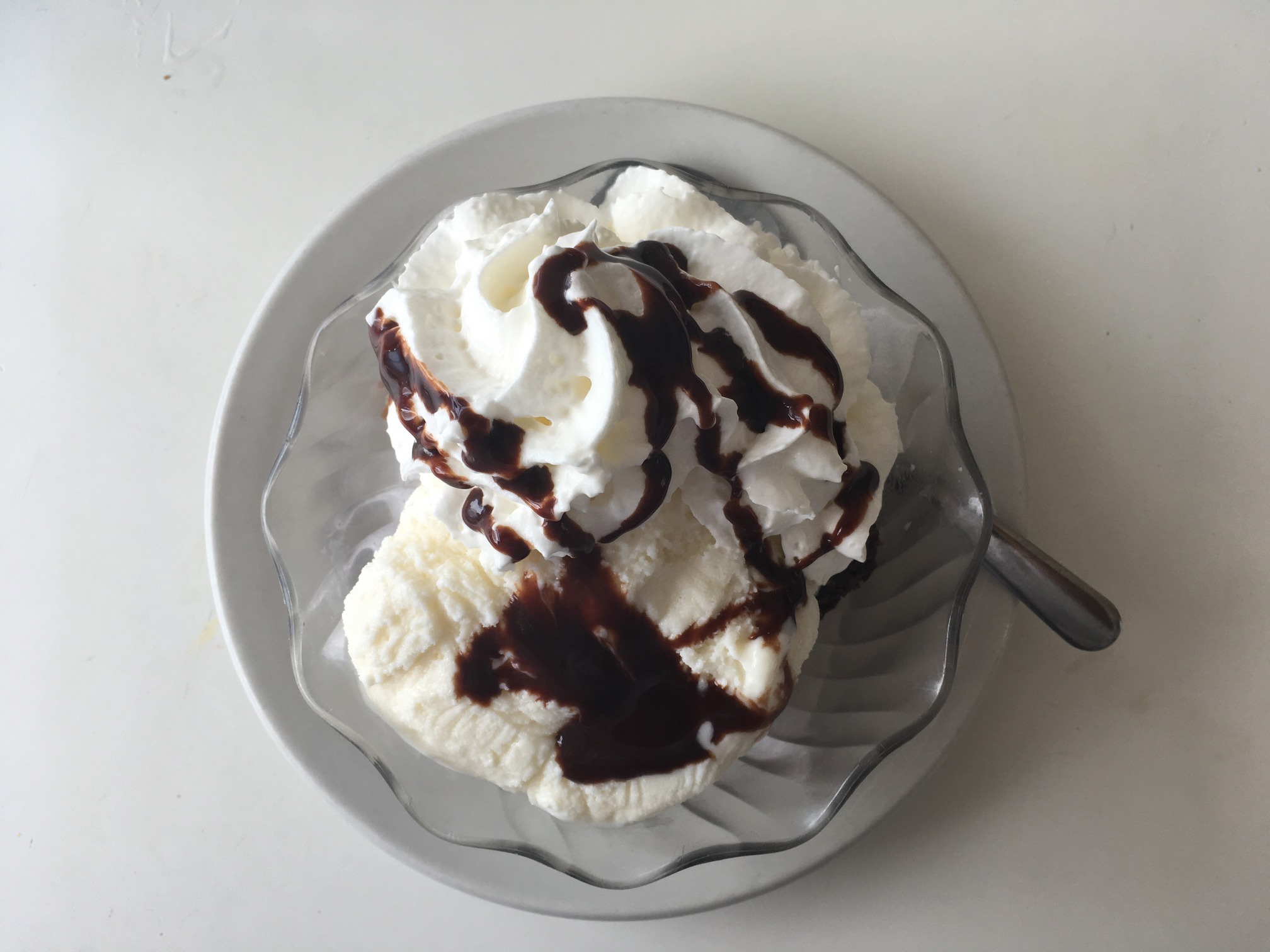 There isn't a whole lot in the way of dessert at Doc Taylor's—but the brownie a la mode was good. It consisted of a warm brownie topped with whipped topping, scoop ice cream, and a little chocolate sauce. It was $3.75 for the brownie and $1.75 for a la mode. According to the menu, it states, ask server for the day's selections. The food and dessert were $84.60, with $9.24 for city and state tax. A tip was added as well.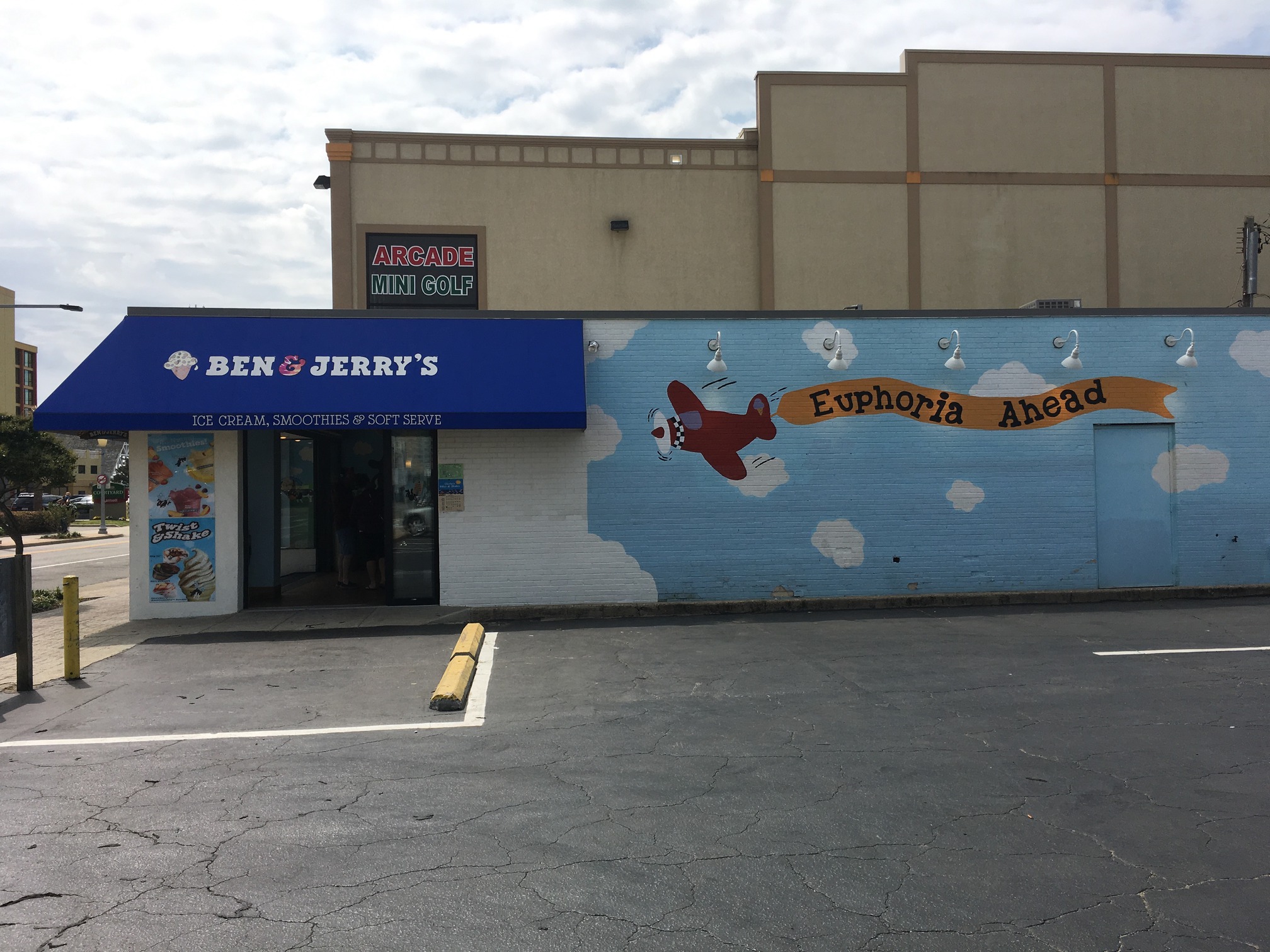 There are two Ben & Jerry's ice cream locations on the tourist section of Virginia Beach. On April 13th, 2017, at about 2 pm on the Thursday before Easter, a visit was paid to the 26th Street & Atlantic Avenue location for four waffle cones with scoop ice cream. (There is another, somewhat larger Ben & Jerry's in the more upscale area at 33rd Street and Atlantic Avenue.)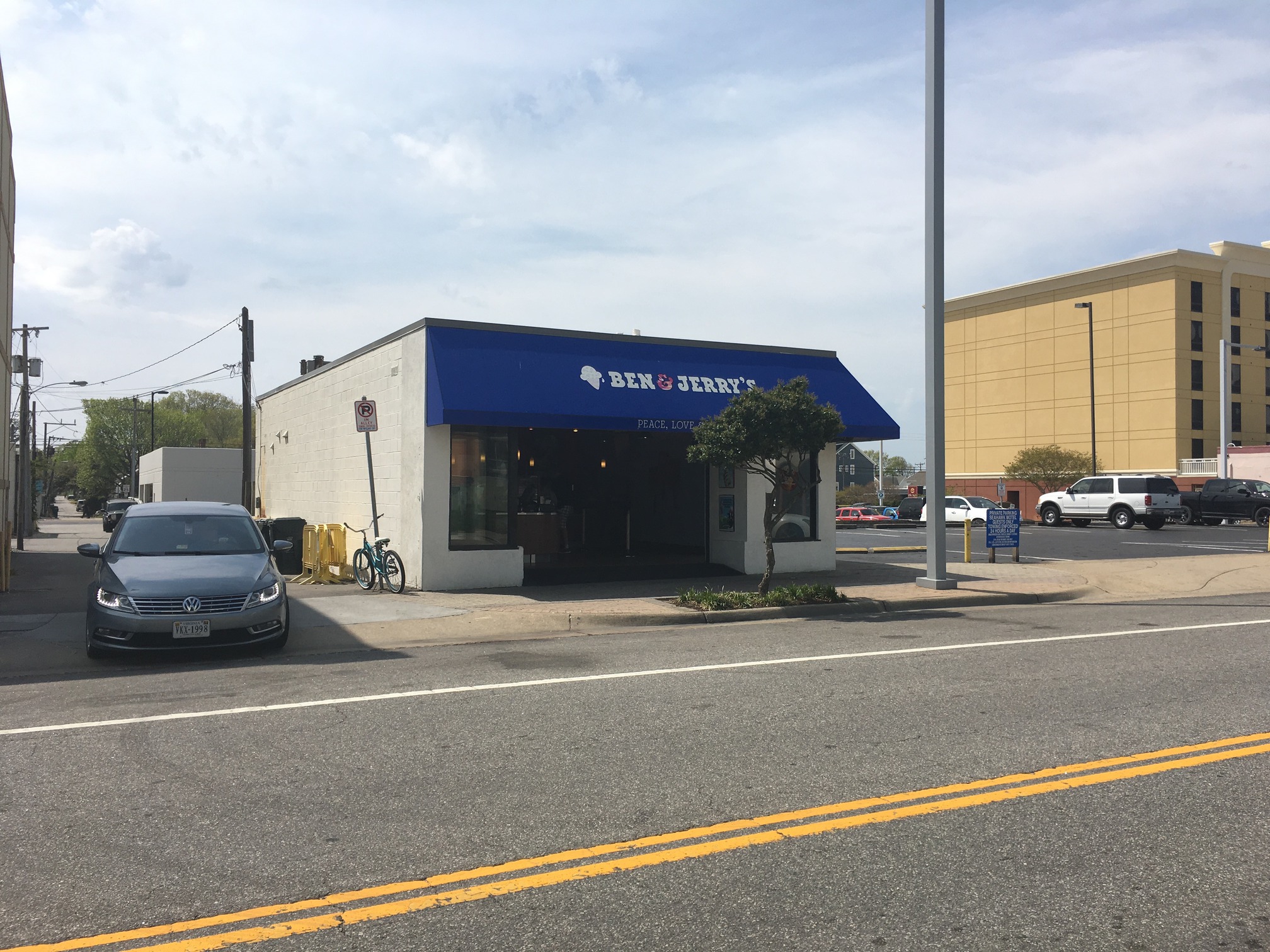 This Ben & Jerry's location is rather small and doesn't have tables and chairs to sit and eat. Also, the soft serve was unavailable at the time of the visit. One interesting thing about this location is the Naval Aviation Monument Park located at 25th Street and Atlantic Avenue, next to the Courtyard by Marriott. The Norwegian Lady memorial is also there. Both of those are worth the time spent.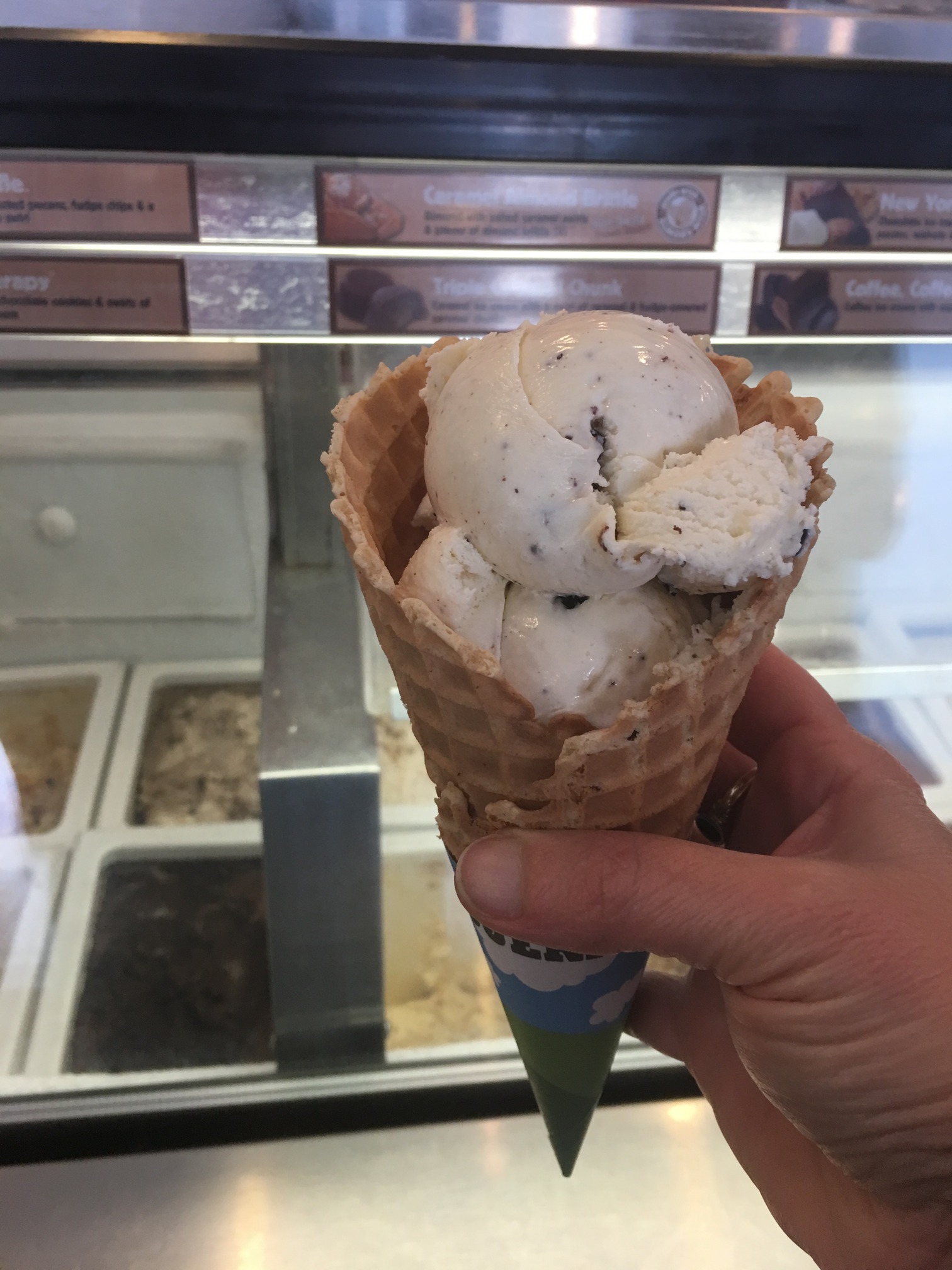 This is a waffle cone with mint chocolate chip ice cream. This size cone is $4.99, and add $1.25 for a waffle cone. (I had wanted soft serve, but it was not available; the Sweet Frog at 2810 Atlantic Avenue had delicious chocolate soft serve ice cream in addition to their fro-yo.)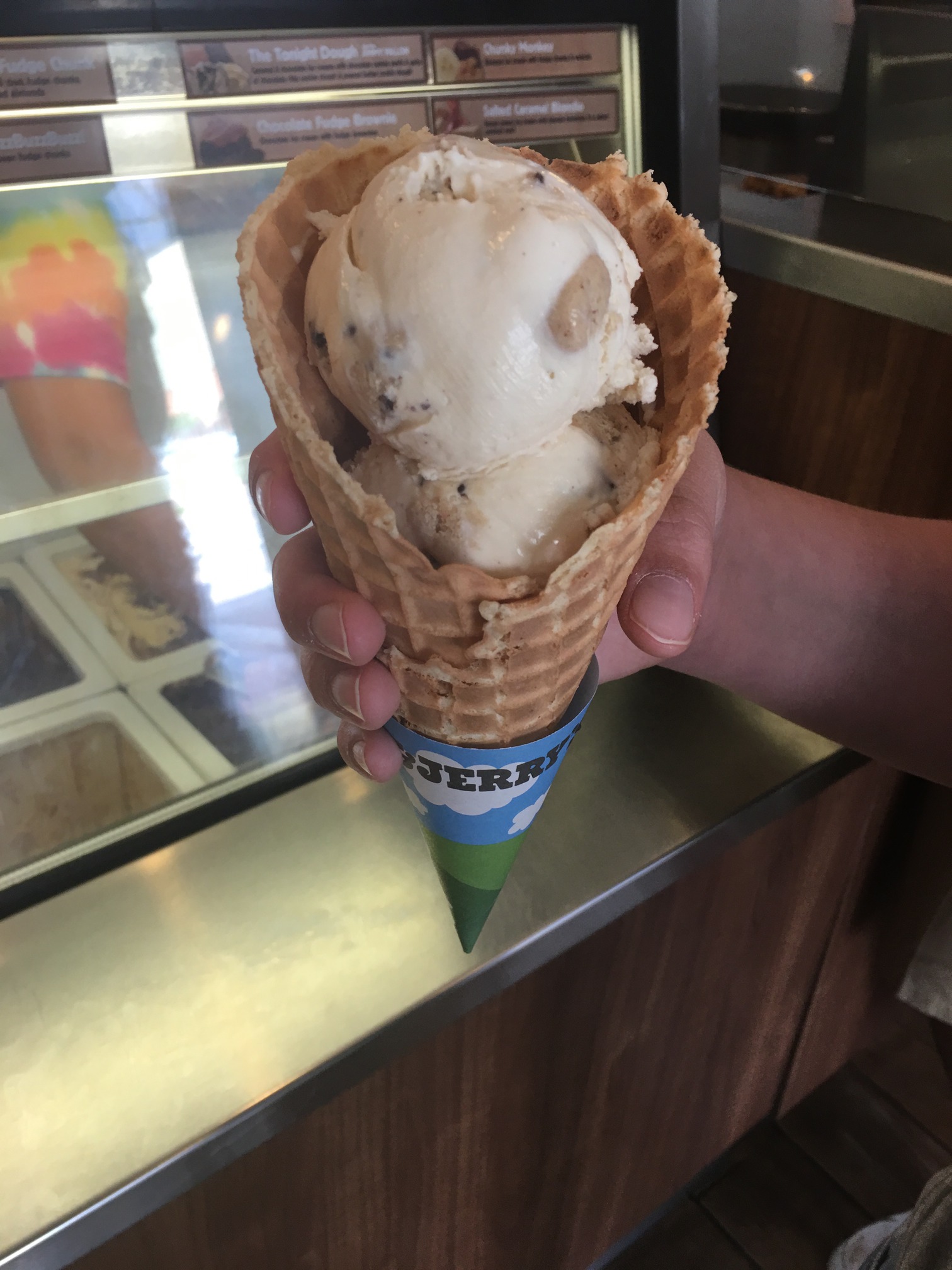 This is the cookie dough ice cream. All ice creams were delicious. That said, I still prefer the premium ice creams of Cincinnati, which are Aglamesis Brothers and Graeters. Those ice creams are priced similarly to what is at Ben & Jerry's.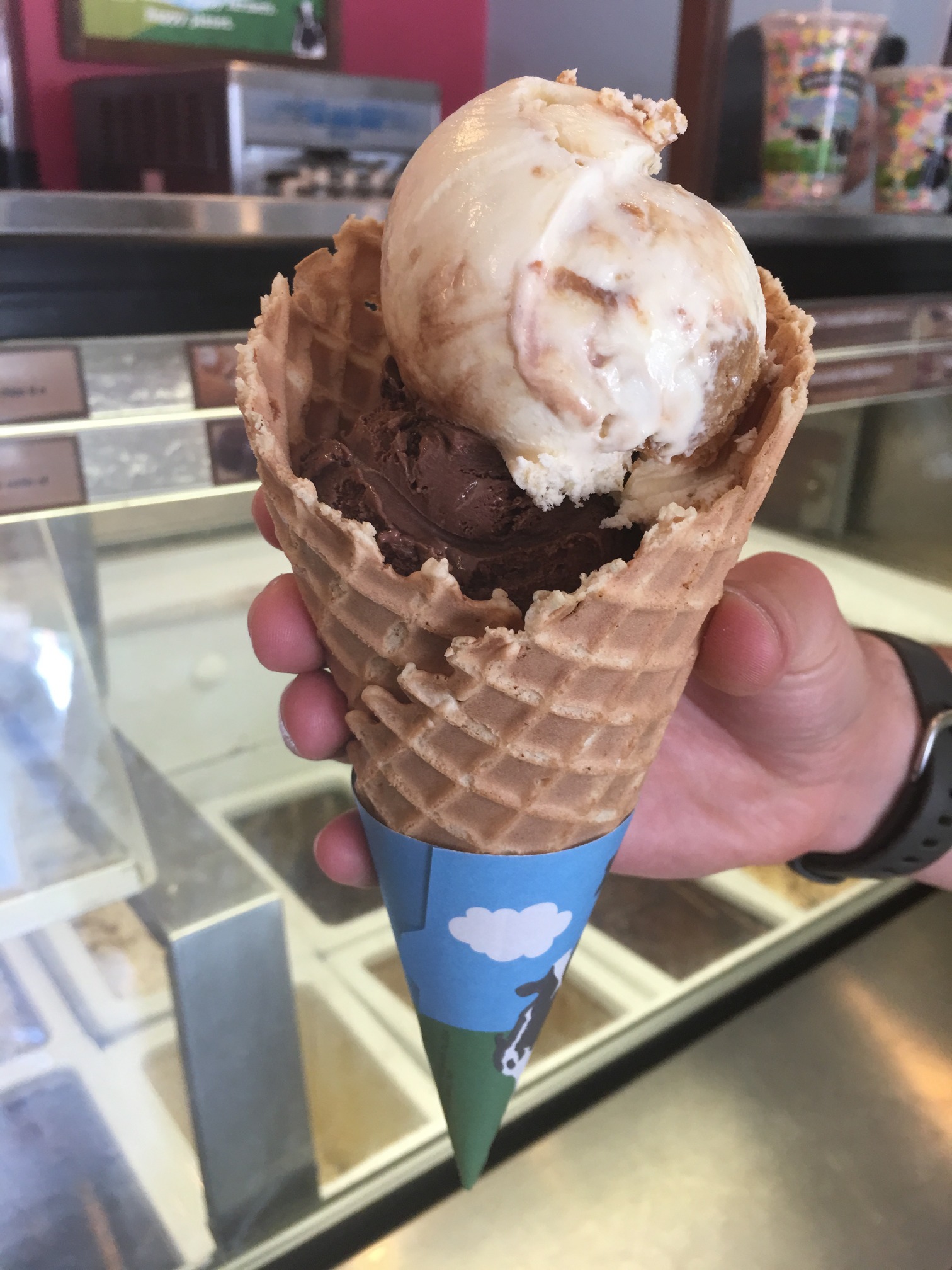 The bottom scoop is a deep mocha ice cream and the top one is TV pundit Stephen Colbert's AmeriCone Dream flavor. The mocha got a rave review from the customer. Sales of AmeriCone Dream support medical care for disadvantaged children, veterans awareness, and environmental causes.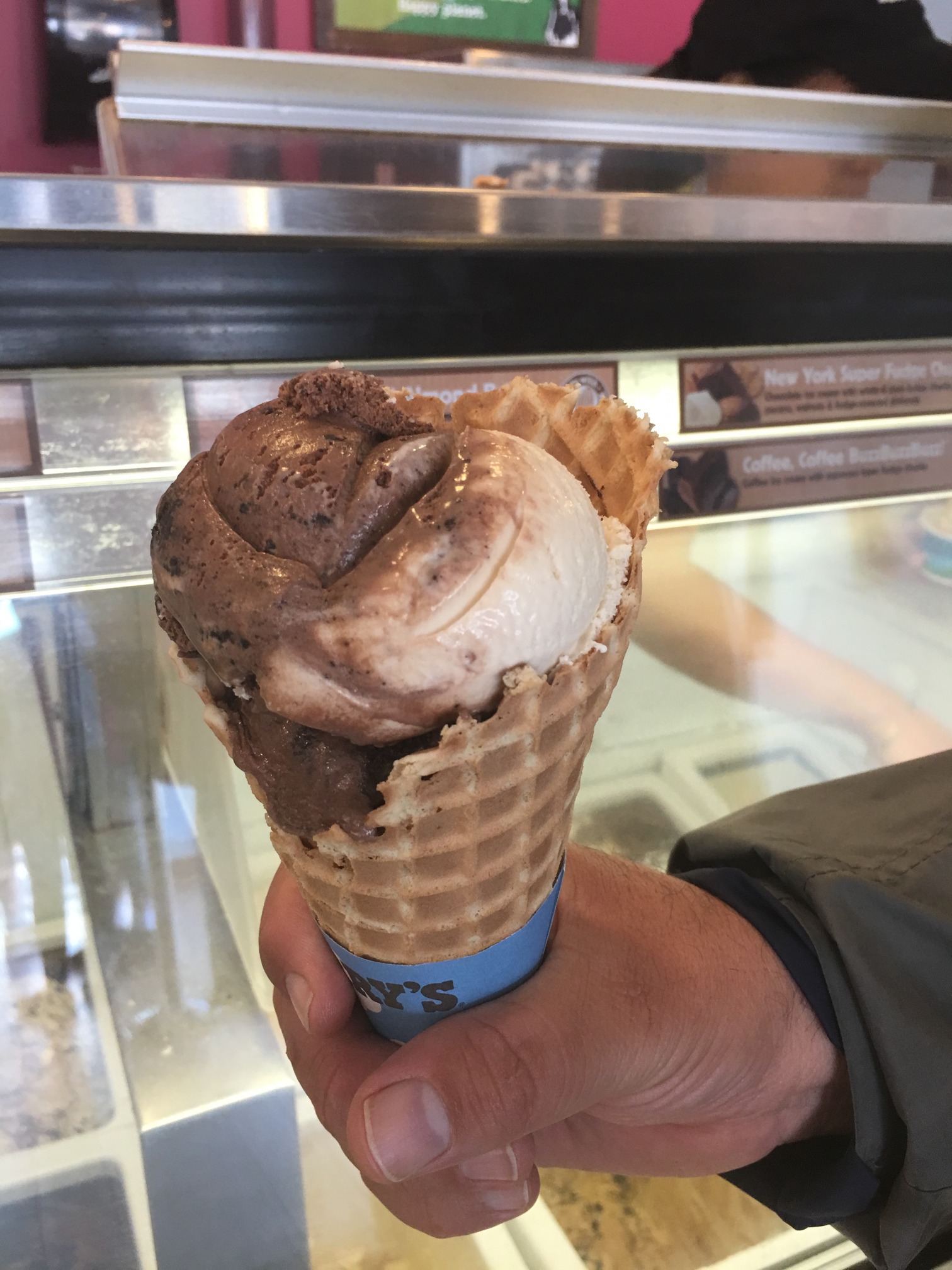 Here is another customer who ordered an AmeriCone Dream scoop, which is vanilla ice cream with fudge-covered waffle pieces and a caramel swirl, which has been around since 2007. It was delicious, as was the decadent-chocolate flavor along side of it. The total bill, including tax of $2.87, for this outing, was $27.83.