Bimini Bait Shack, Punta Rassa, Florida
Bimini Bait Shack in Punta Rassa, Florida, is a classic Gulf Coast eatery near Sanibel Island. This tiki-hut bar and grill has island-themed apps, sandwiches, entrees, fish baskets, and desserts with plenty of mixed drinks. Sit indoors or outdoors as there is plenty to see; or sit at the bar in a rope swing.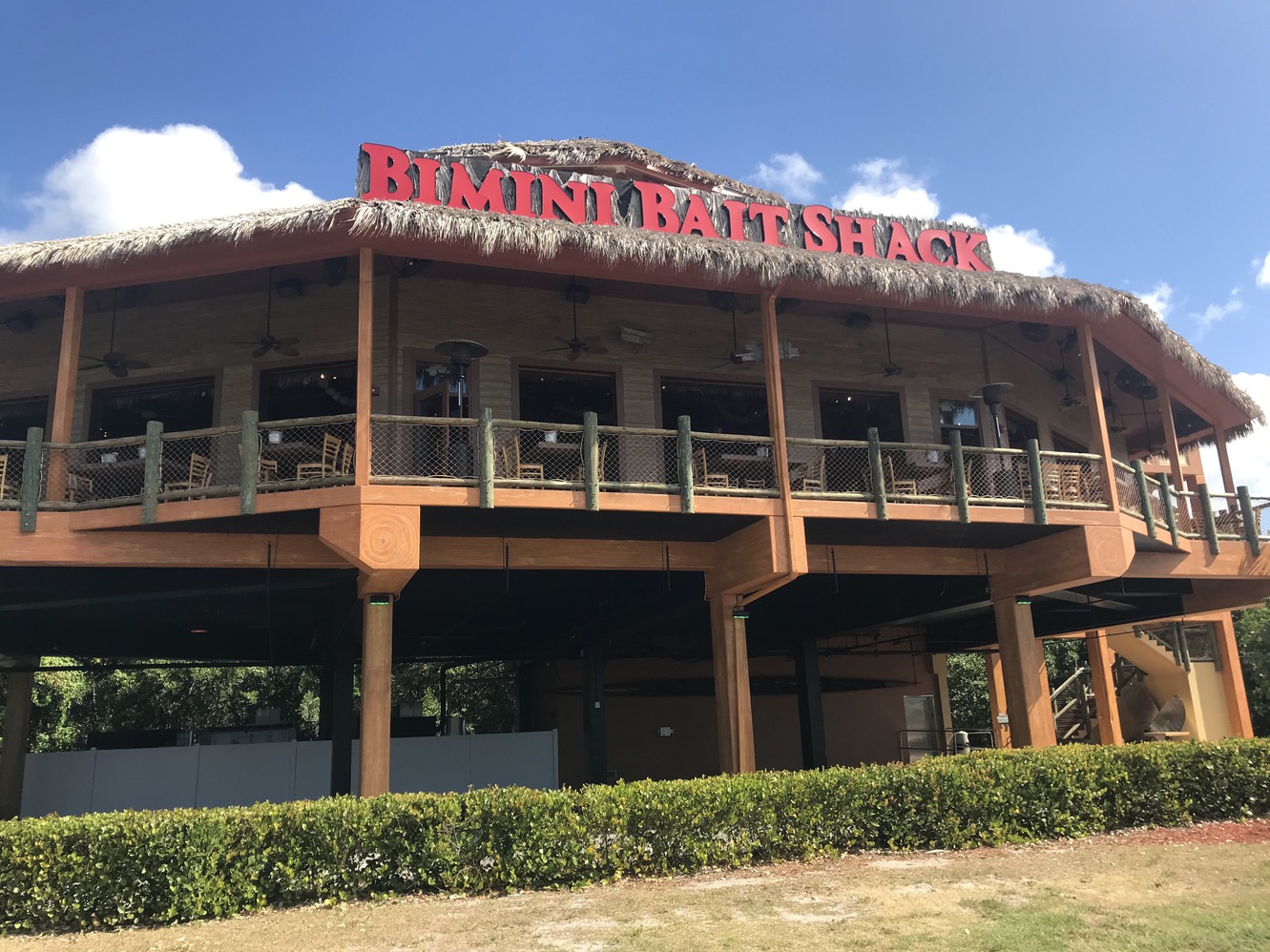 Bimini Bait Shack is located at 17501 Harbour Pointe Drive in Punta Rassa, Florida, at the last right turn before the Sanibel Causeway. There are a lot of great restaurants on Sanibel Island, but Bimini's has live music for lunch and dinner and a daily happy hour from 11 am till 6 pm.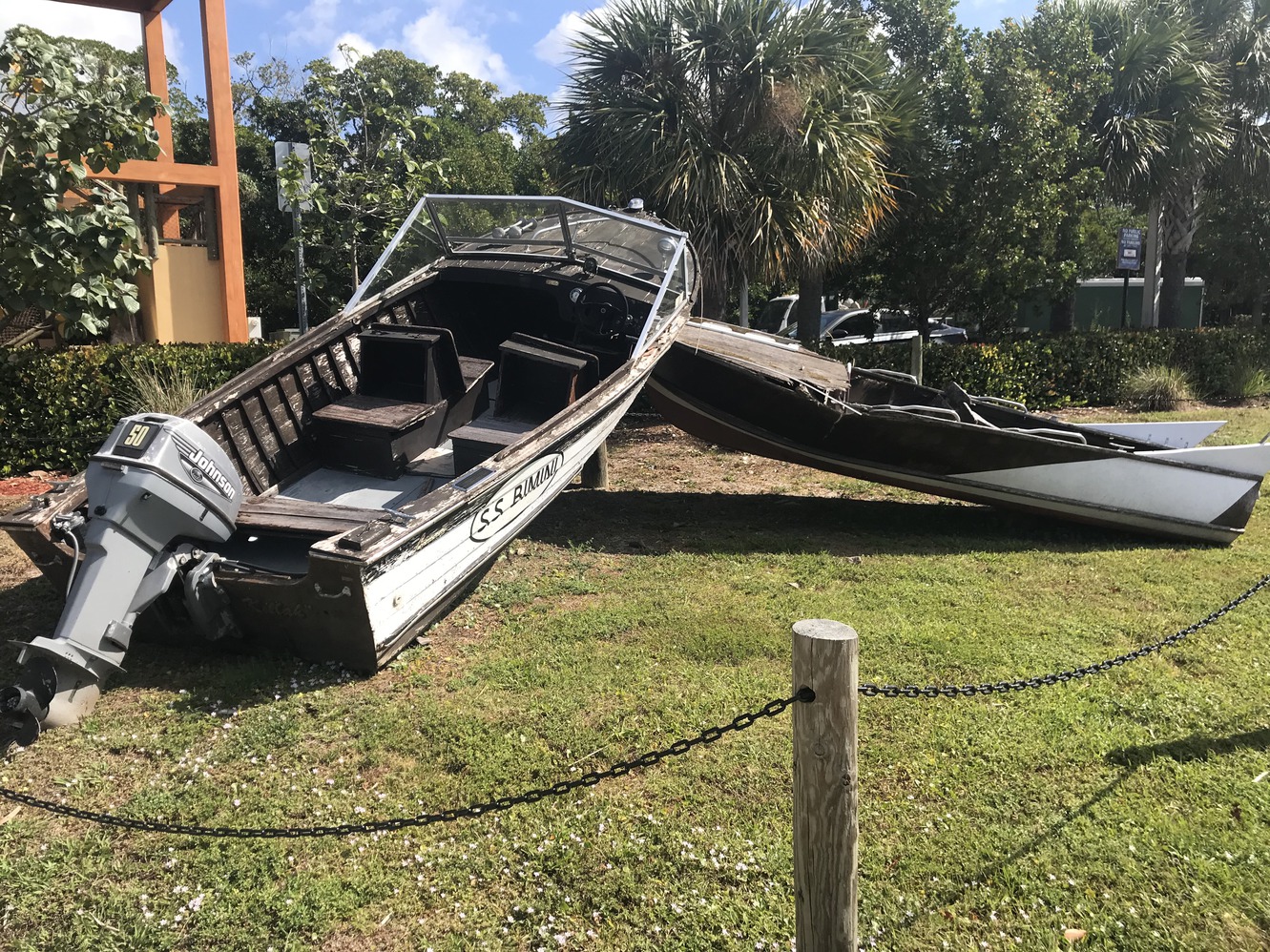 These motorboats in front of Bimini give the impression of being shipwrecked on Sanibel Island. Being so close to the island, there are a few nearby attractions worth mentioning. The scenic Punta Rassa Boat Ramp and an actual bait shop are next door, and there are scenic spots along the causeway to stop at and enjoy.
There is accessible parking here at the Shack and it's right underneath the restaurant itself. It's about 11 am on a Friday morning at Bimini has just opened for lunch. Just go up the stairs by the propeller or take the elevator.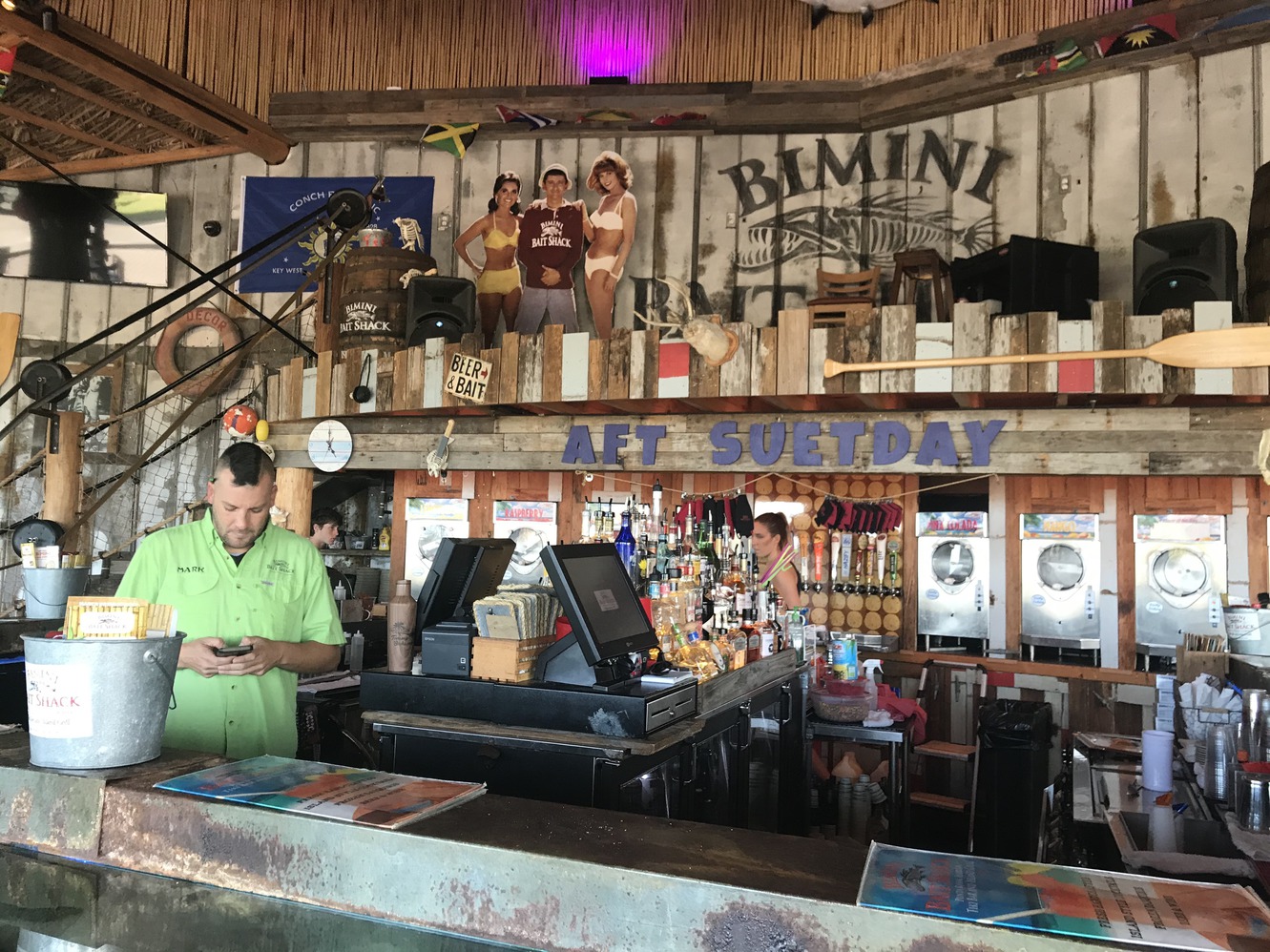 The Shack has been previously known as SS Hookers, Summerlin Jake's, and then Lola's Bait Shack. It re-opened in 2018 as Bimini Bait Shack. There's a lot to see inside: check out Gilligan, Ginger, and Mary Ann over the bar in the performers' balcony.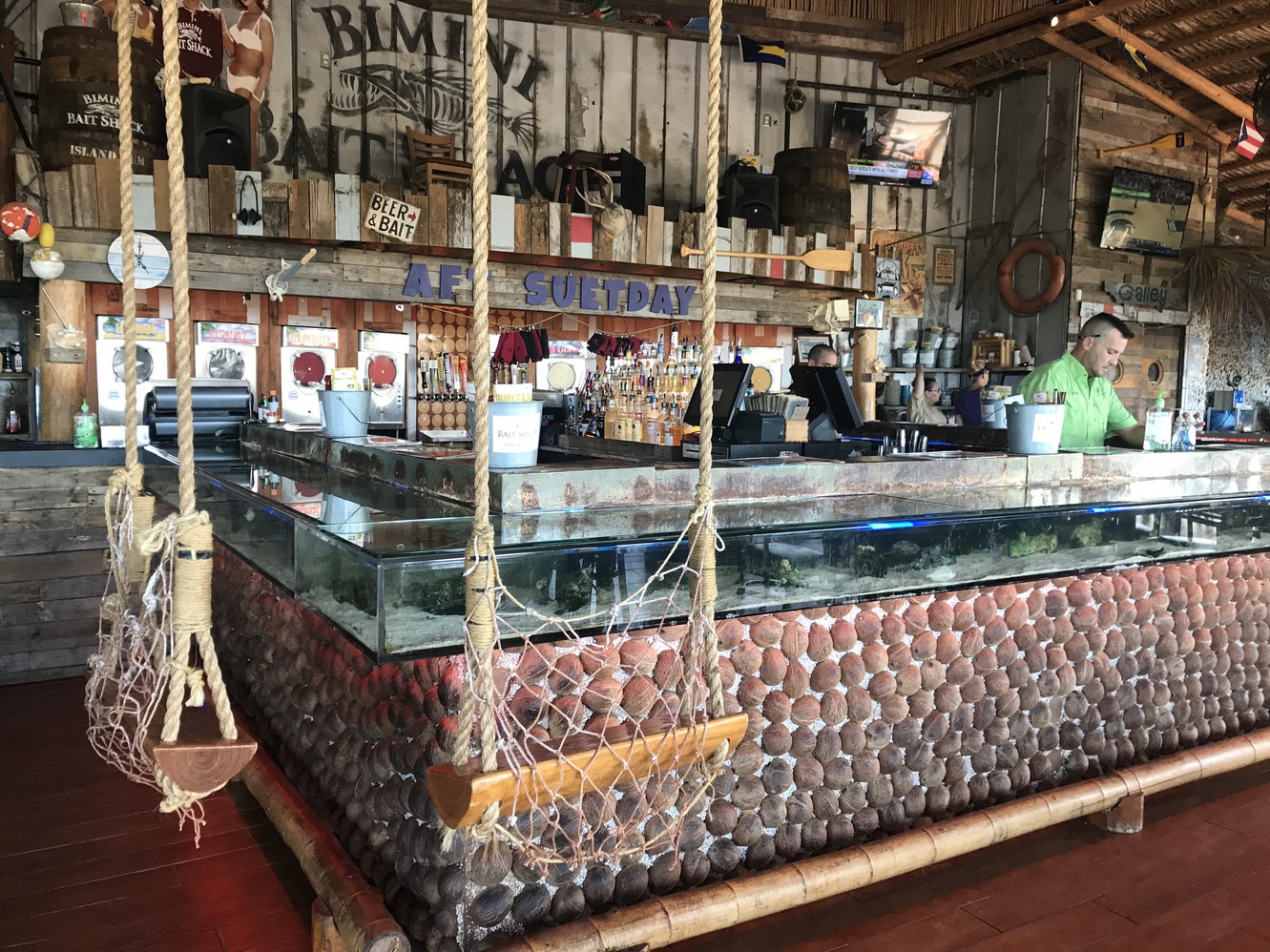 There are so many beers, cocktails, and mixed drinks here at Bimini. Perhaps the best place to enjoy them is right here at the bar. There are cast-away style swings to sit at if a visitor doesn't want to stand. Coconuts are embedded in the bar under the wrap-around fish tank. Re-arrange the letters upfront and you'll get "Fat Tuesday."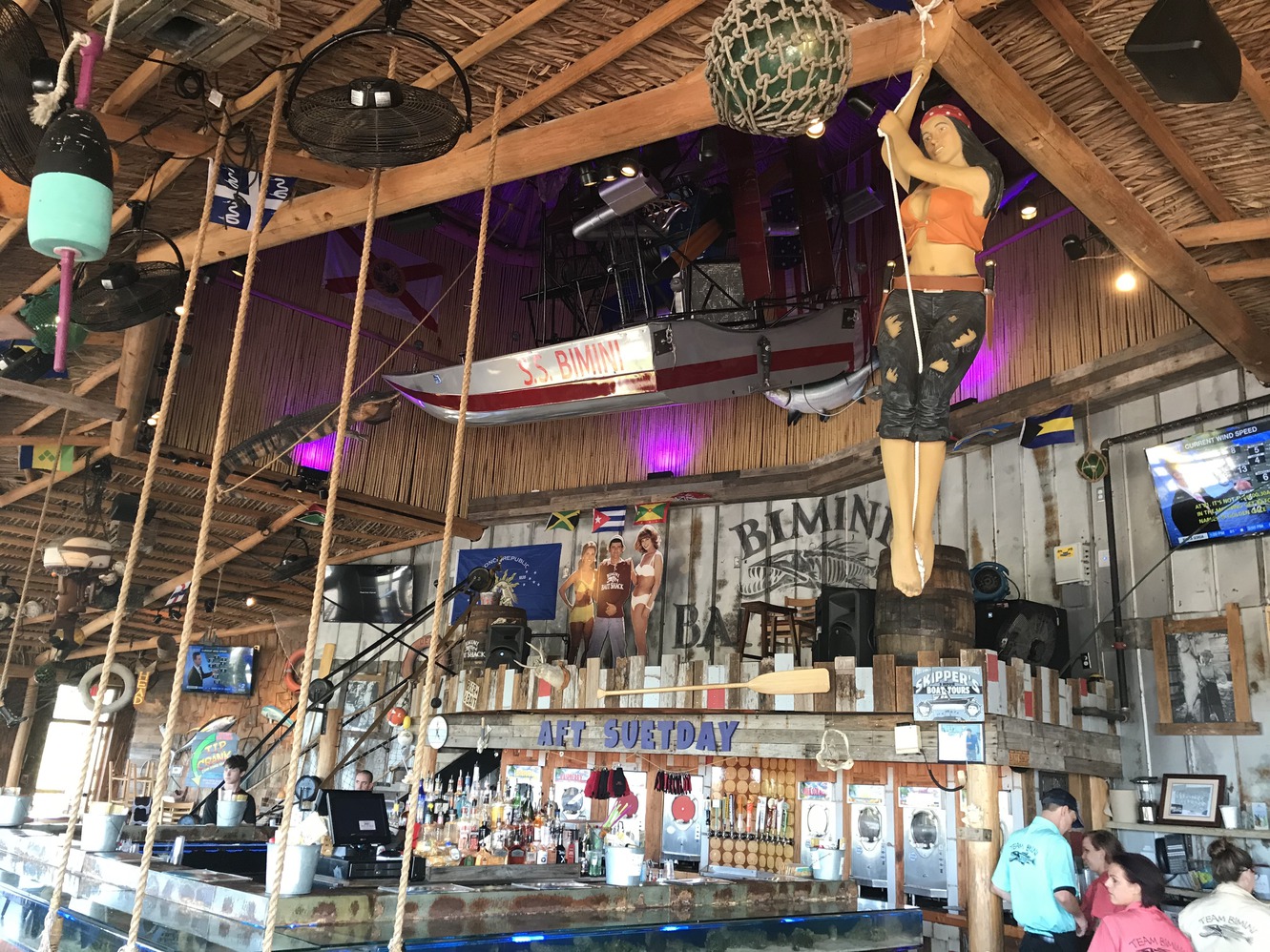 Who is the mystery pirate dropping in from the rafters? Perhaps her airboat tipped and she's bailing out for dry land. The Shack is owned by restaurateurs Mike McGuigan and Pete Cervone. Restaurateur Sandra Stilwell built the place in October 2014 before selling in 2017.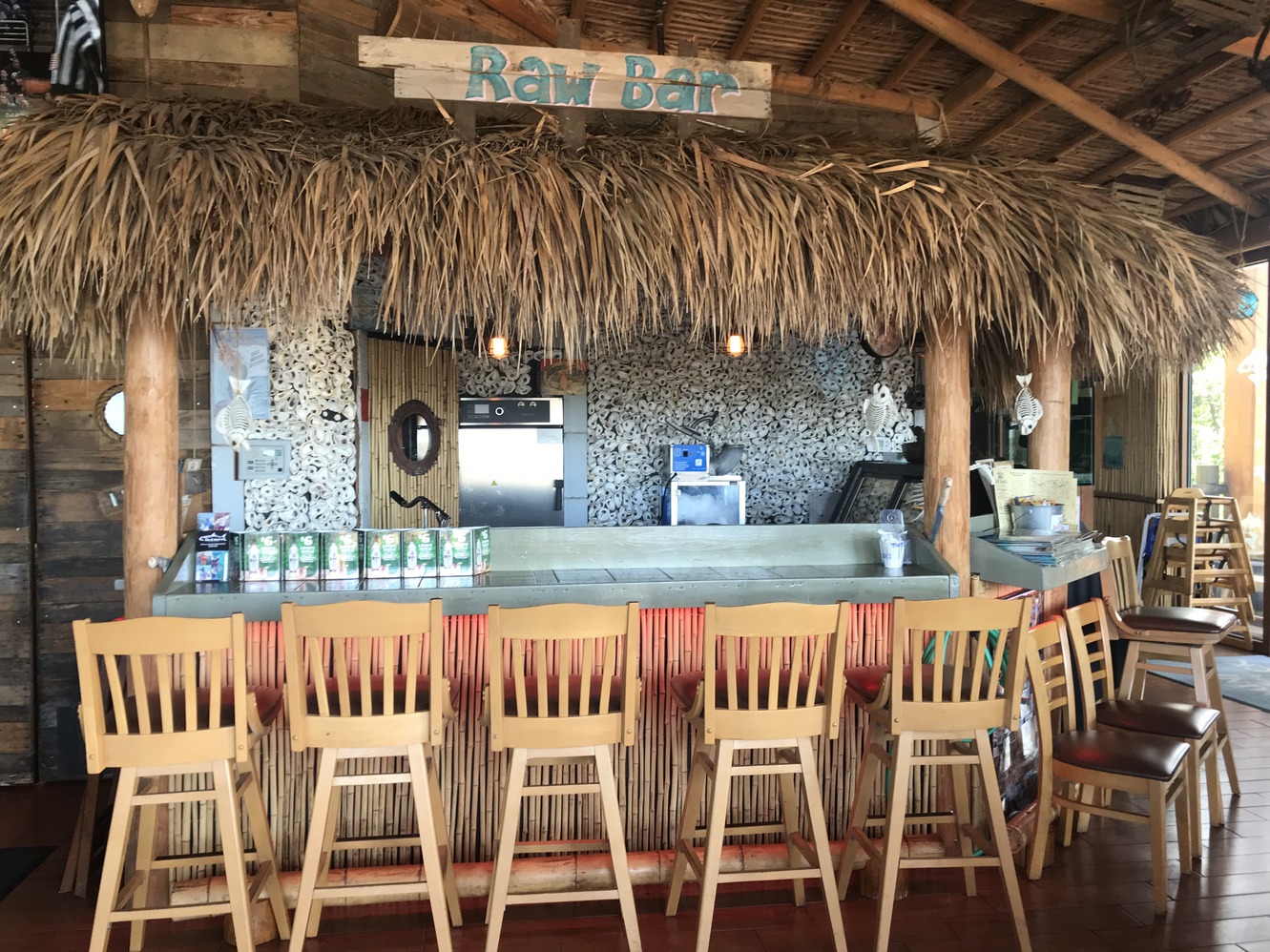 The Raw Bar is the first stop for many visitors at the Shack. It's got a thatched roof like the rest of the establishment and the stand is covered in shells. Oysters and clams come chilled or steamed and there's also caviar.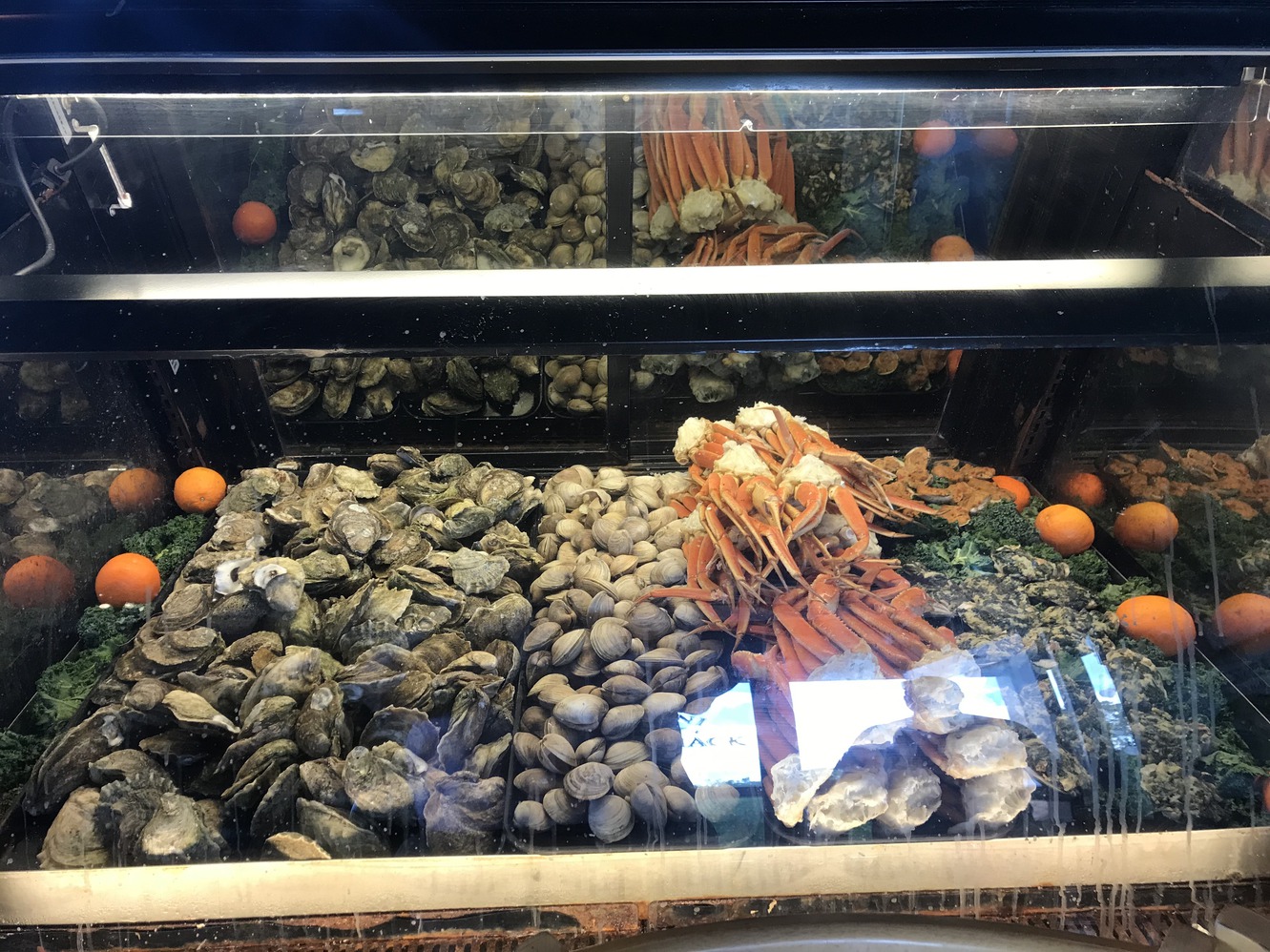 This is also part of the Bait Shack raw bar. There are oysters, clams, conch, and snow crab legs. There's also a steamer plate for two with shrimp, mussels, clams, crab legs, spicy sausage, potatoes, and corn. Other dishes include clams oreganatta and golden fried fresh conch strips.
This is a half-stack of the Shack's onion rings. According to the menu, these are house-made fresh with beer batter. They come with a cup of house sauce. A half stack (five huge rings) is $8.99 and a full stack (nine huge rings) is $14.99. These were hot and crispy; a half-stack is plenty for two people.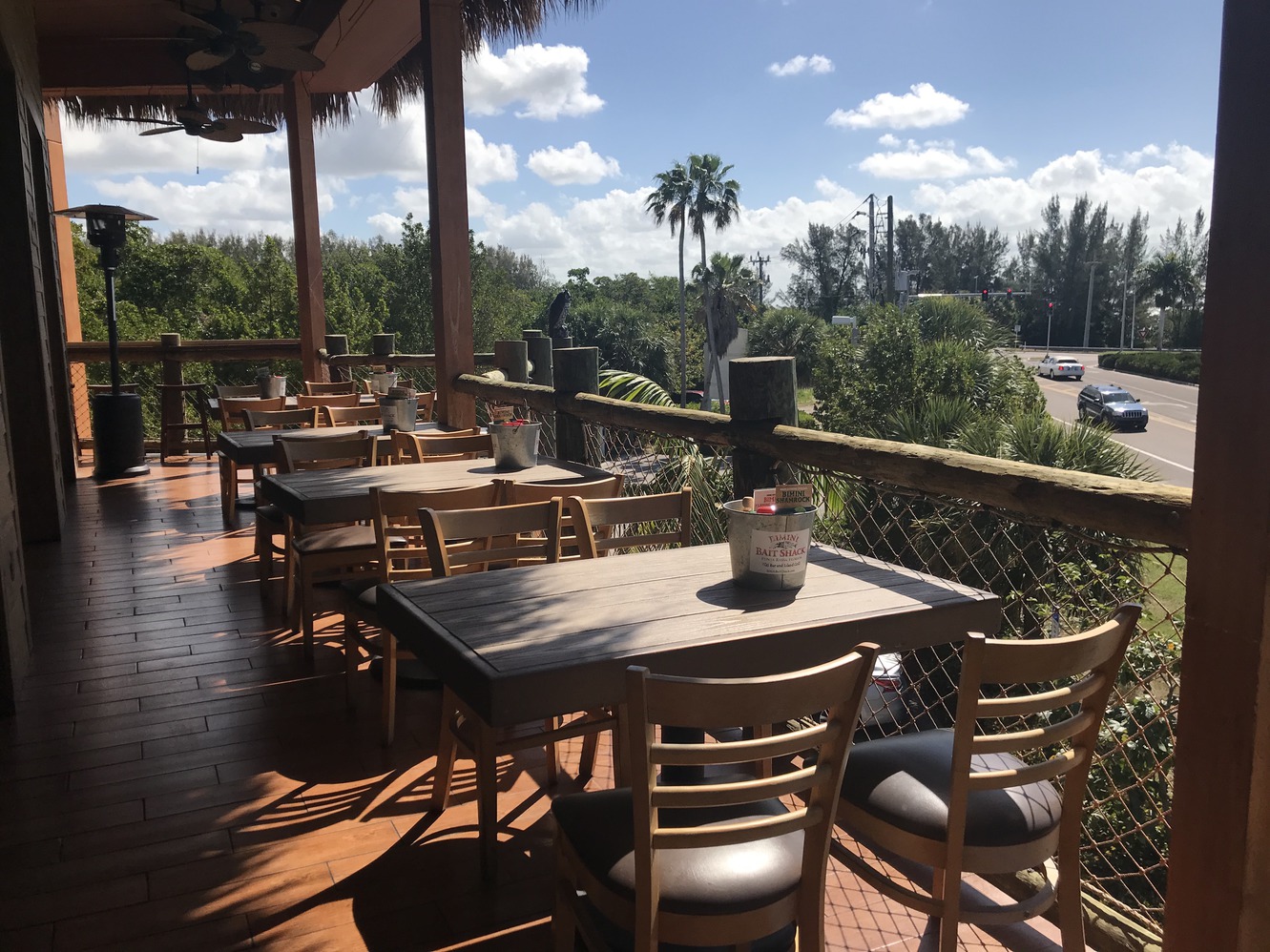 This giant tiki-hut-on-stilts has a lot of outdoor seating. There is additional outdoor seating behind the camera. A lot of the indoor seating is under the thatched roof, but since a tiki hut doesn't have walls, most of the indoor tables have a great view of both the bar and the Sanibel Causeway.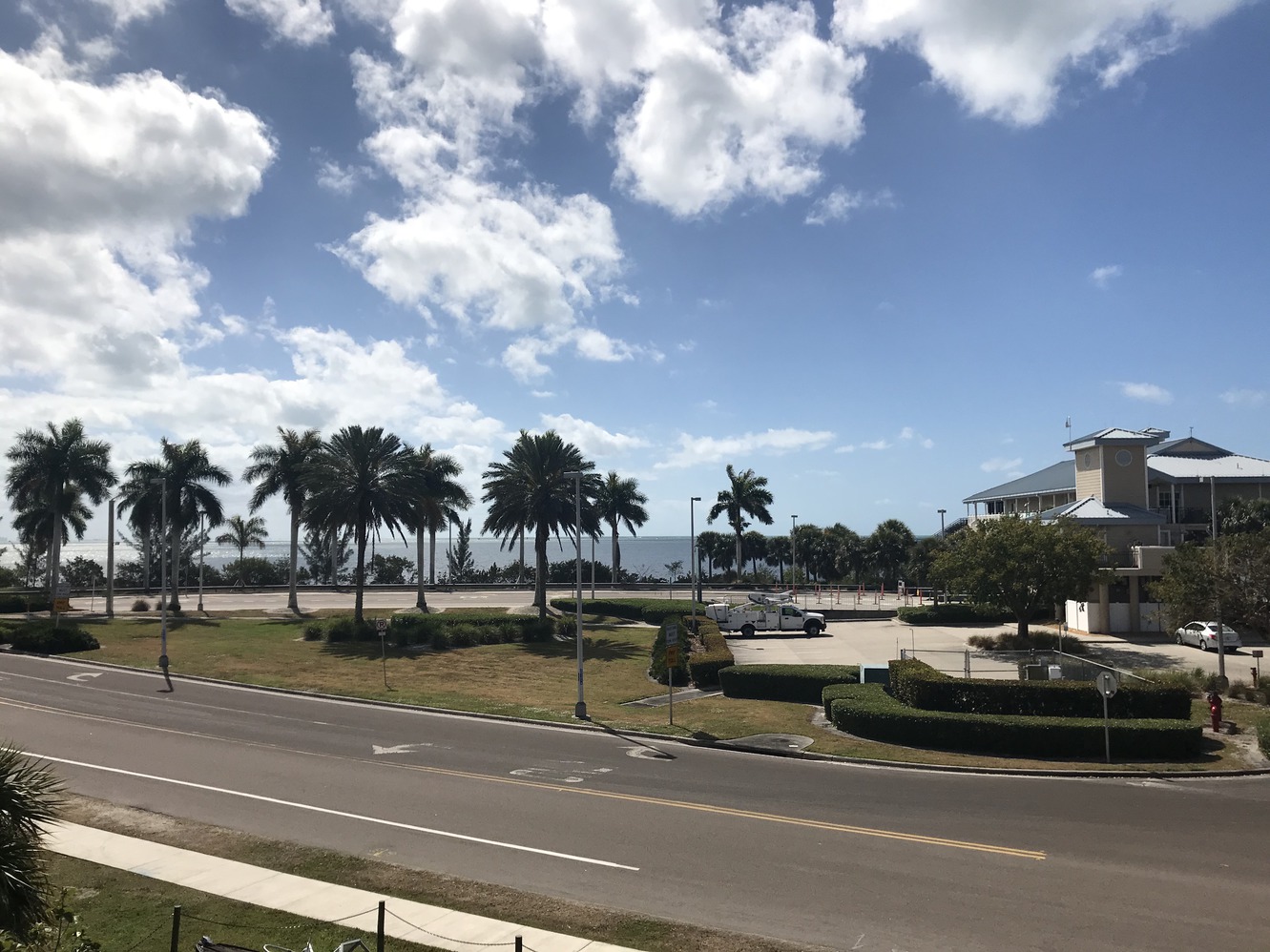 This is the toll plaza for the causeway leading to Sanibel Island, as viewed from the outdoor seating at the Shack. The Causeway costs $6 for a car, one way, which intersects with Periwinkle Way, which delivers visitors to the famous Sanibel Island Lighthouse Point beach.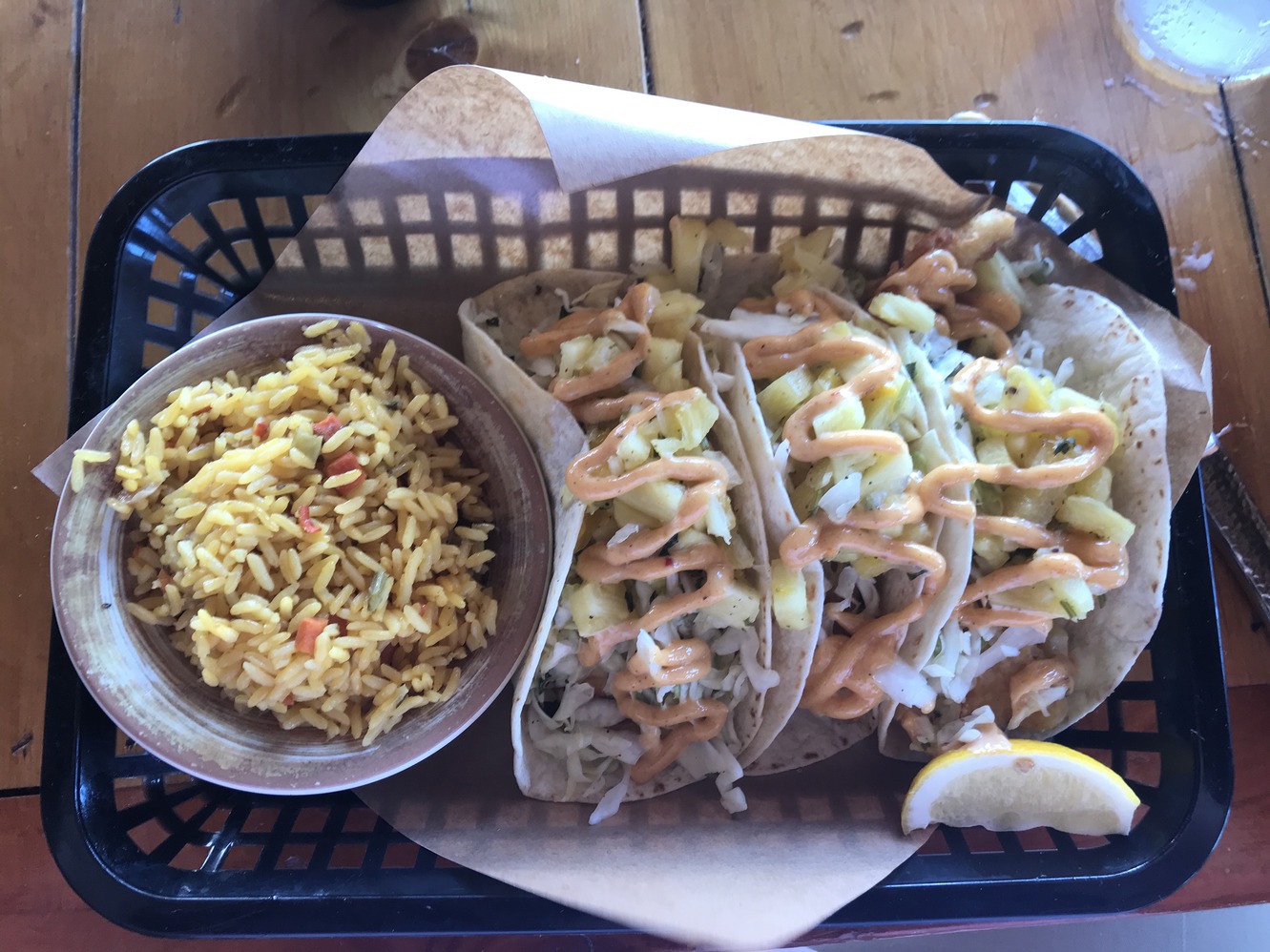 This is the Tacos from the Gulf selection, at $15.99. From the menu: beer-battered fresh fish, lime slaw, spicy mayo and mango-pineapple pico di gallo. A side is included plus a cheddar biscuit. (The cheddar biscuit did not come, unfortunately.) The side choices were rice pilaf (shown here), black beans, kickin' collard greens, and seasoned fries. The black beans were also very good.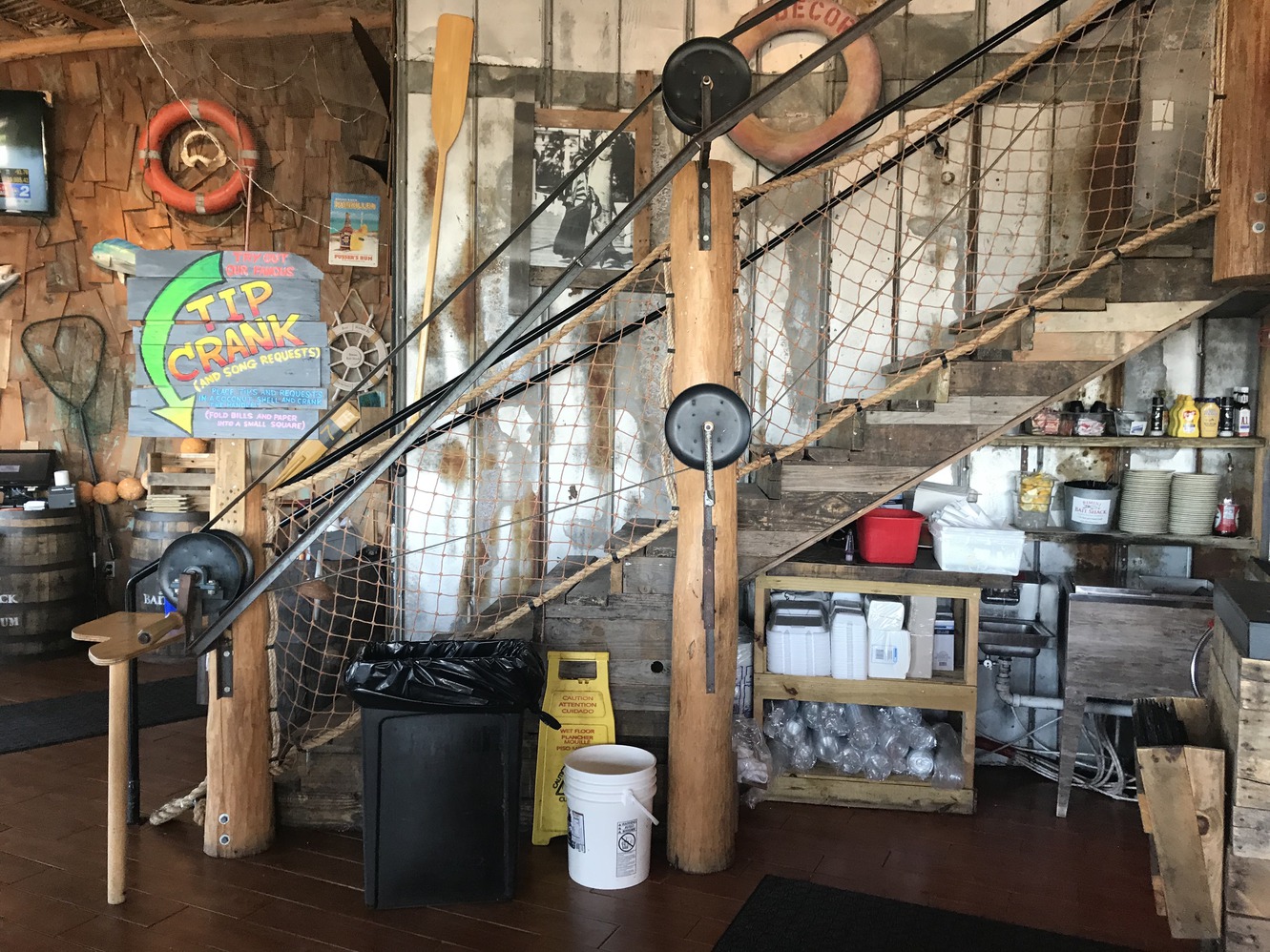 The Bait Shack's "Tip Crank" can deliver tips and song requests for the musicians in the balcony over the bar—all without having to go up the steps. Just fold up the dollar bills and/or song requests into a small square. Then put them into the coconut and crank the handle until delivered.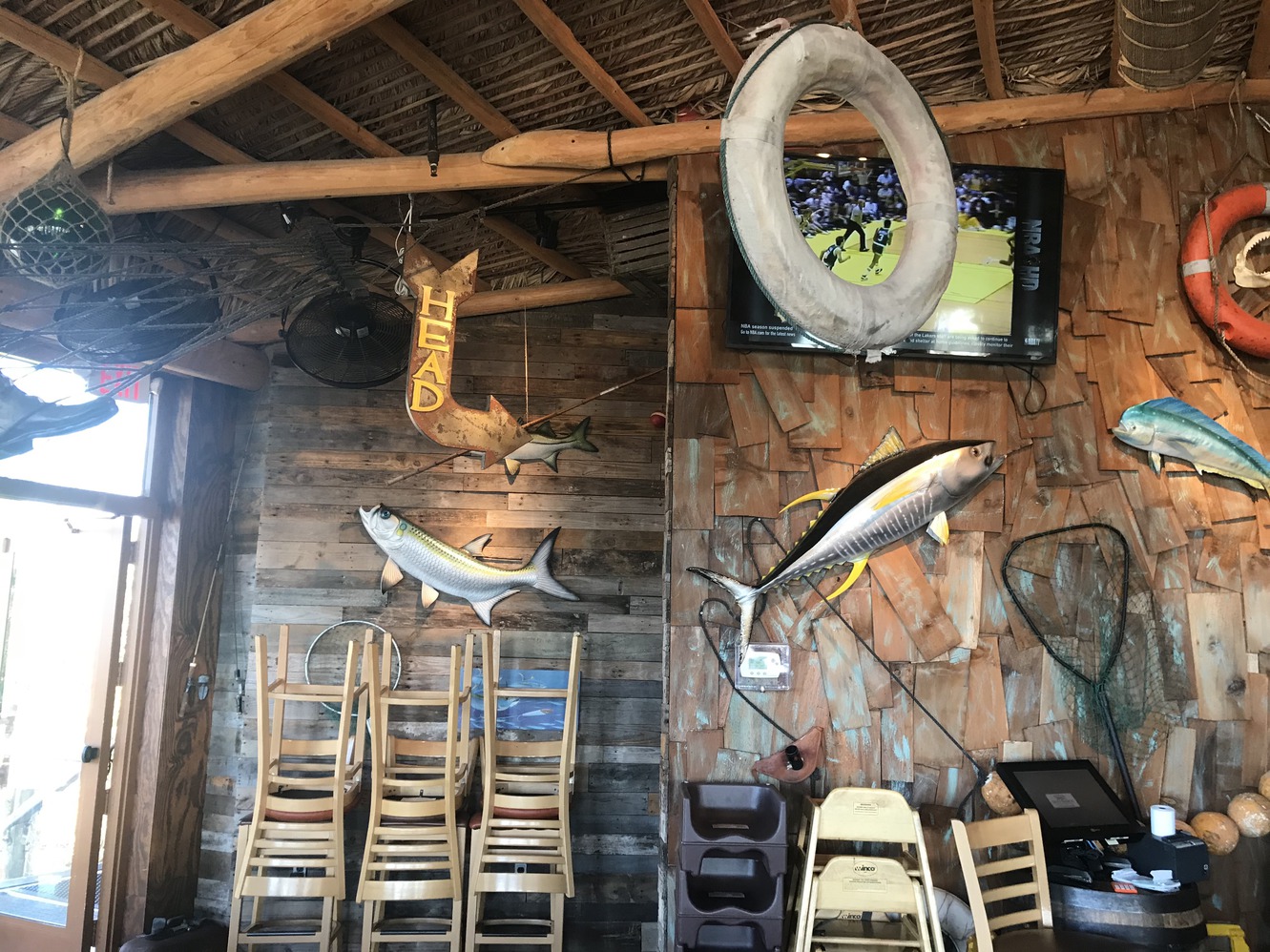 A fish-book shaped arrow directs everyone to the washrooms. There are all kinds of fun things inside. In the women's washroom, a mermaid swims with a dolphin in a painting above a door. Water cascades from a conch shell into a scalloped bowl. In the men's room, buckets have plastic fish skeletons in them.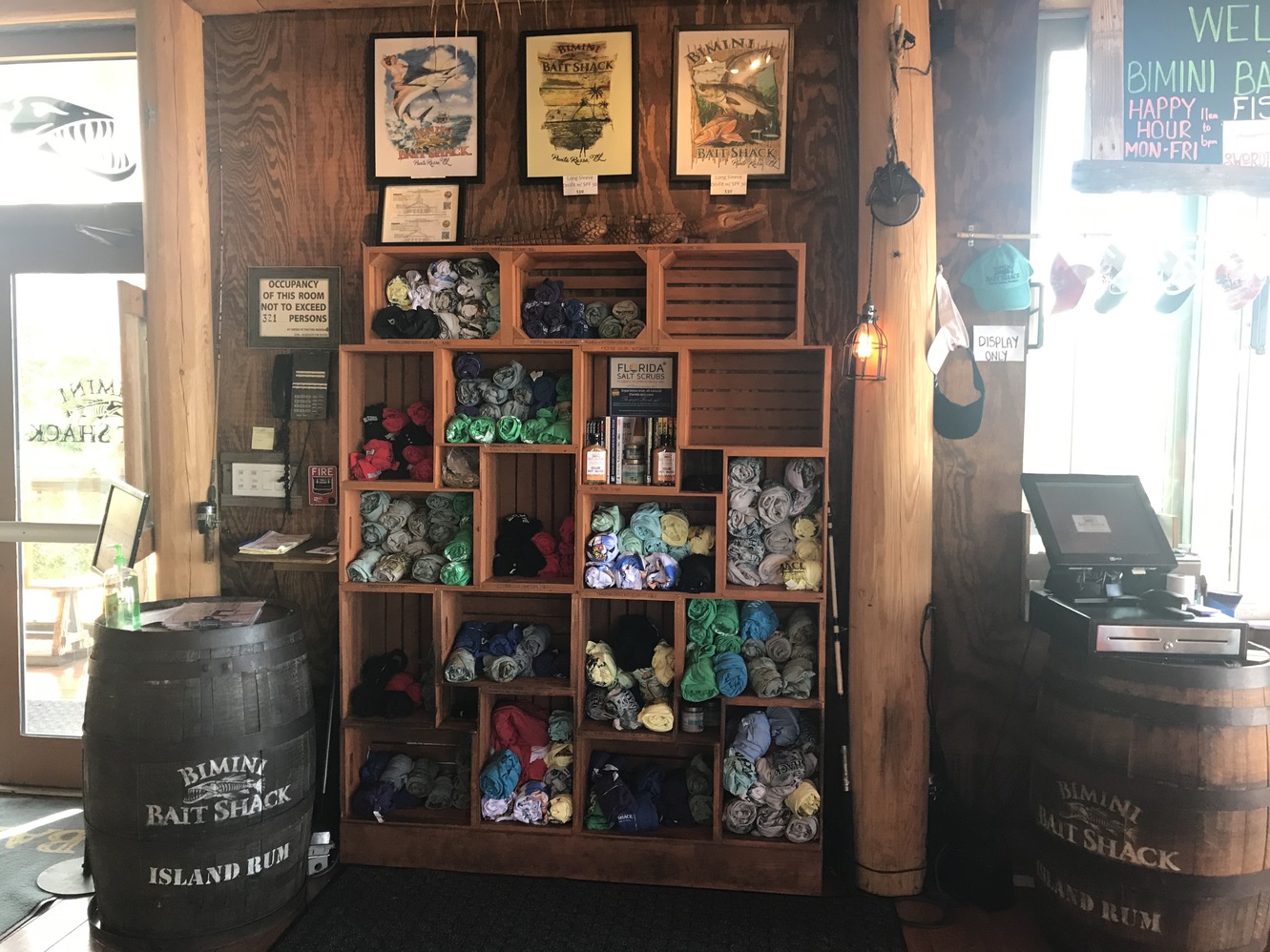 The wall of shirts at Bimini has quite the variety. There are cotton shirts, dri-fit shirts, men's and women's, from medium up to double extra large. There are locally written books, The Sanibel Sunset Detective Goes to London, and bath salts. There's also an amazing shuck sauce, Killer Hot Sauce with habanero peppers.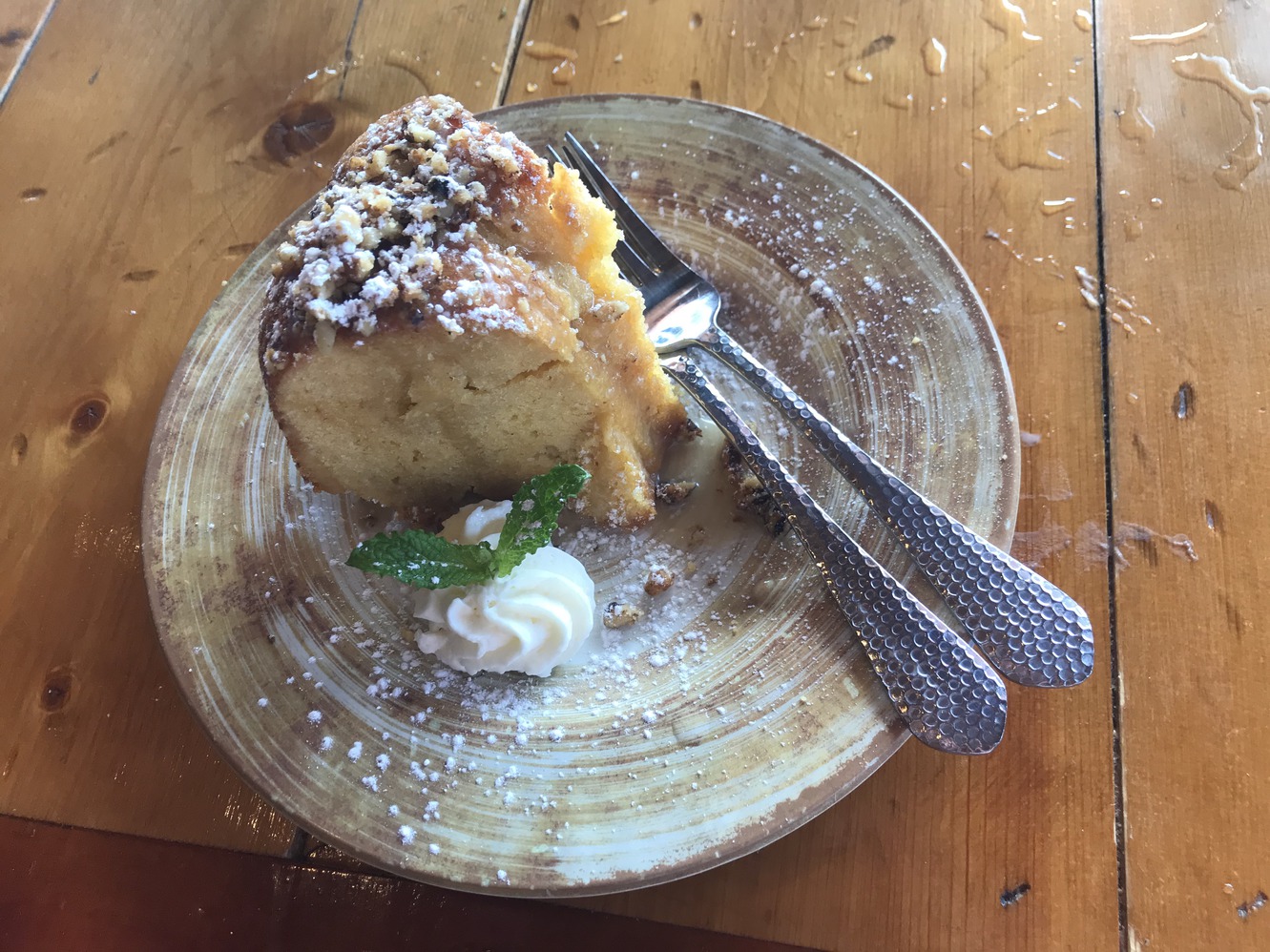 Now it's time for dessert. There's coconut cream pie, key lime pie, ice cream, and Caribbean island rum cake. That's what's shown here, at $6.99. It's baked with dark island rum and walnuts and it's drizzled with white rum sauce. This piece of cake is enough for two people to share.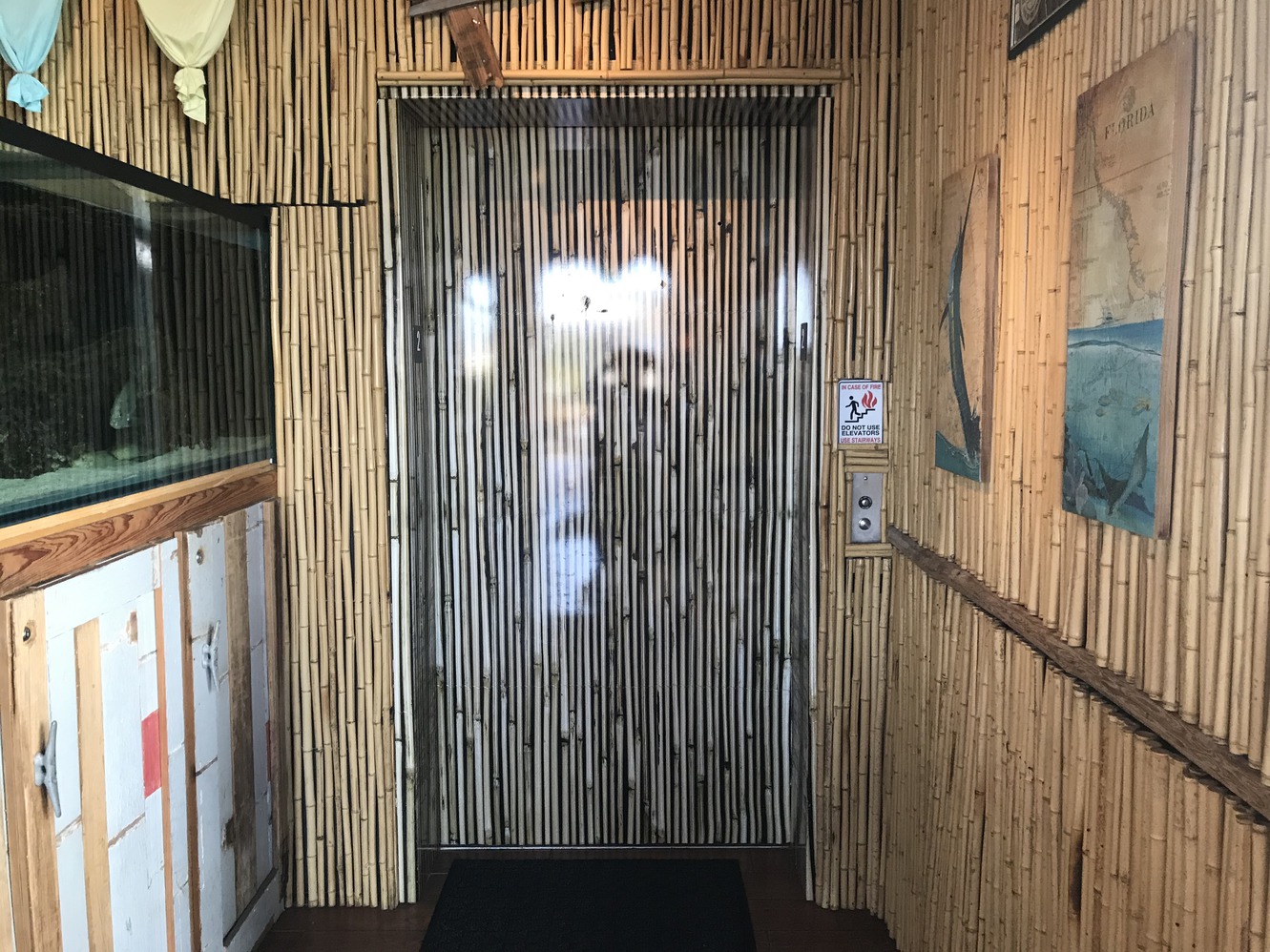 Another wonderful lunch in Punta Rassa has come to a close and it's time to get back to the beach. Take the outside staircase or the elevator? Definitely the elevator. Bimini's food and drink specials are posted in here, as if to remind the world what a fun place this is. The total bill, with tax, was $59.09, for half app, two entrees, one dessert, and no drinks.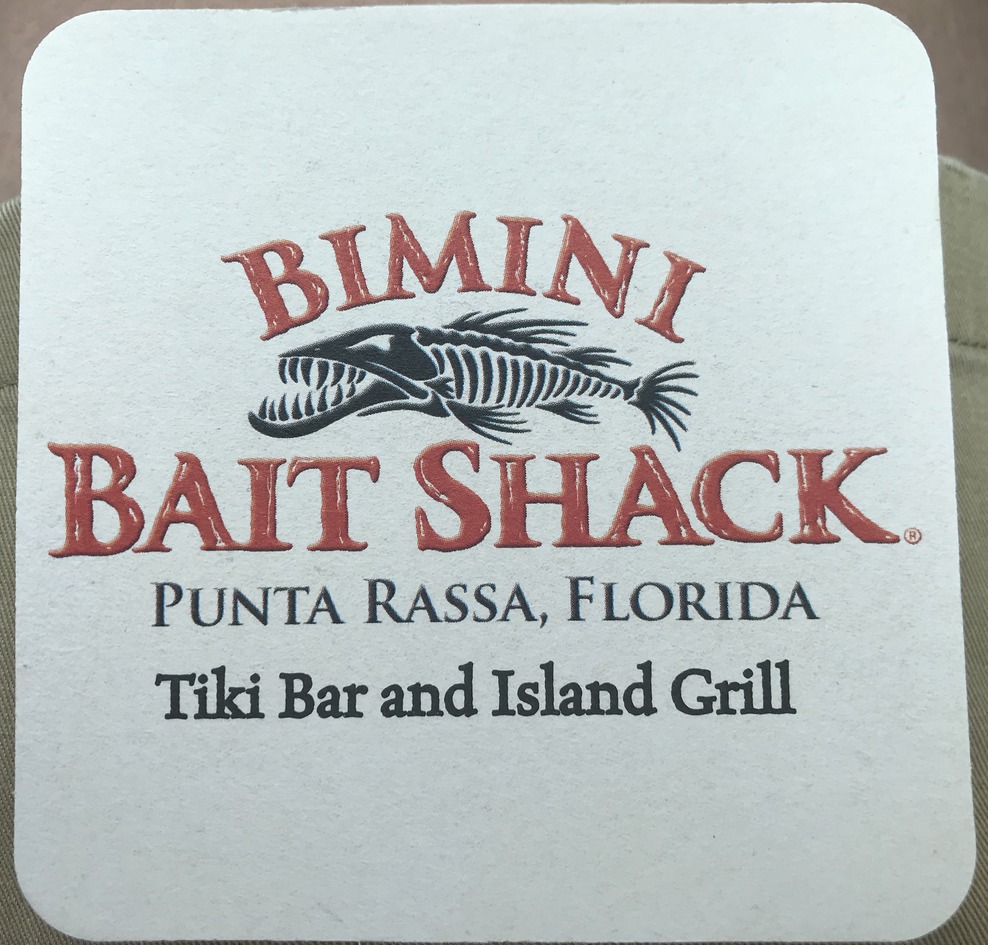 This drink coaster is a great souvenir from Bimini Bait Shack, which is a great place to have lunch before heading to Sanibel Island. Looking forward to a late dinner here with live music on the return trip. In the meantime, always use sunscreen and hydrate, hydrate, hydrate.