Coconut Jack's Waterfront Grille, Bonita Springs, Florida
Coconut Jack's Waterfront Grille has indoor and outdoor seating in Bonita Springs, Florida. It has a chickee hut and a full bar and is close to Barefoot Beach. It's a large, fun restaurant, and is always crowded, even in the afternoon. This place has everyting: seafood, sandwiches, steaks, and saltwater.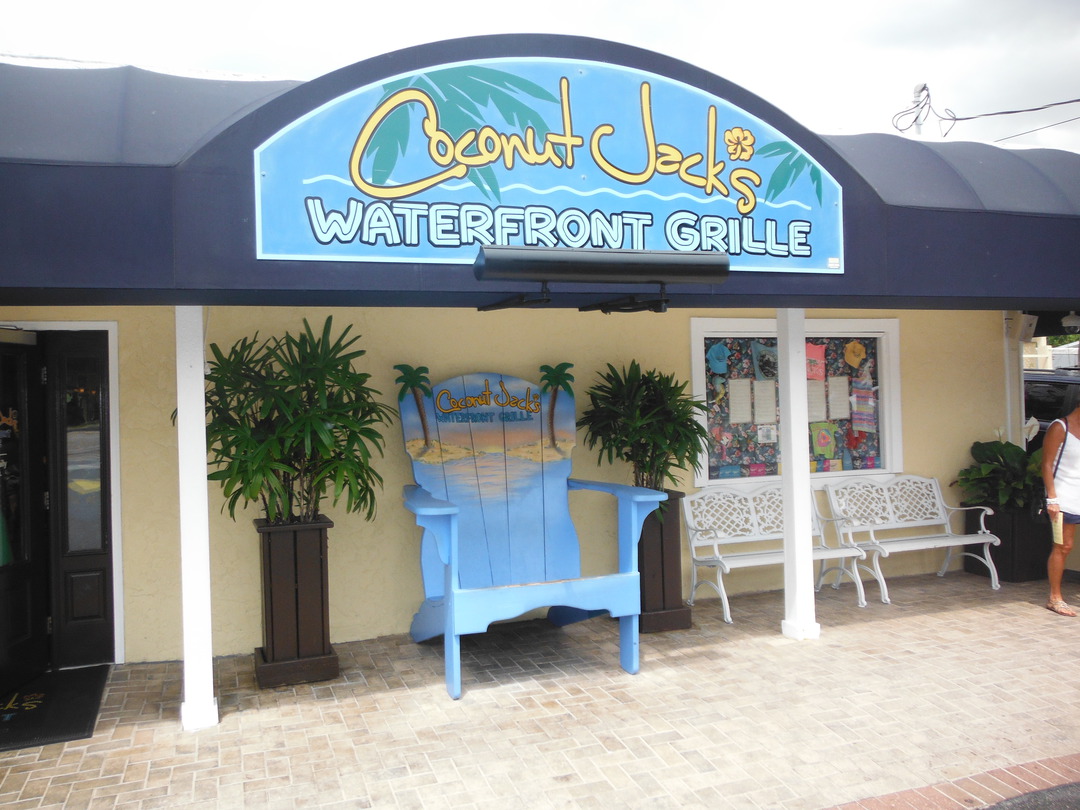 Coconut Jack's posts two addresses for beach bar-goers: its street address, 5370 Bonita Beach Road; and its sea address, N 26* 19.835' by W 081* 50.495'. Either way, this Neptune-sized beach chair is great to sit in for souvenir photos. It's about two-thirty on the Wednesday afternoon before Easter 2016; the only time this Mermaid Queen didn't see a line.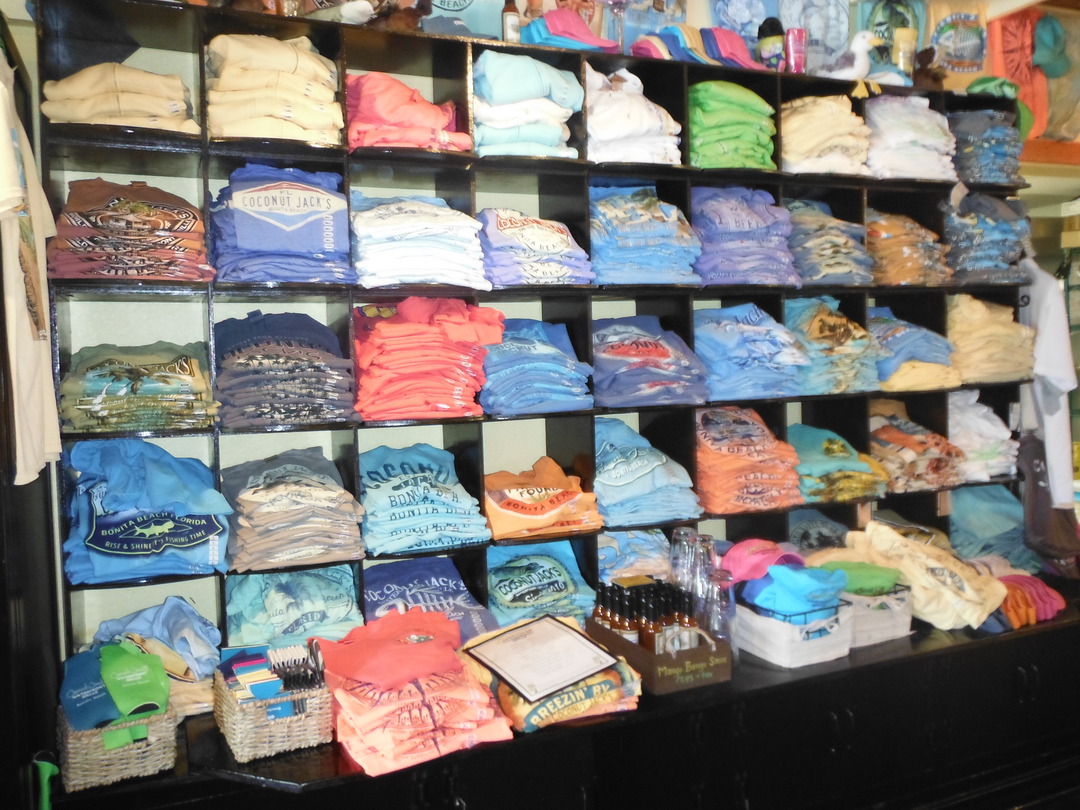 This is Coconut Jack's wall of t-shirts, plus their famous Mango Bango sauce front-and-center. There is also a display case for kids' t-shirts and stuffed animals. Both are right inside the front door. Most of the shirts proudly proclaim "Bonita Beach, Florida."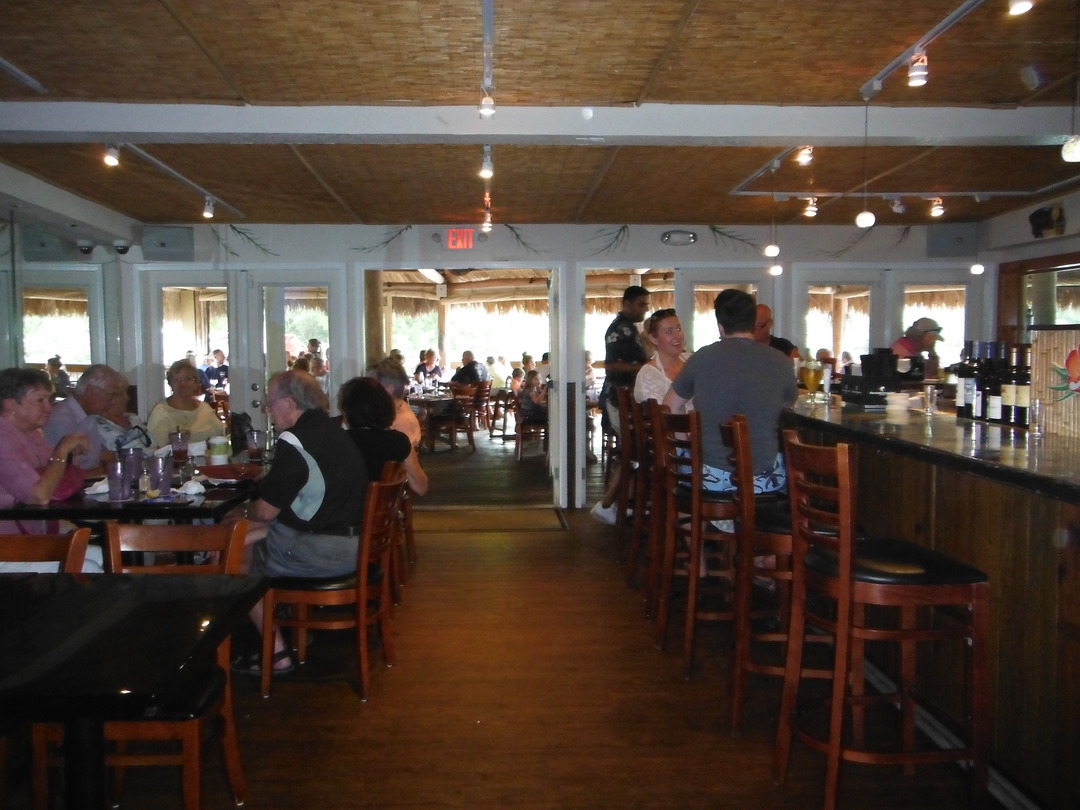 This is the full bar and the typical indoor seating arrangement at the most active establishment located on Fish Trap Bay. This beer-battered tiki joint has live music sometimes; but never takes reservations. Parking is tight even in the afternoon, so there is free valet service.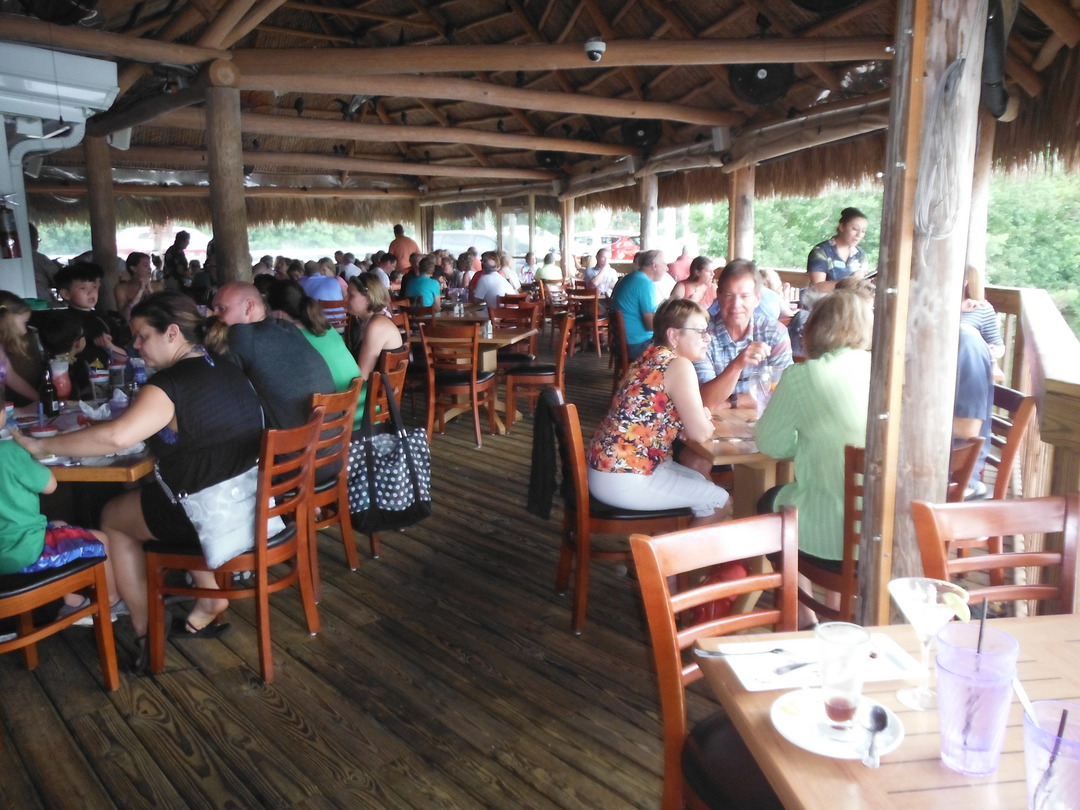 This is the chickee hut just before Happy Hour commences. A chickee hut, according to Wikipedia, is a Seminole shelter built with posts, with a raised floor, a thatched roof and open sides. It's a great place to be both indoors and outdoors at the same time; sheltered from the occasional Florida rain shower.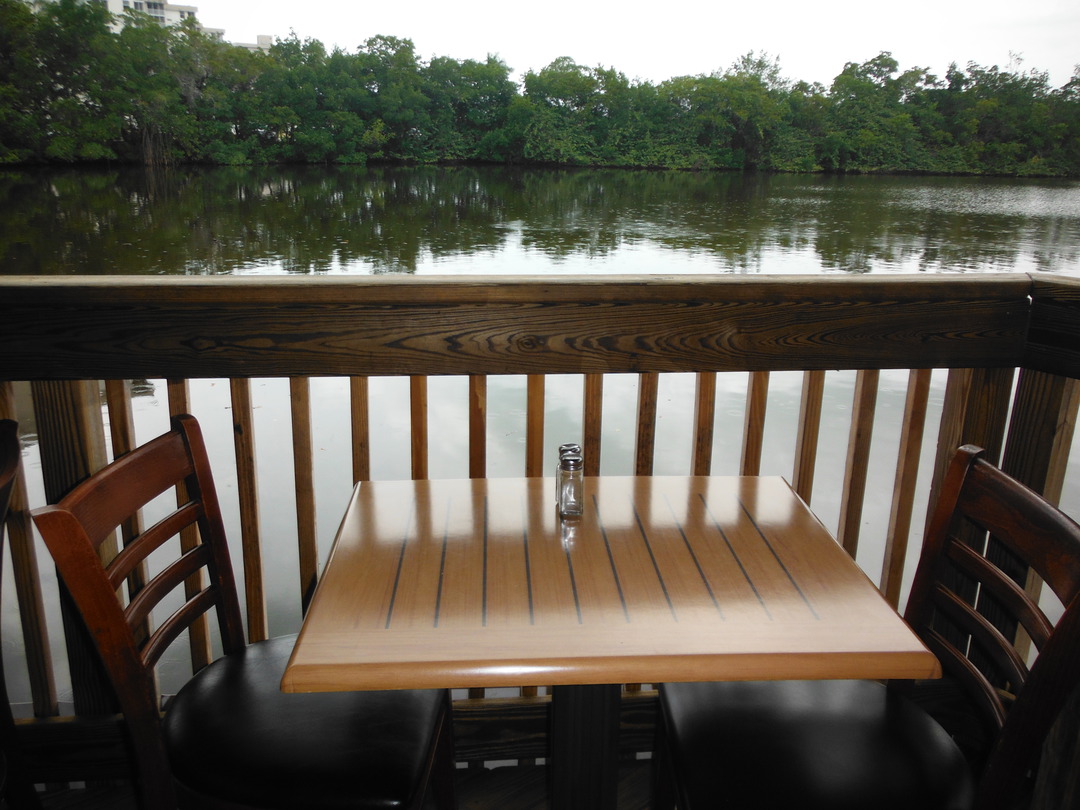 This is one of the two open tables in the chickee hut at Coconut Jack's this afternoon. Just to the right out-of-view is a place where ocean-going diners can arrive and depart. There is a kids menu here, and the occasional dolphin or other sea-faring creature will appear and delight kids of all ages.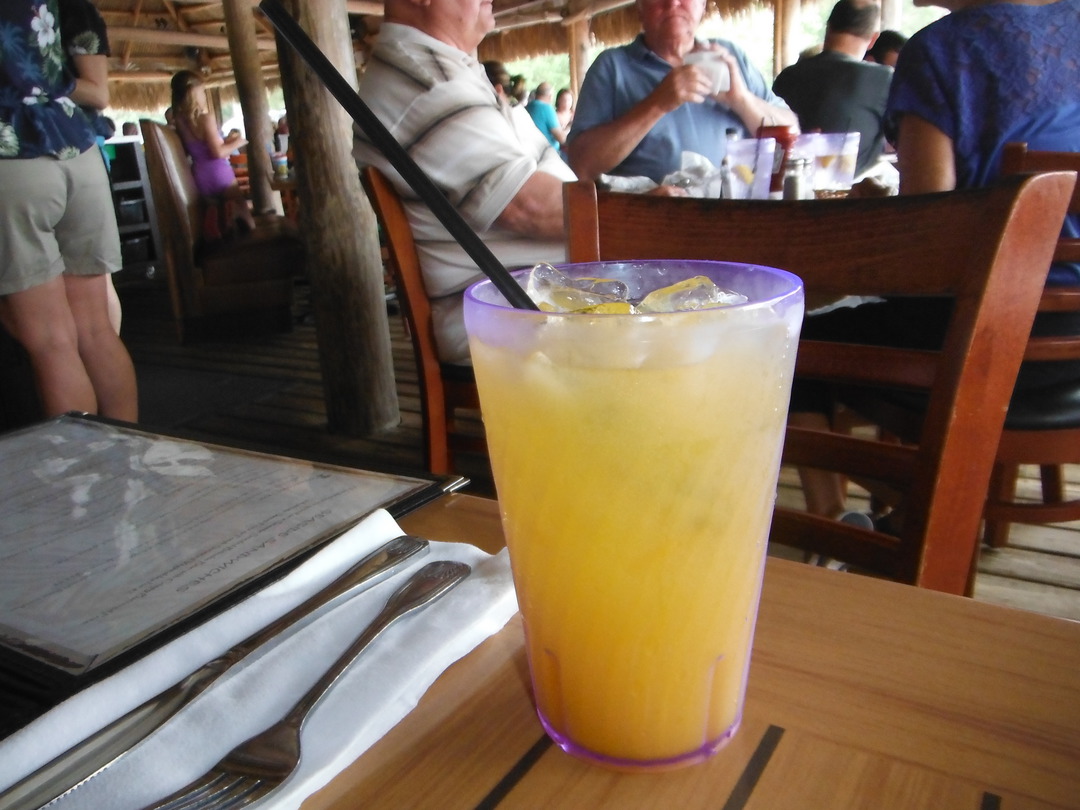 This is the mango lemonade, one of many flavored types at $3.90 with free refills. Our waitperson was great, even when the guests writing this blog couldn't quickly make up their minds about what to order for their late lunch. The raspberry lemonade was also good.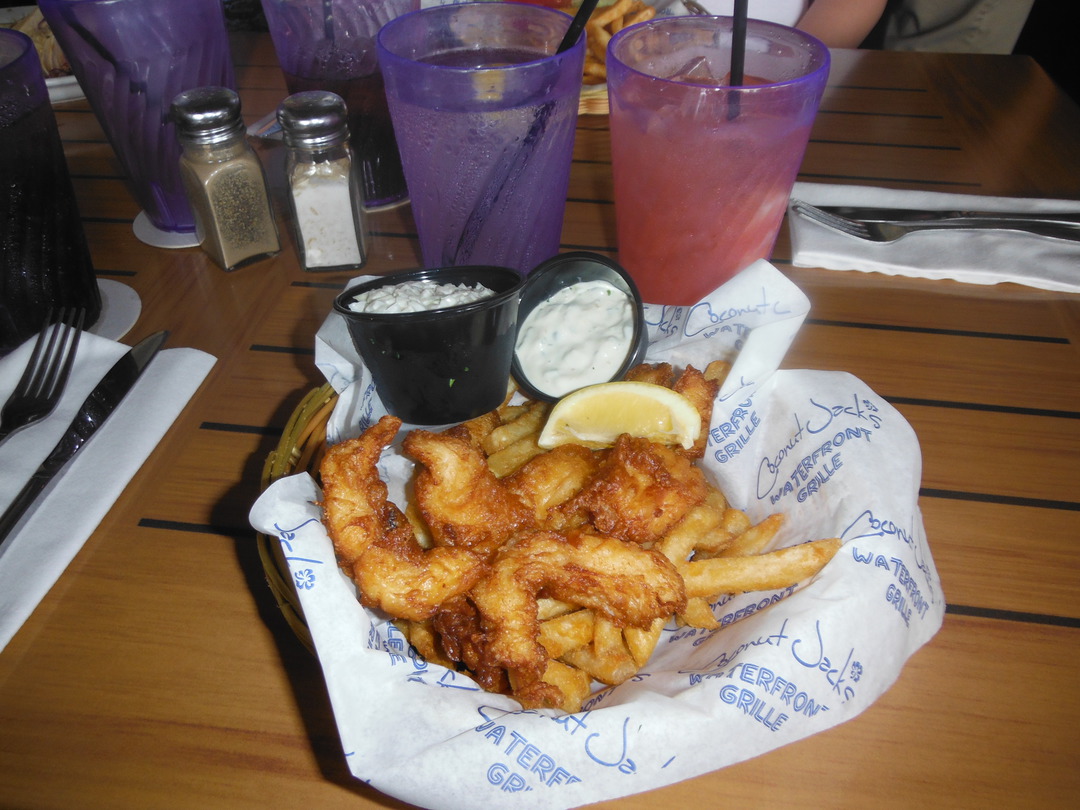 This is the Fish n Chips Basket with fresh battered grouper with fries and a small side of coleslaw. This was $16.95 and completely amazing. The grouper tenders were hot, tender and crunchy at the same time.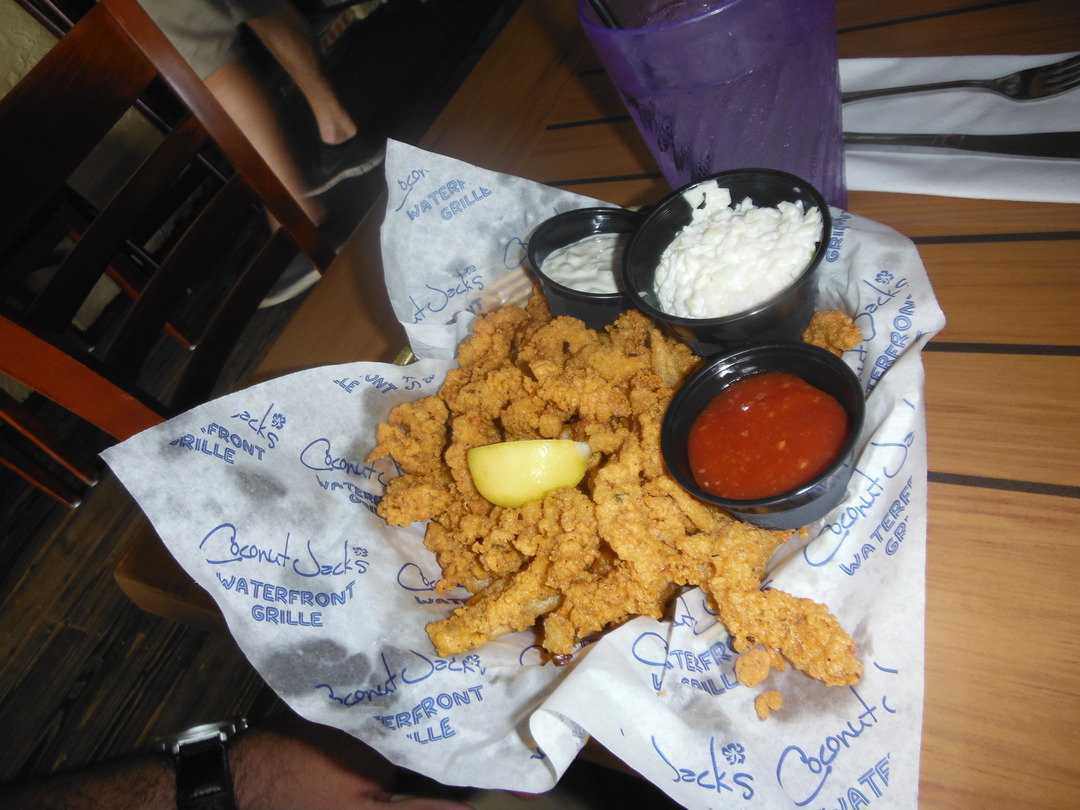 This is the chili-lime breaded clam strips basket with fries and slaw at $14.95; the soda was $2.75 with free refills. Every bite was wonderful.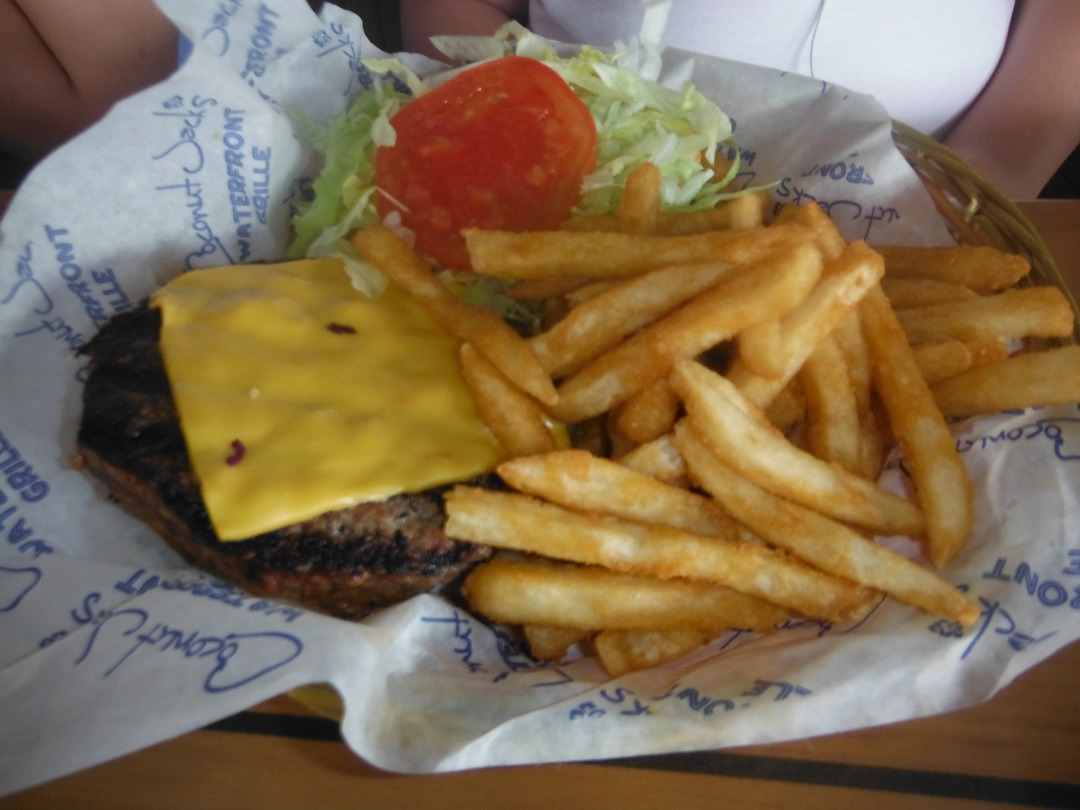 This is the Angus burger, medium well, with cheese, at $11.95.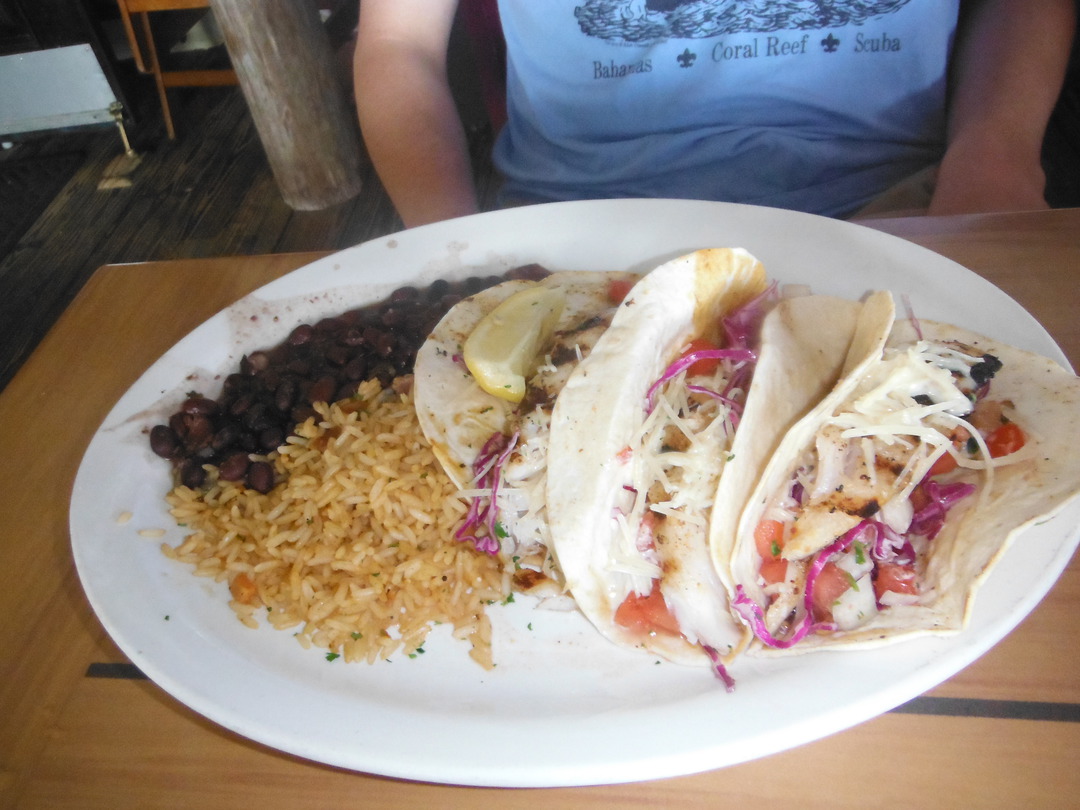 This is perhaps the most interesting plate on our table in the chickee hut: Grouper tacos with beans and rice at $18.95.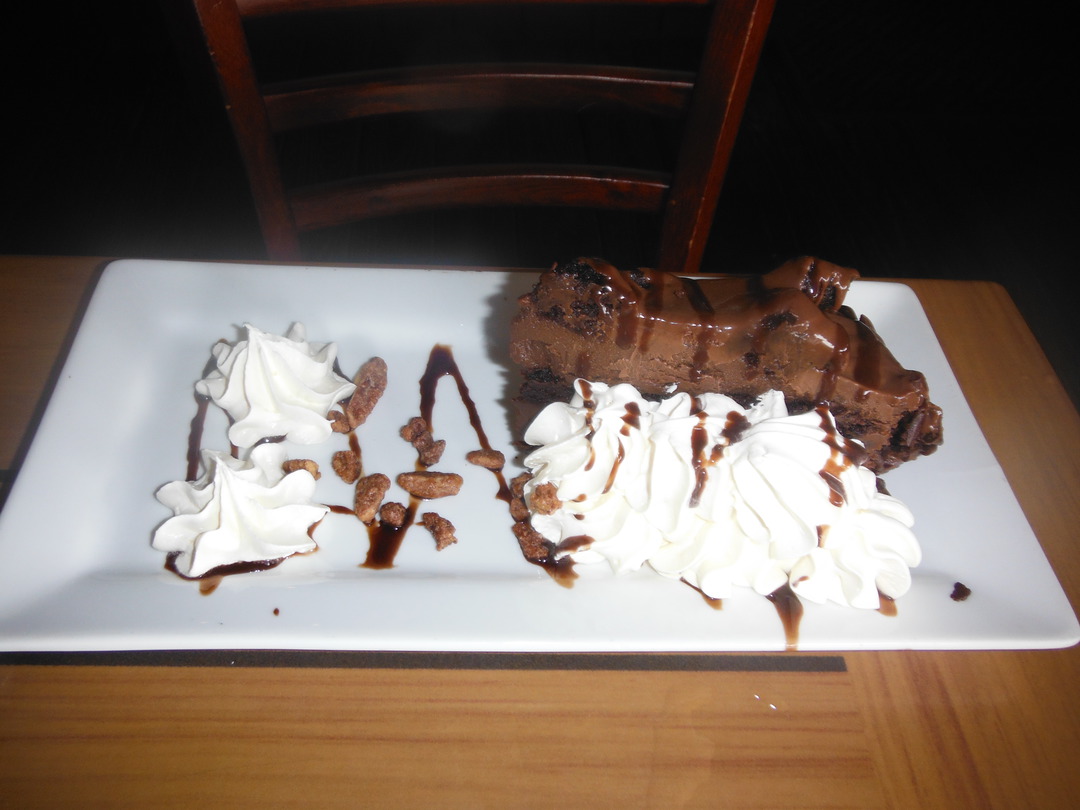 This is the chocolate cake with whipped topping and candied pecans. This dessert was $6.95 on the day of our visit and had great flavor and mouthfeel. Many who passed by our table offered their help in finishing off this wonder.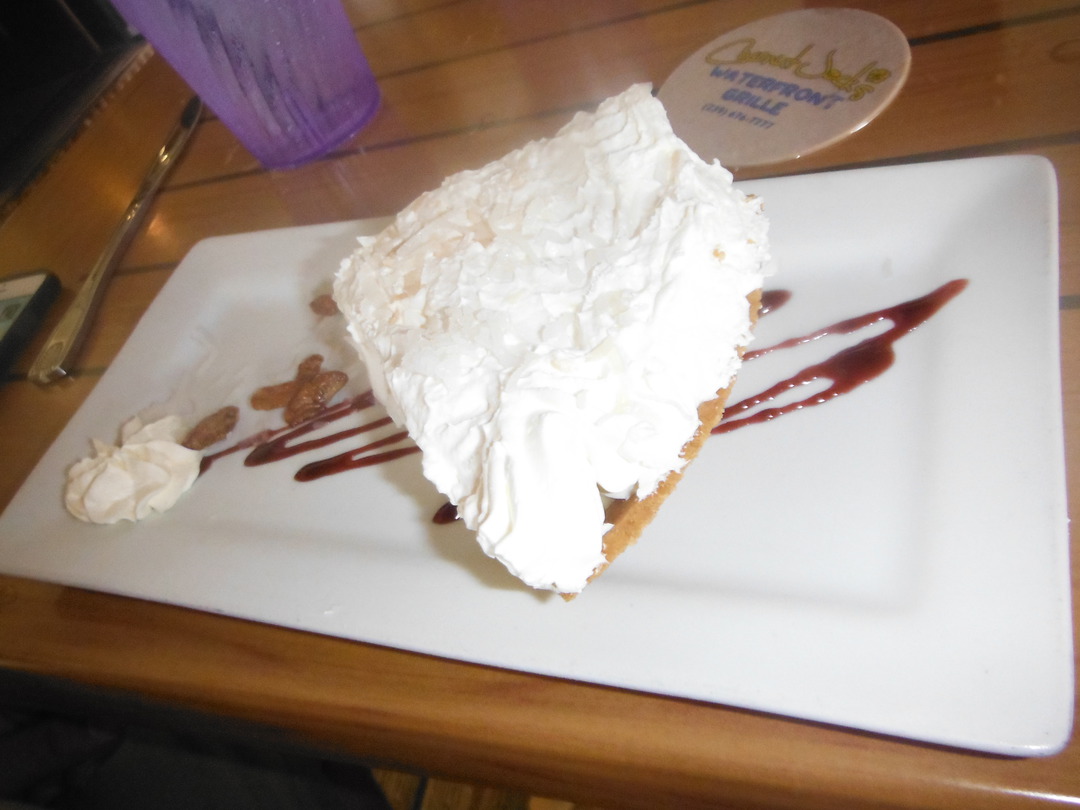 This is the coconut cream pie at $6.95. Everything that coco-cream should be.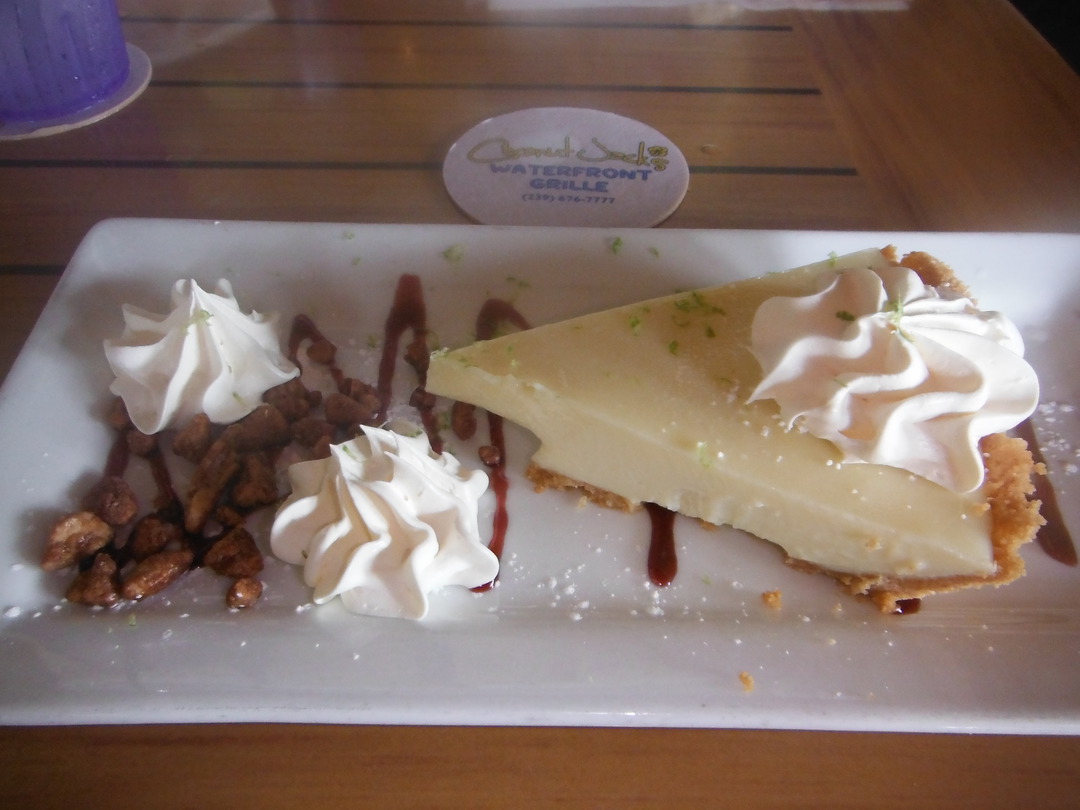 Last but not least, this is the key lime pie with whipped topping and candied pecans at $6.95. Great key lime flavor from start to finish.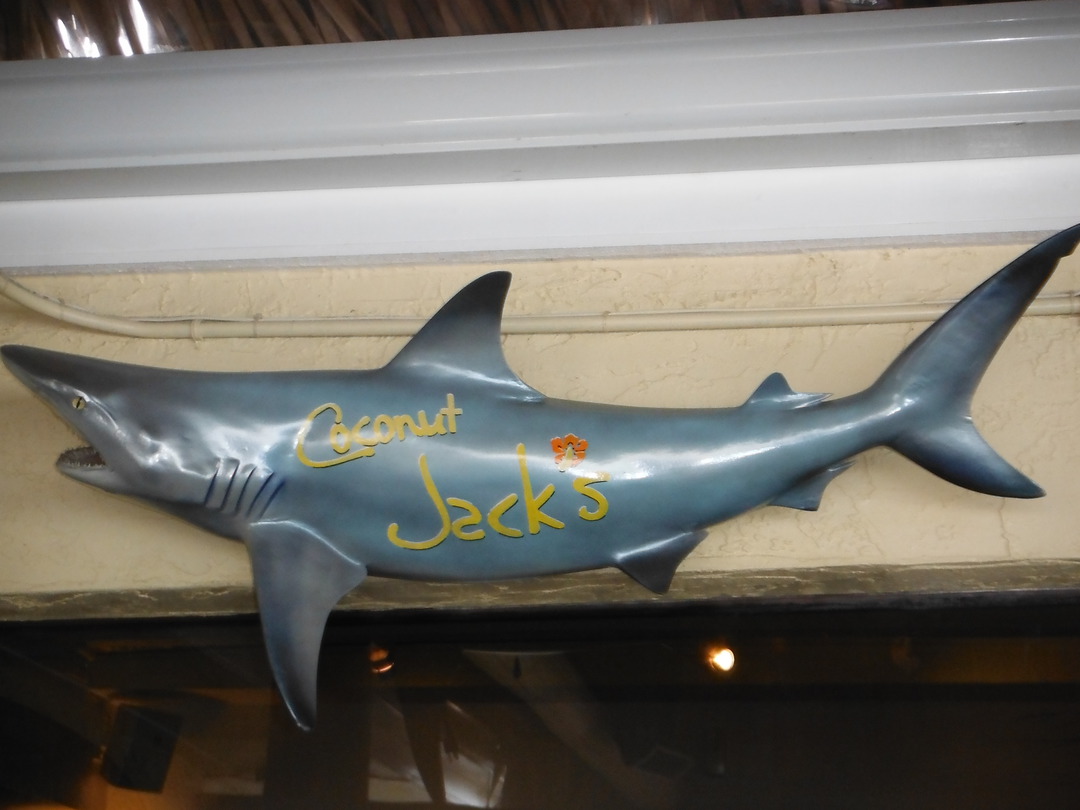 This guy was hanging above our table at Coconut Jack's; the only reason he's still there is because he's not on the menu. Nevertheless, we're hoping to see him again soon.