Doc's Beach House, Bonita Springs,

Florida

Doc's Beach House is a great place for breakfast, lunch or dinner in Bonita Springs, Florida. As the name implies, Doc's is located right on the beach. The food is good and the Gulf of Mexico sunsets are amazing. There are a lot of waterfront activities, plus the option of doing nothing at all. There's enough to do here from morning to midnight for beachgoers of all ages.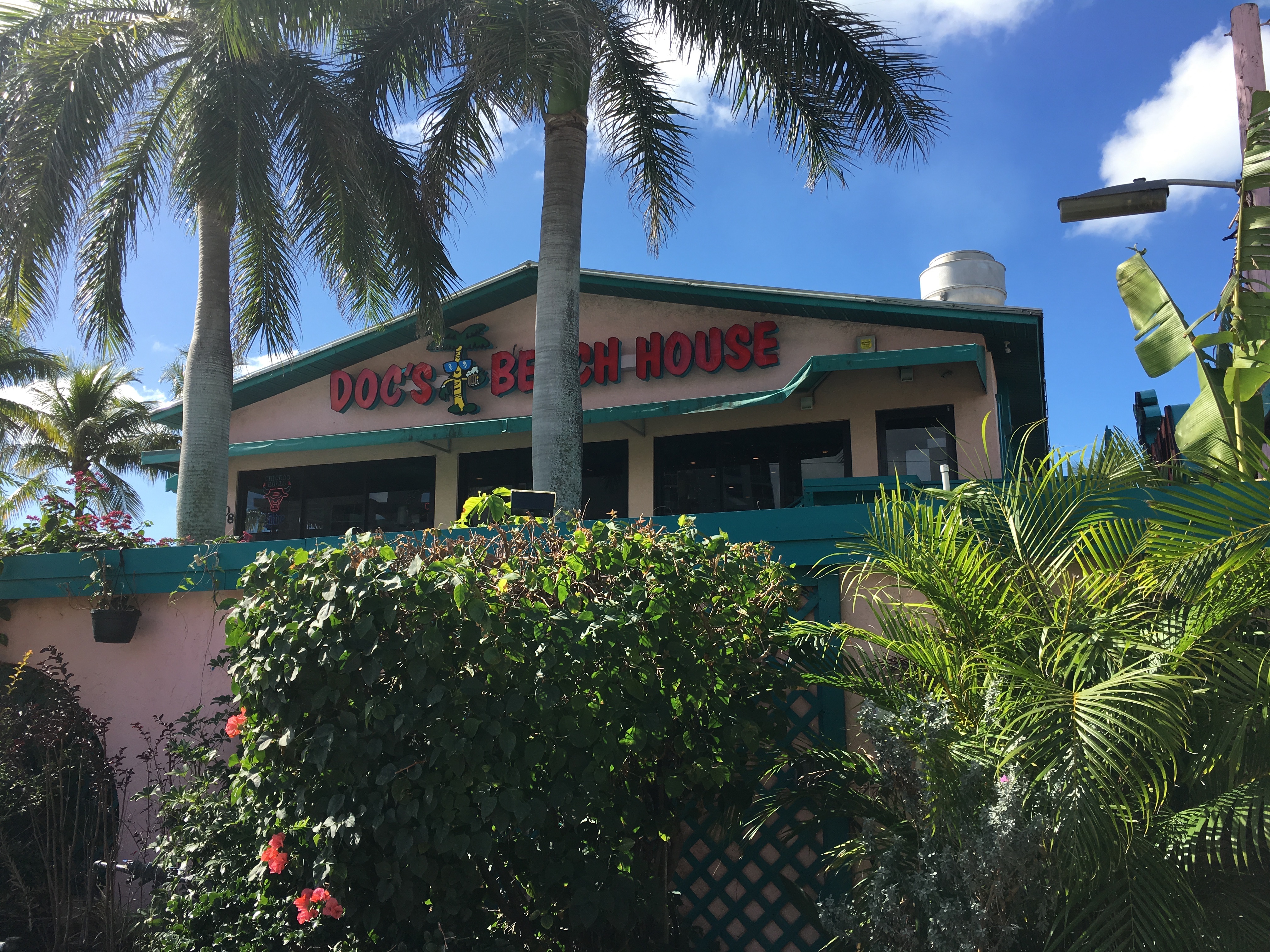 Doc's Beach House is located at 27908 Hickory Springs Boulevard in Bonita Springs, Florida, on the Bonita Public Beach. This restaurant opens at 7 am for the breakfast crowd, and stays open really, really late. There is free valet parking, because during the peak tourist season, this restaurant is crowded. This is the view of Doc's from the signaled crosswalk at King's Kew and Hickory Springs.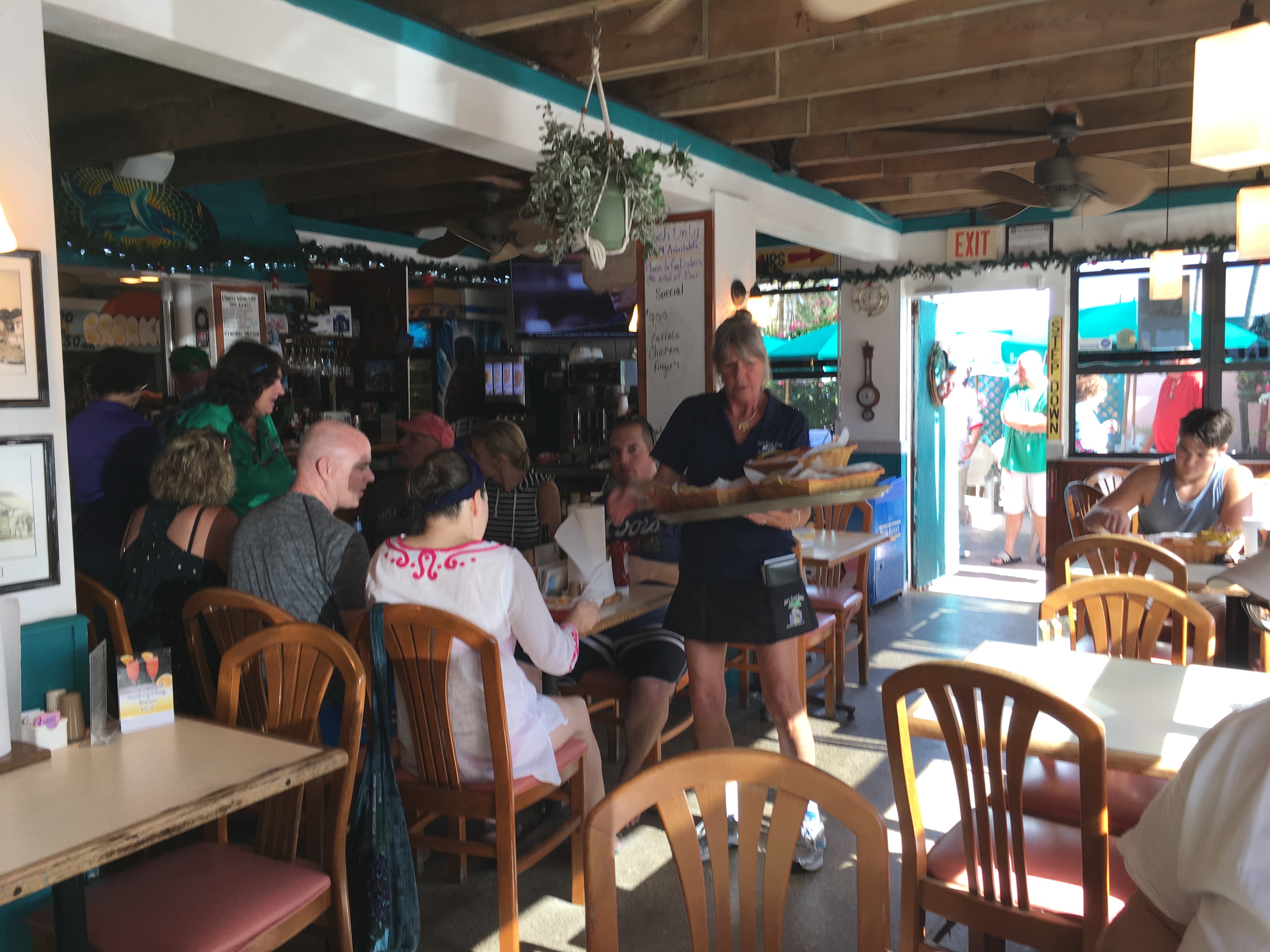 This restaurant is cash-only, with an ATM just inside the back porch door. This is the main dining room, and there is also a bar upstairs. There is also a beachside bar and gift shop, plus umbrella and picnic tables outside, jet skiing, kayaking, volleyball, and just plain relaxing. The lovely Bonita Beach Park is right next door.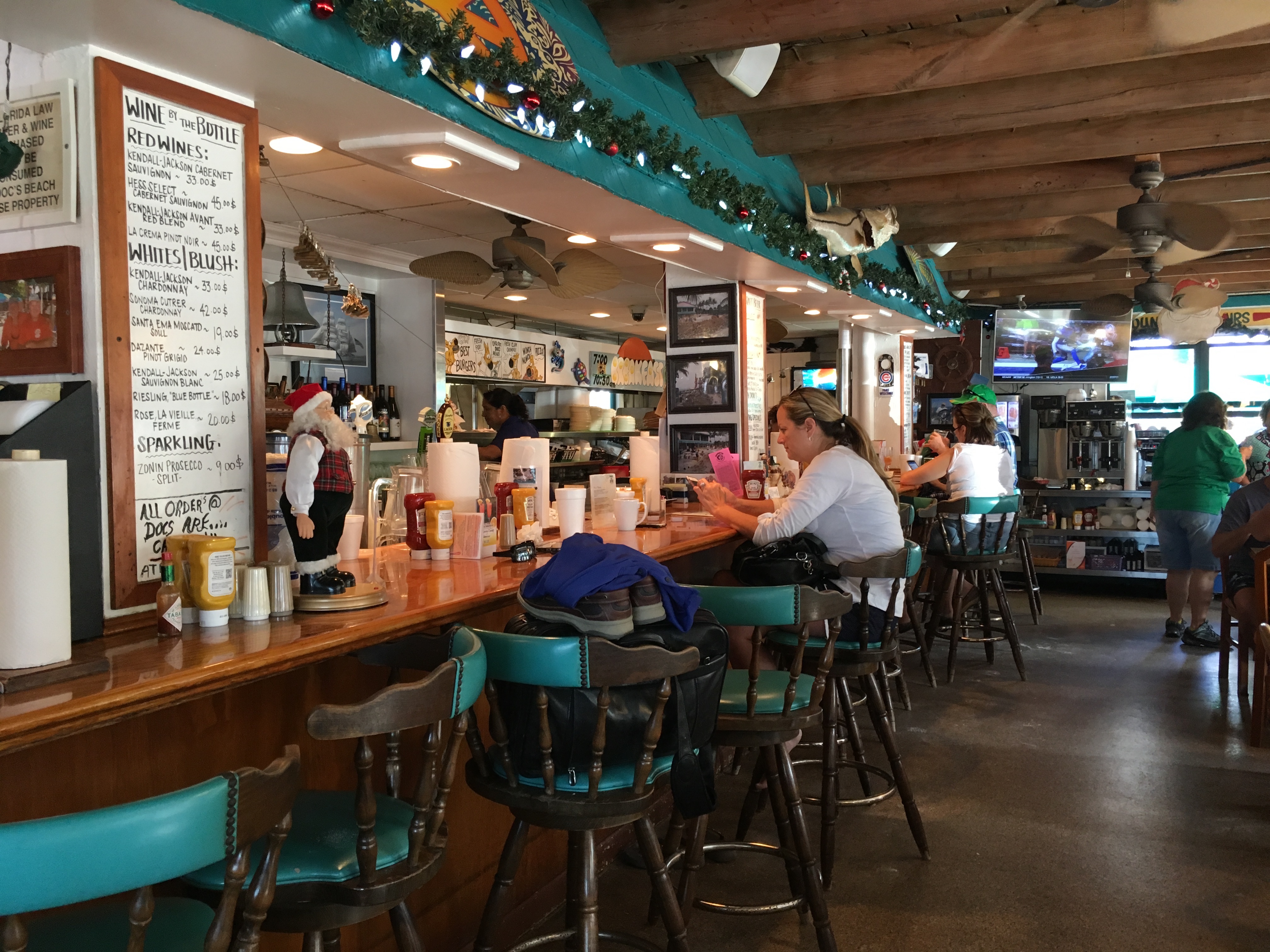 This image was taken at about noon on Tuesday, December 27th, 2016. The restaurant was already starting to fill up, and by one o'clock the bar was full too. Just to the left of the Santa statue is the ordering area for beach-goers who want items from the full menu. This establishment has satellite TV, and the owner is a major Chicago Bears fan.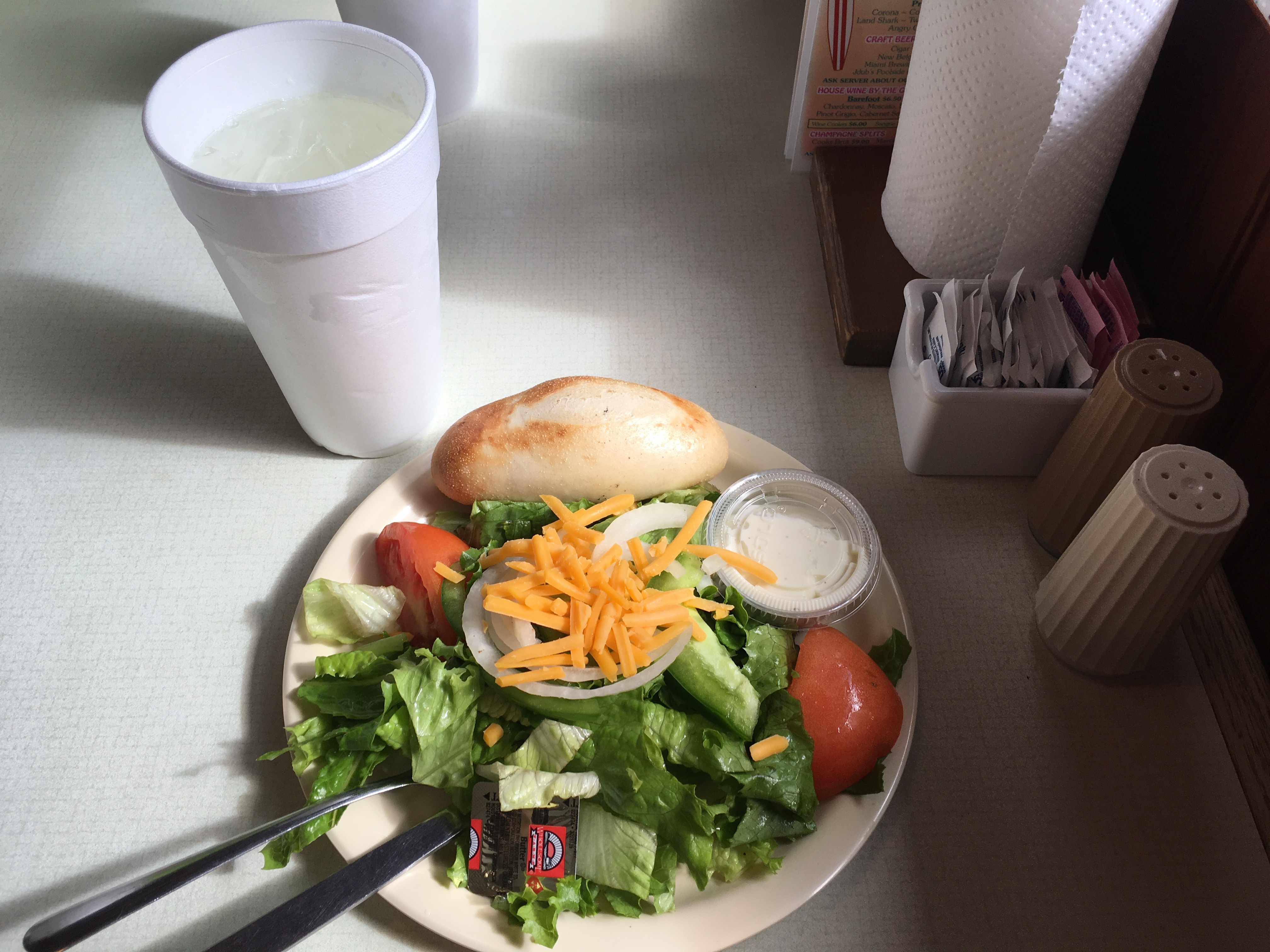 This is Doc's house salad at $5.99, with tasty bleu cheese dressing on the side. Aside from the usual rubbery tomato wedge, this salad was delicious and the roll was warm and fresh. This is a large lemonade at $2.50, and there are only refills on coffee and iced tea. The folks at my table ordered salads at 11:45 am, which came at noon, with the entree's coming about ten minutes later.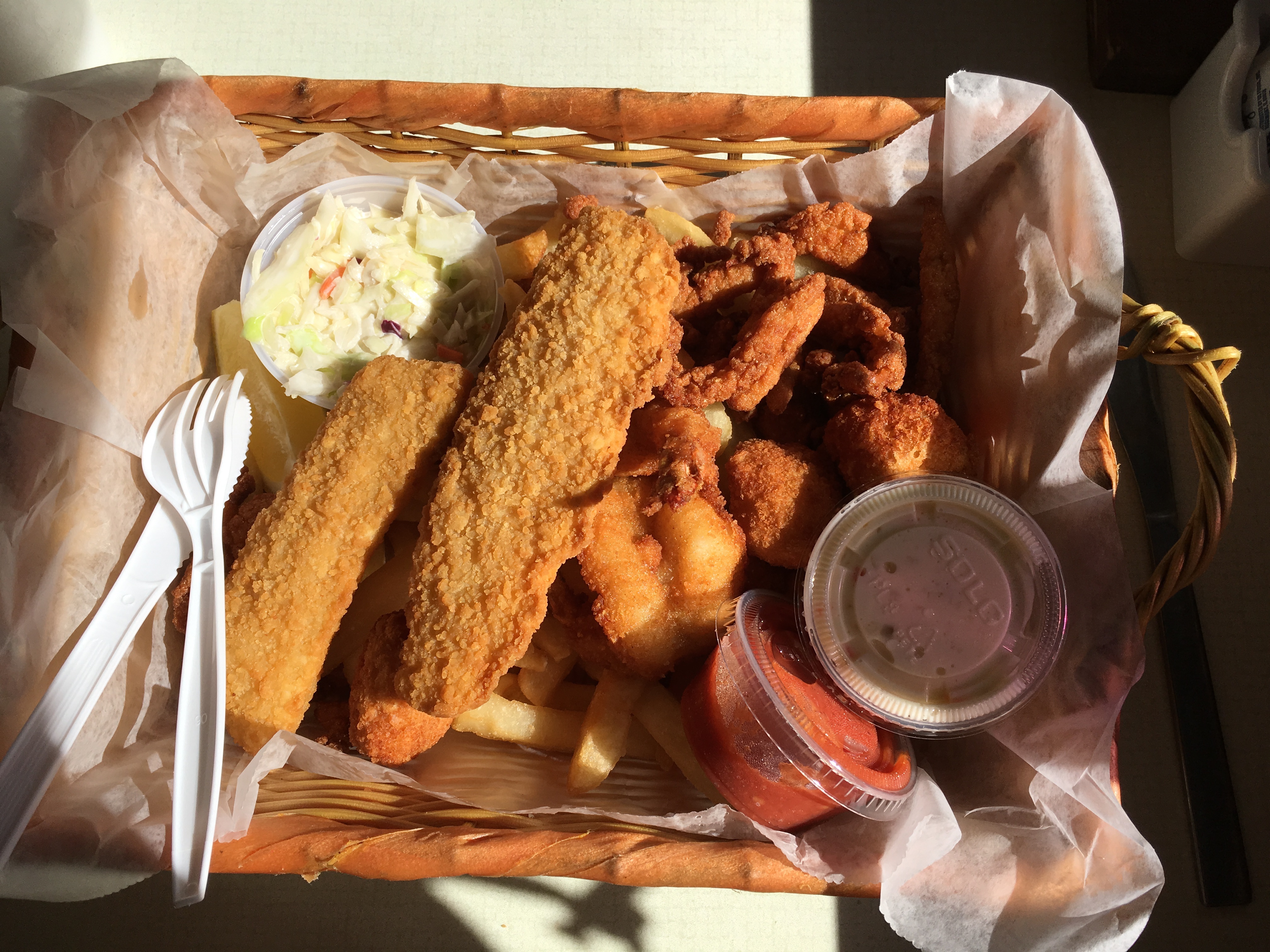 This is the fried seafood combo basket at $16.99. It includes two fish fingers, two large shrimp, three scallops, fried clams and french fries. Every bite was hot, crispy, and delicious. The fries and slaw were pretty standard, but rounded out this basket nicely.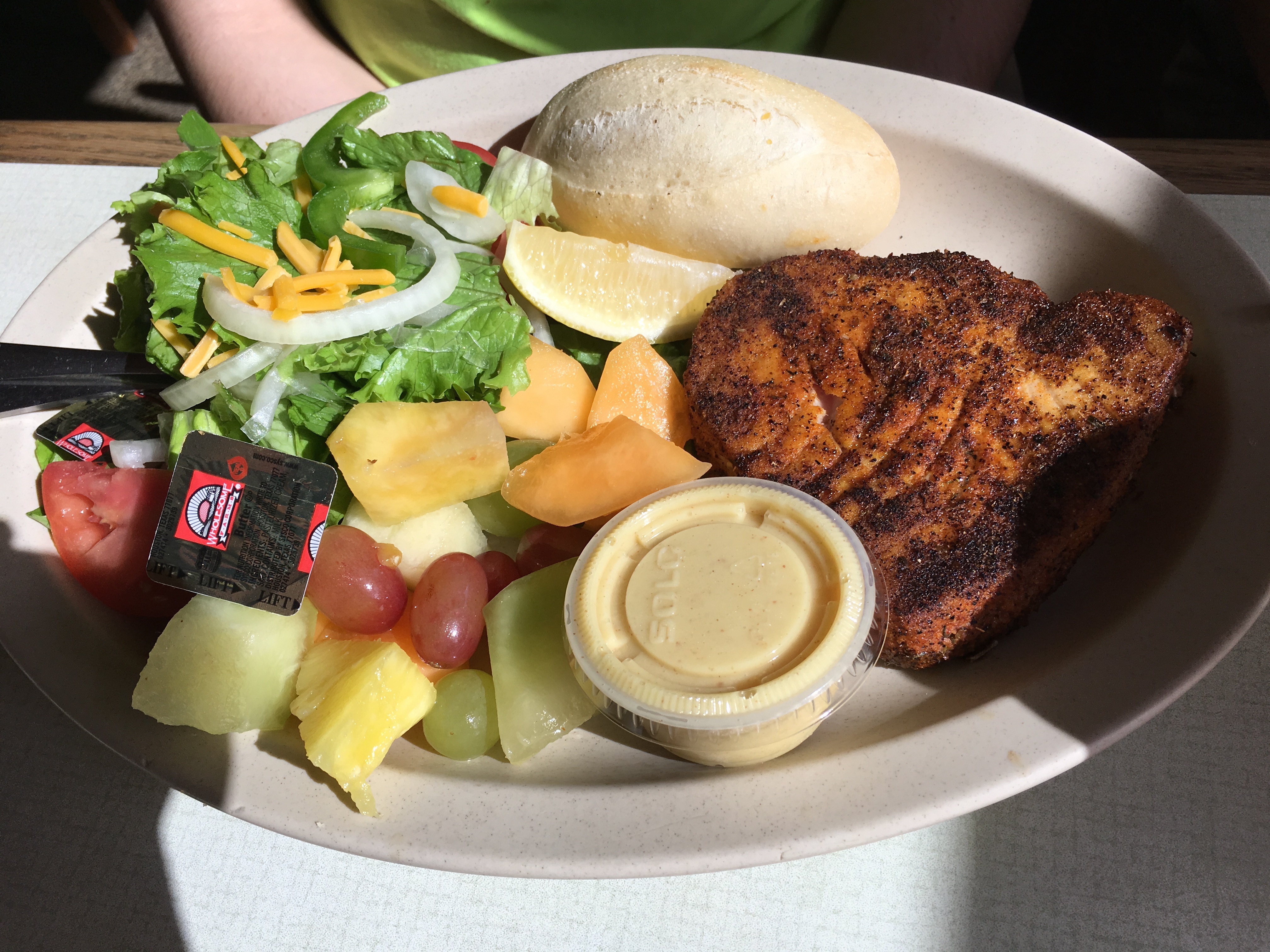 This is the tuna plate at $17.99, with side salad, dinner roll, and a cup of savory sauce. Here are the deets on the entree's and baskets: for blackened or lemon & garlic, add 99 cents. Please no substitutions. This dish is one of Doc's "plates," which can be made Gluten-free if ordered without dinner roll and seasoning. Choice of sides include fries, coleslaw, salad and fresh fruit. Baked potatoes and veggies are available after 4 pm. Another tasty plate is the Swordfish plate.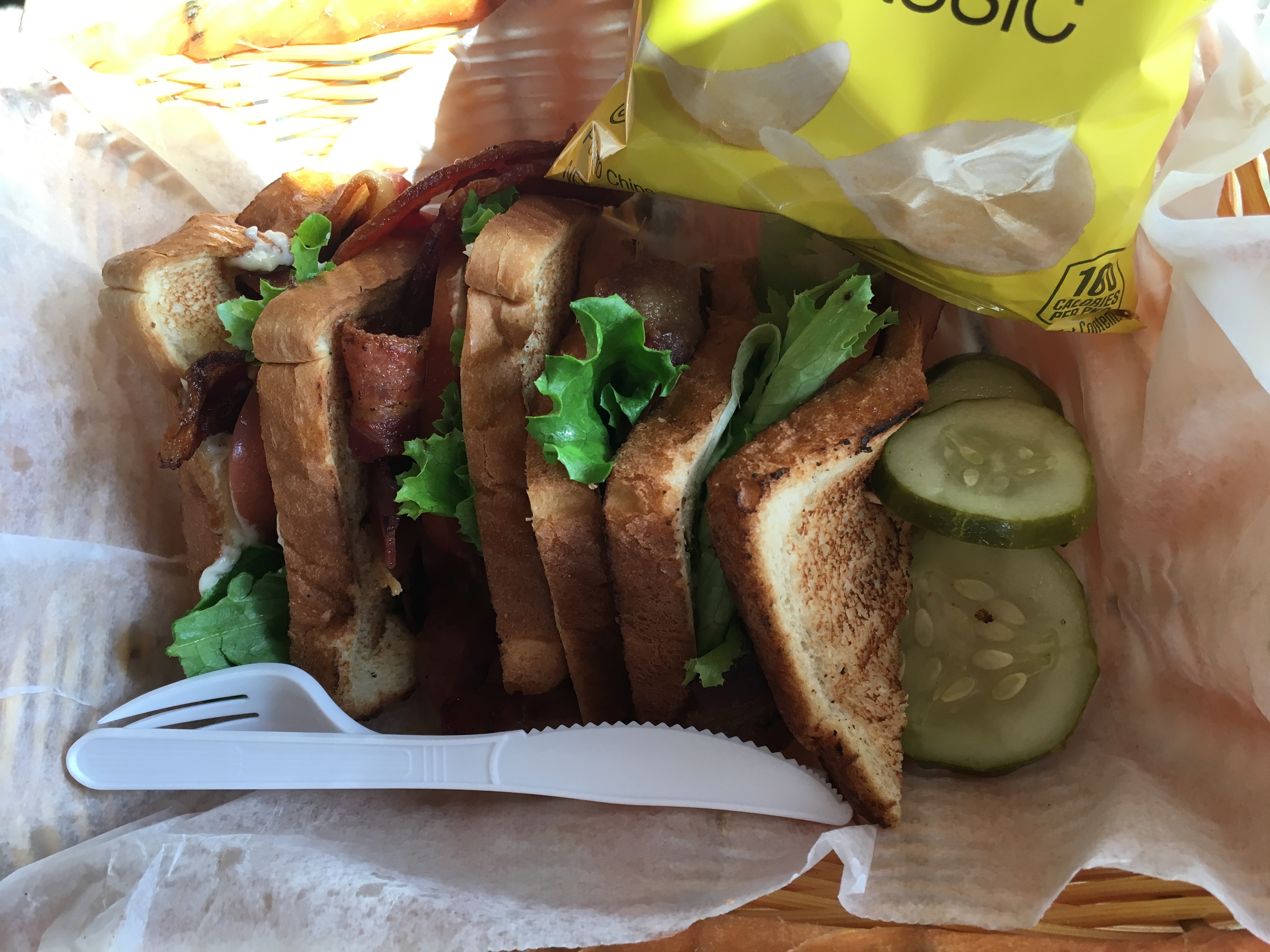 This is the BLT Triple Decker sandwich at $9.99, on white bread. Doc's sandwiches are served with chips and pickle, on white, whole wheat, or rye bread. The bacon was thick and savory with great texture.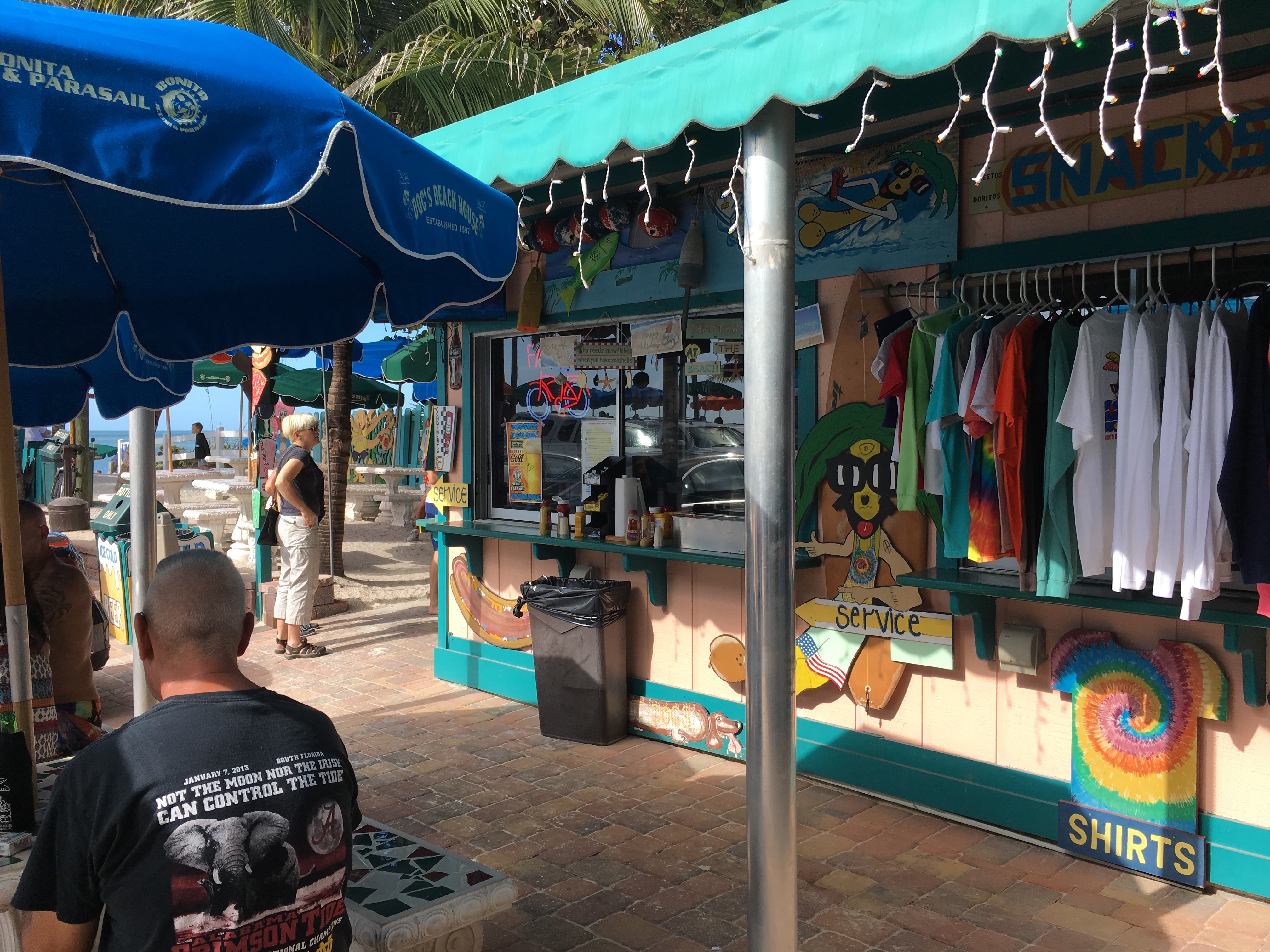 The food and service (staff is great) at Doc's is wonderful, but the whole point of this beach house establishment is to go outside. This is the shirt shack, also known as the Beachside Bar and Gift Shop, where sunseekers can get drinks, snacks, sunblock, etc.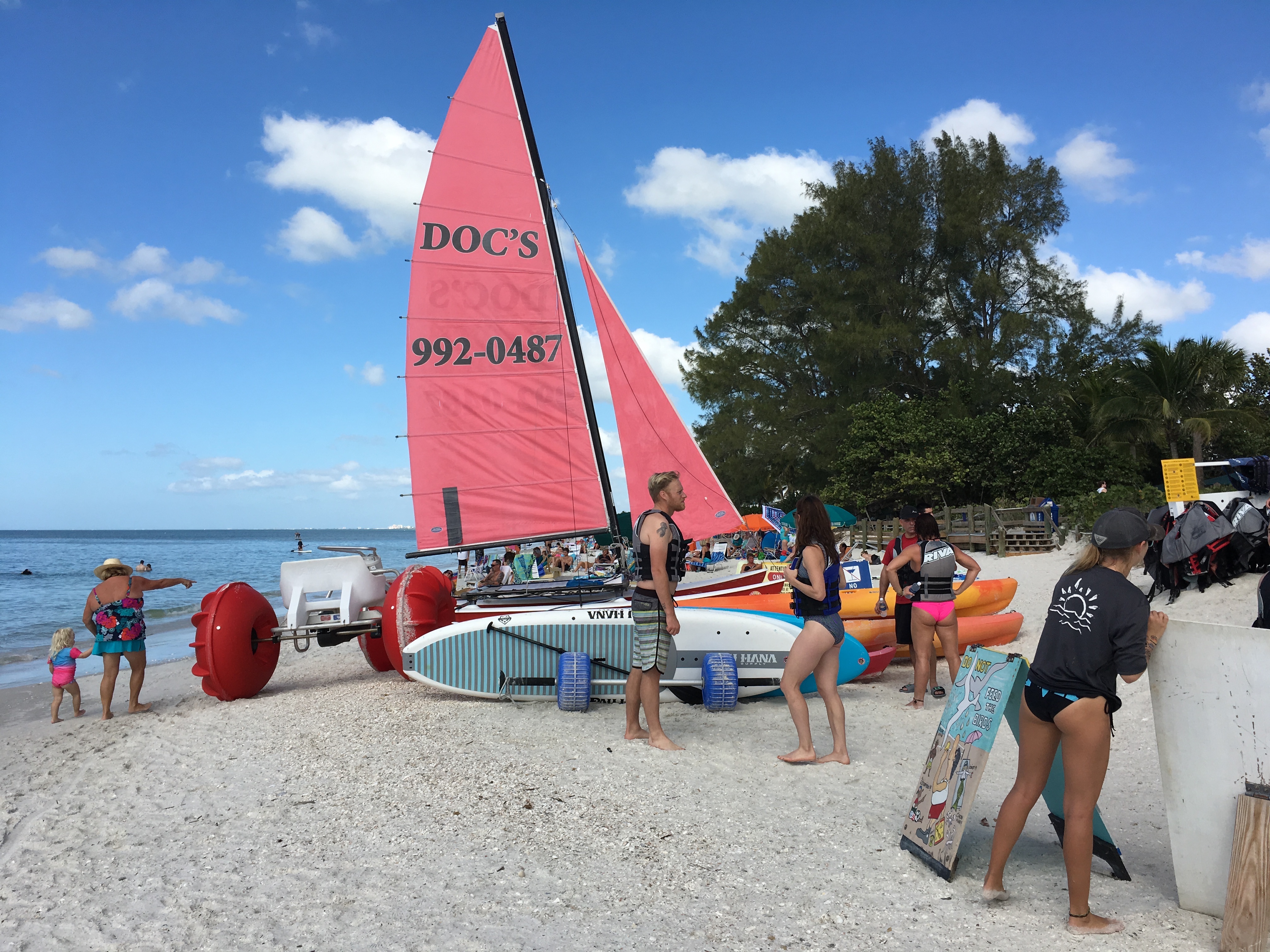 All of the fun stuff seen here is available for rent from Bonita Jet Ski & Parasail. Backbay dolphin tours and sailboat rentals are among the many activities. This beach is a little noisier due to all of the motorized offerings.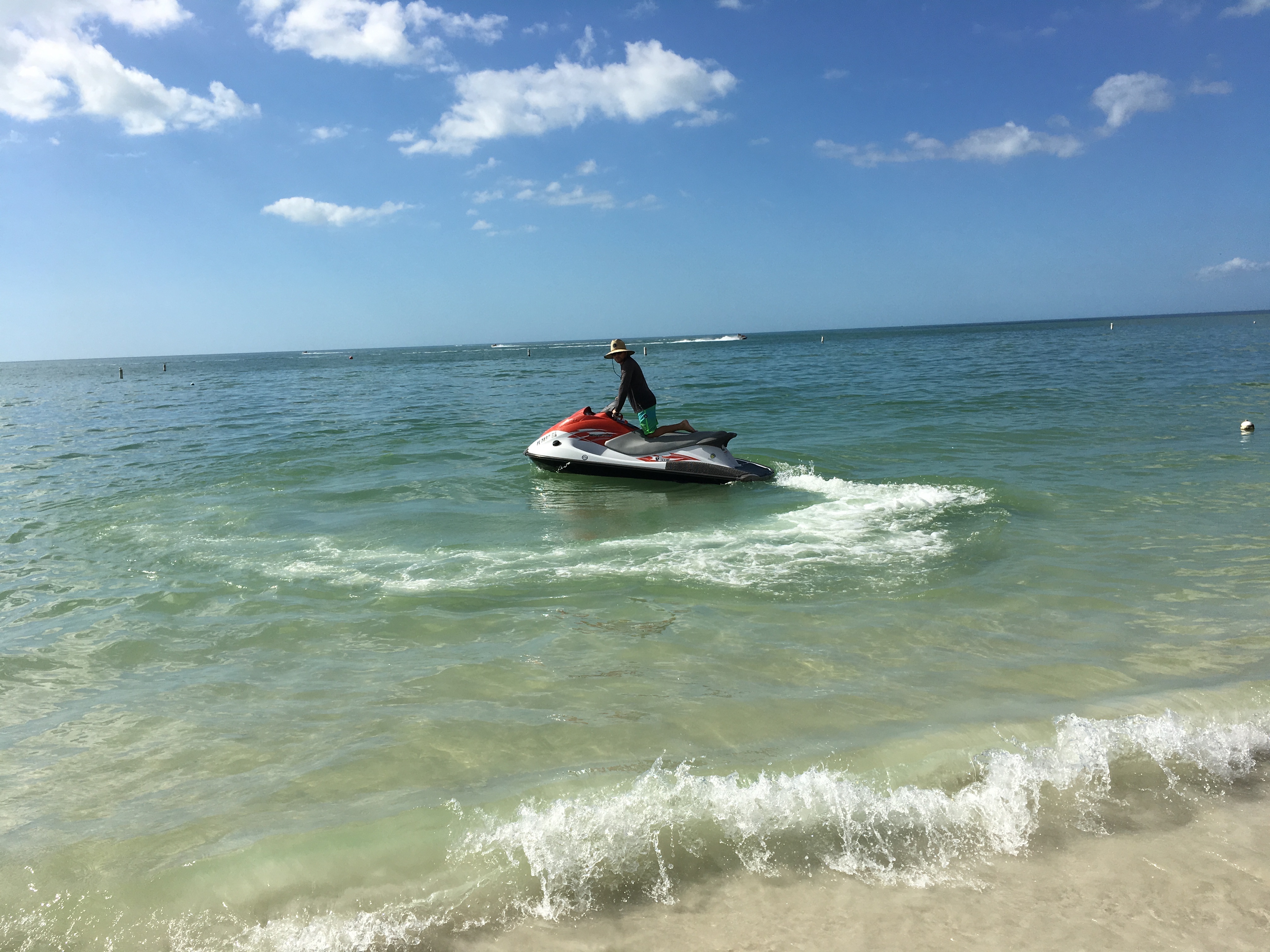 This is one of the jet ski's available for rent from Bonita Jet Ski & Rental. The web site recommends that parking for equipment rental is available at one of the many public beach access points (there are some really close by) because the restaurant parking is really tight and for people who are dining at the restaurant.
This mermaid was found sunning herself at the Bonita public beach, right next to Doc's. The sand here feels wonderful on the feet and the shells are quite plentiful. Doc's first opened in 1987.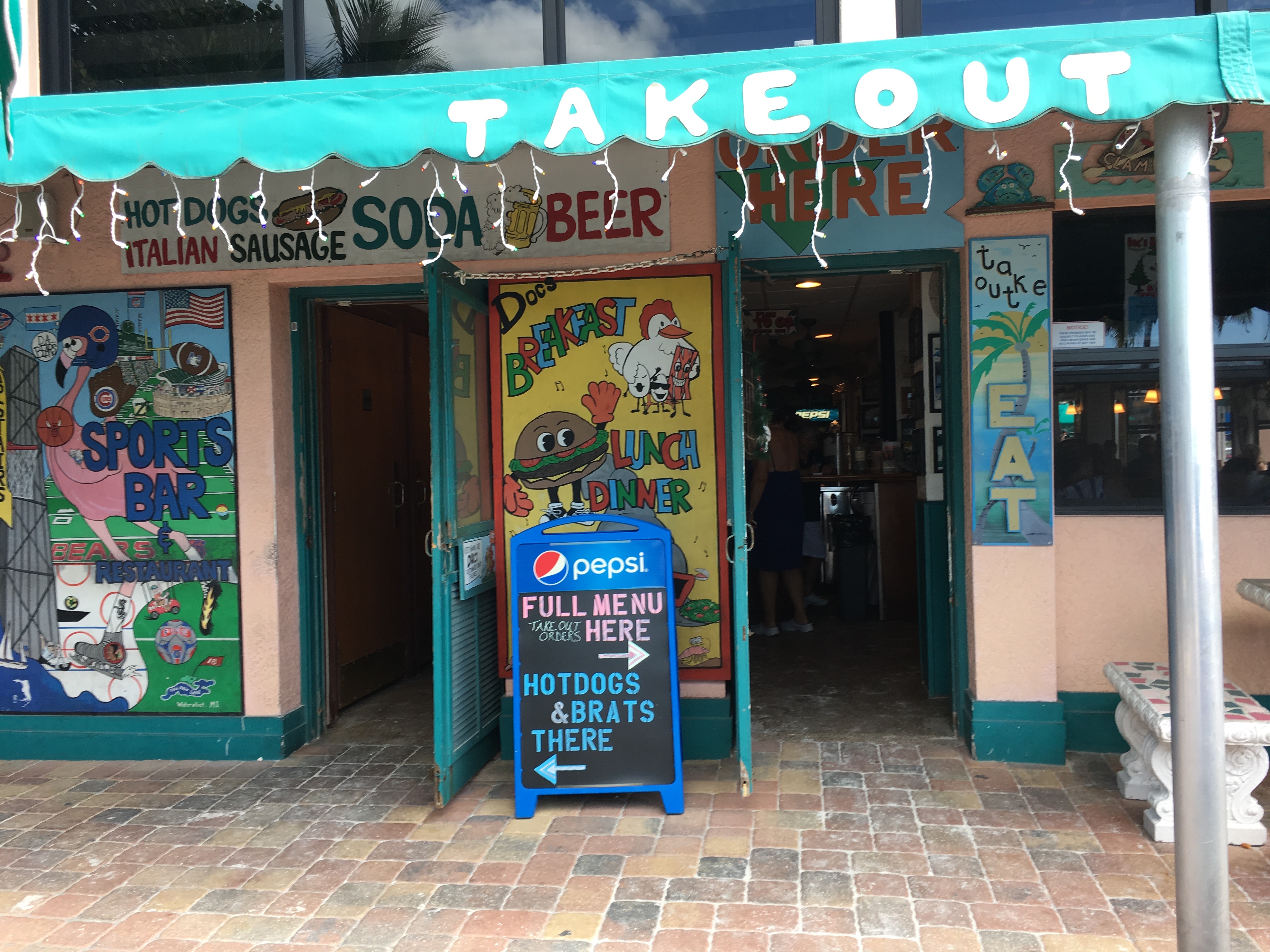 After spending a couple of hours with various beach denizens, such as the mermaid in the previous image, it was time to get a beverage and a snack, and I would enter through the door on the right to get full-menu take-out. (The tiny closet of a restroom is on the left; there are two of them. There is usually a line after dark.)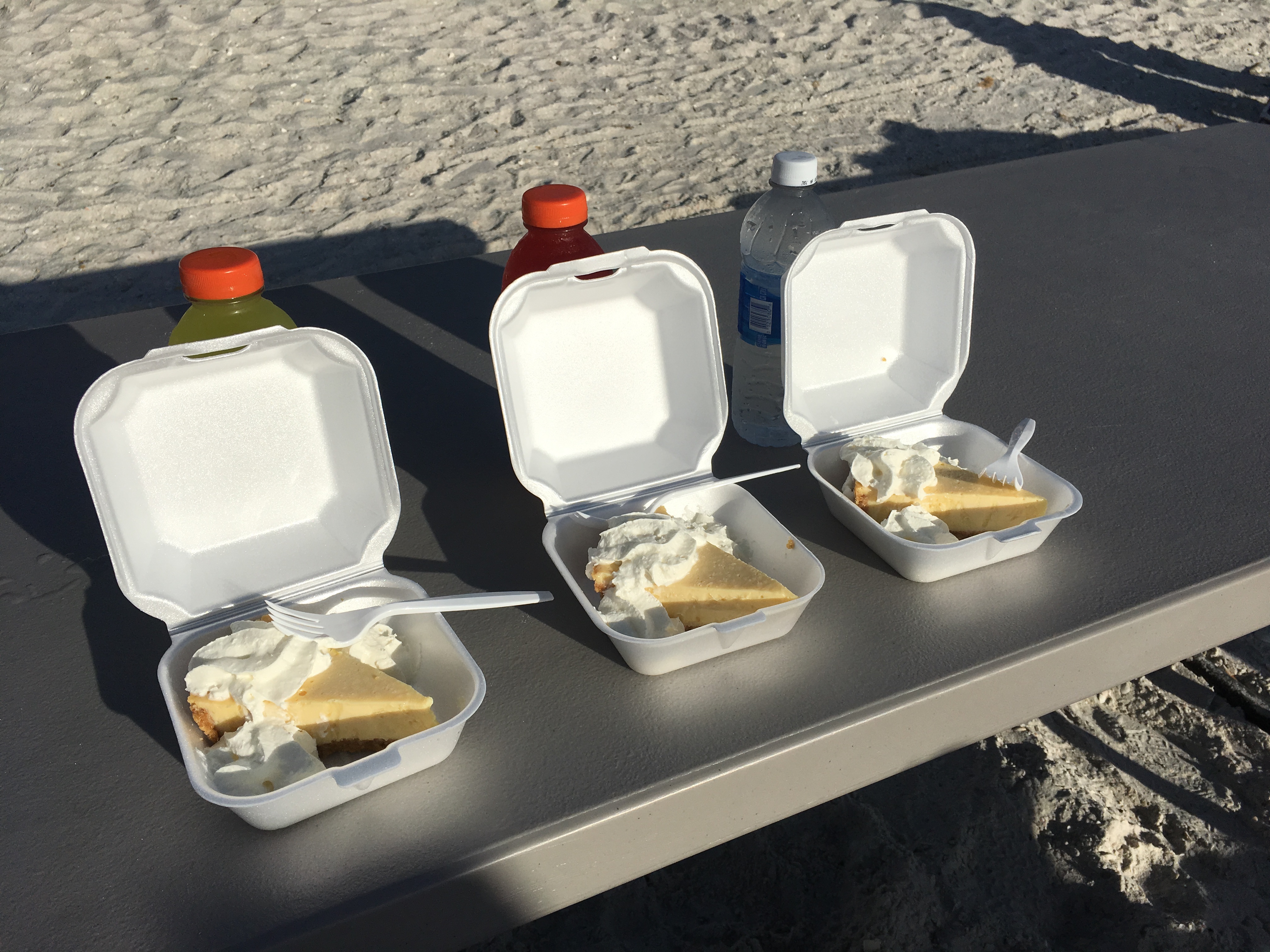 Here are three slices of Doc's Key Lime Pie, at $5.99. Cheesecake is also offered at $5.99, as are various ice cream novelties at $3.00 from the cooler. The Gatorade was purchased at Doc's also. It's about 4 pm, so the sun is starting to go down. The beach is getting somewhat more crowded as sunset approaches.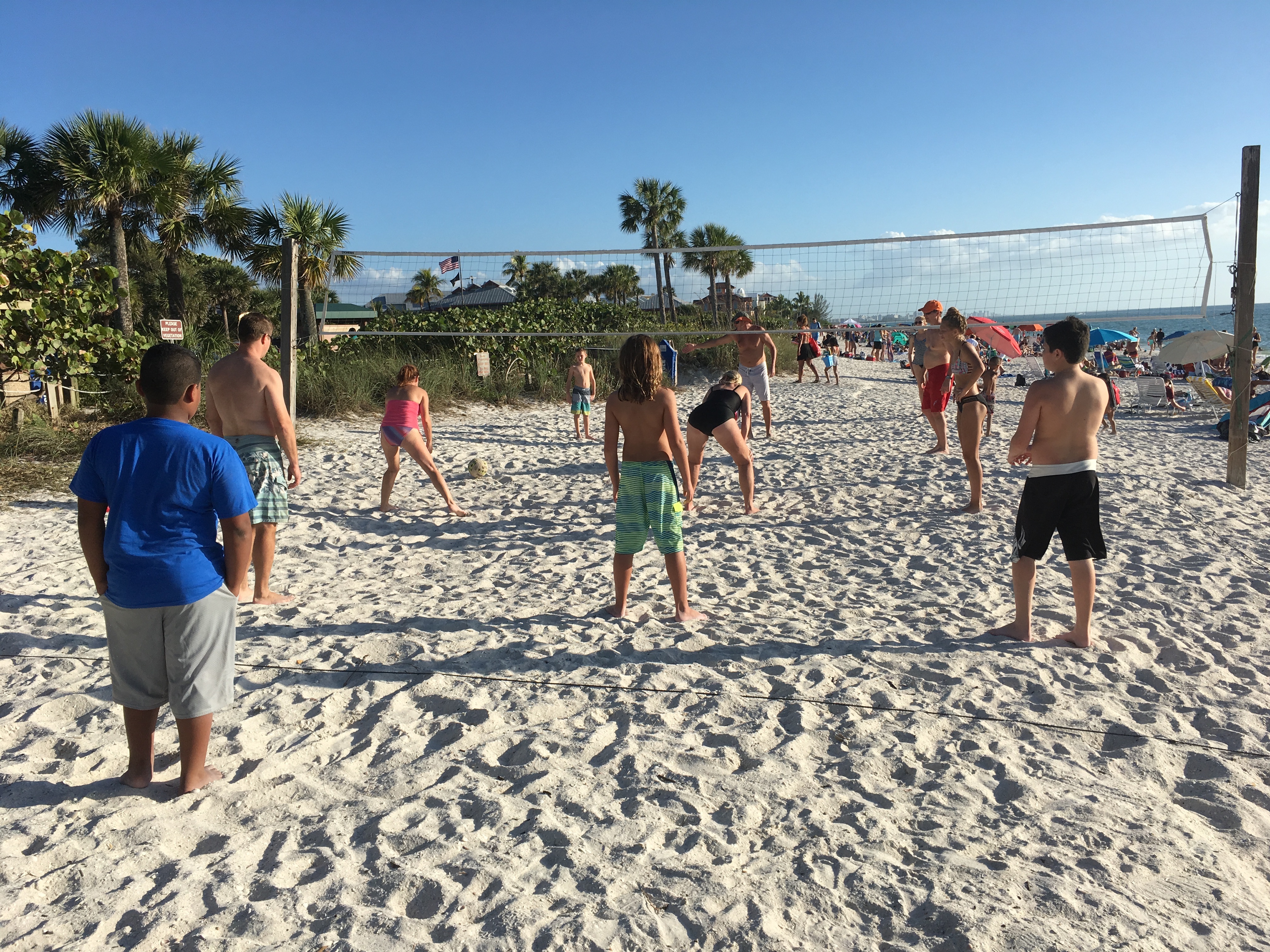 There is still a lot of sun left for this afternoon, so why not enjoy a game of beach volleyball? There are plenty of folks here to field two teams. Just to the south of this volleyball net is the public Bonita Beach Park (just walk down the beach a few paces). Peering through the left side of the net there is an American flag, which is posted near the many amenities available at the park, plus parking. There is additional parking on the opposite side of Doc's, at Public Access #1.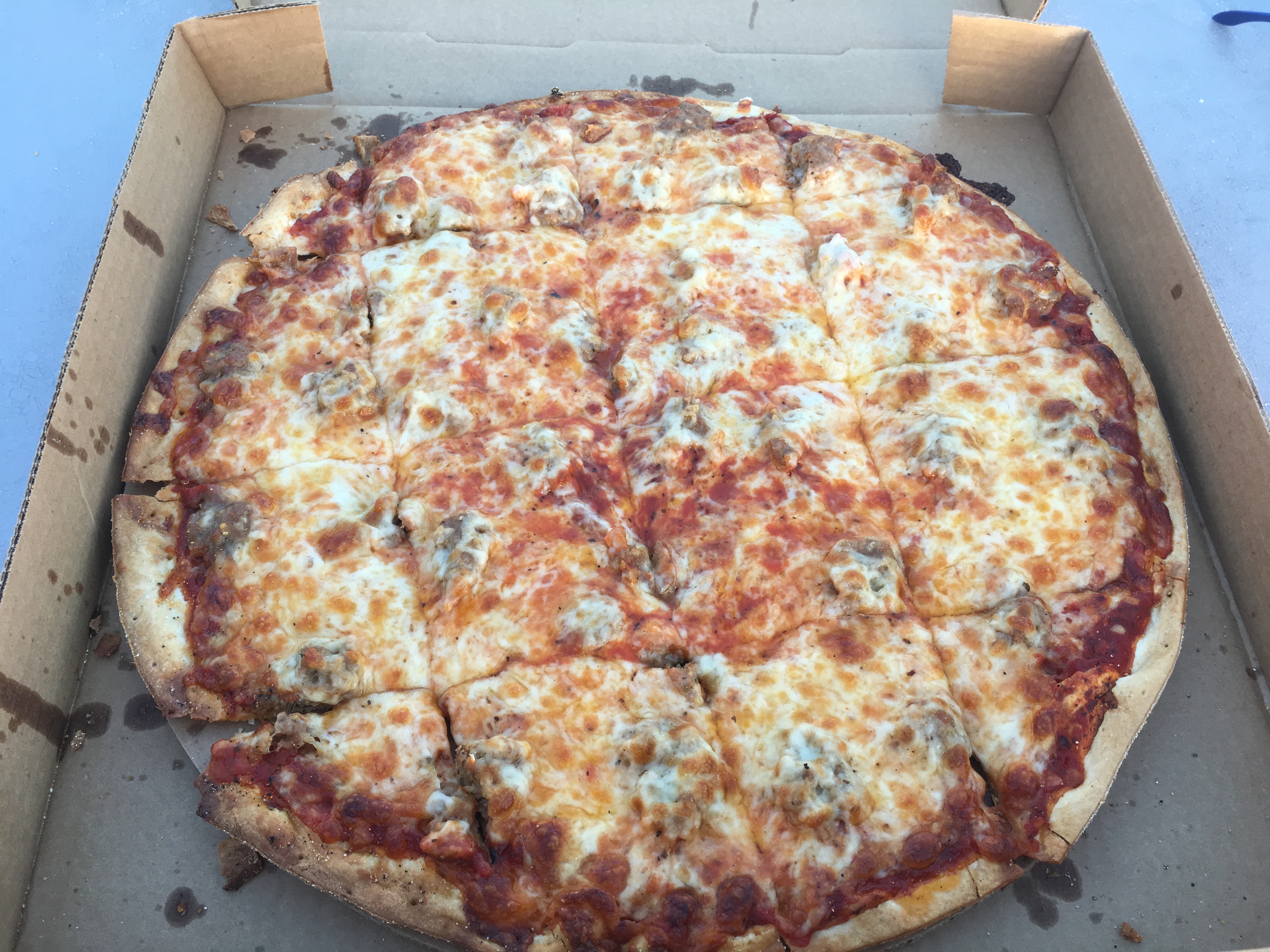 Since the owner of Doc's is from Chicago, he naturally wants Chicago style thin crust pizza available at his establishment. Pizza is only available after 4 pm, and guests are asked to allow 40 minutes to receive their pizza order. This is a 16-inch pizza at $20, with sausage (add $2.50). There is a 14-inch pizza for $18. This pizza was ordered at 4:50 pm and this image was taken at 5:15 pm.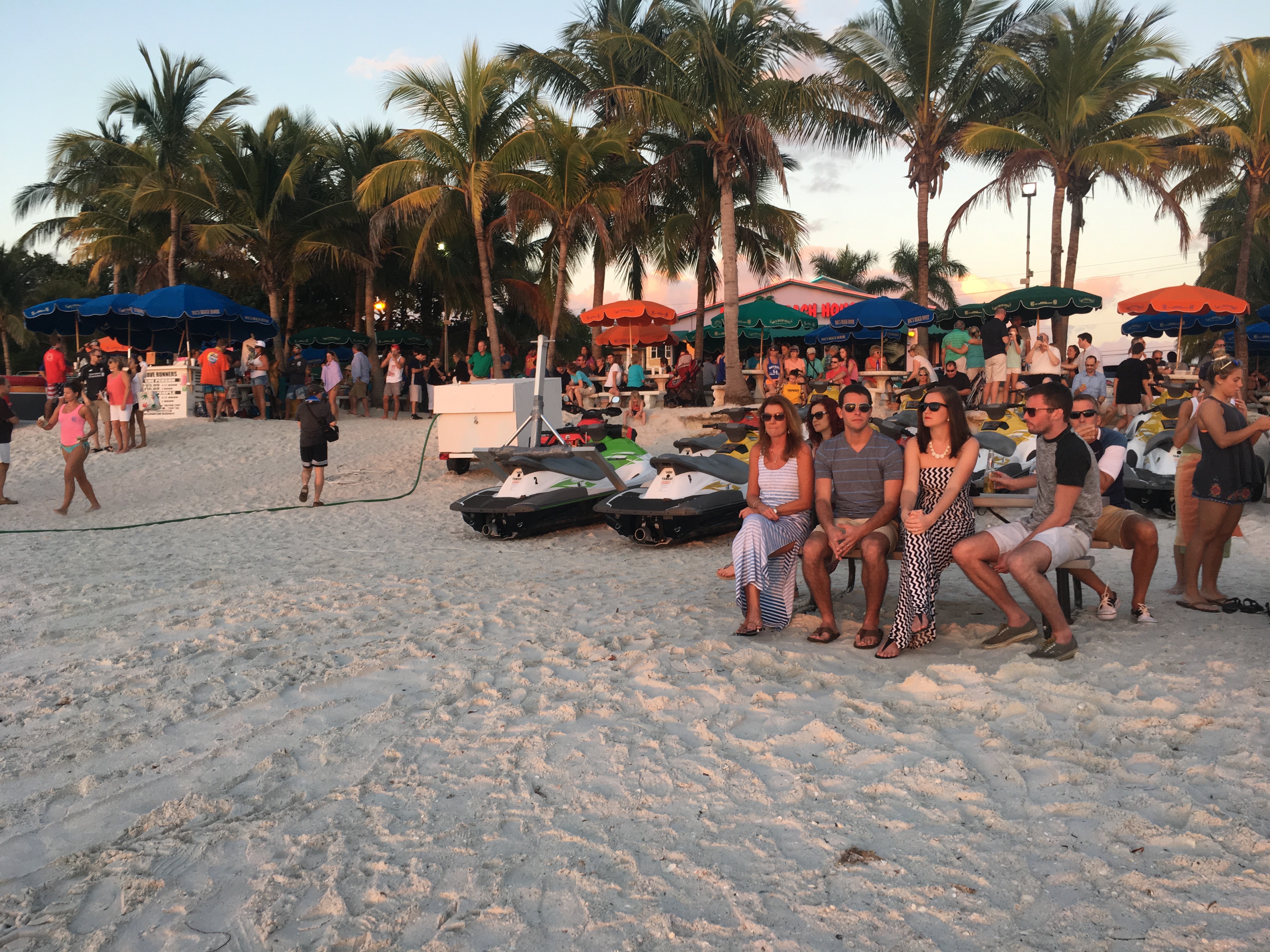 Sunset is imminent. This image was taken at 5:39 pm; sunset will be at 5:44 pm.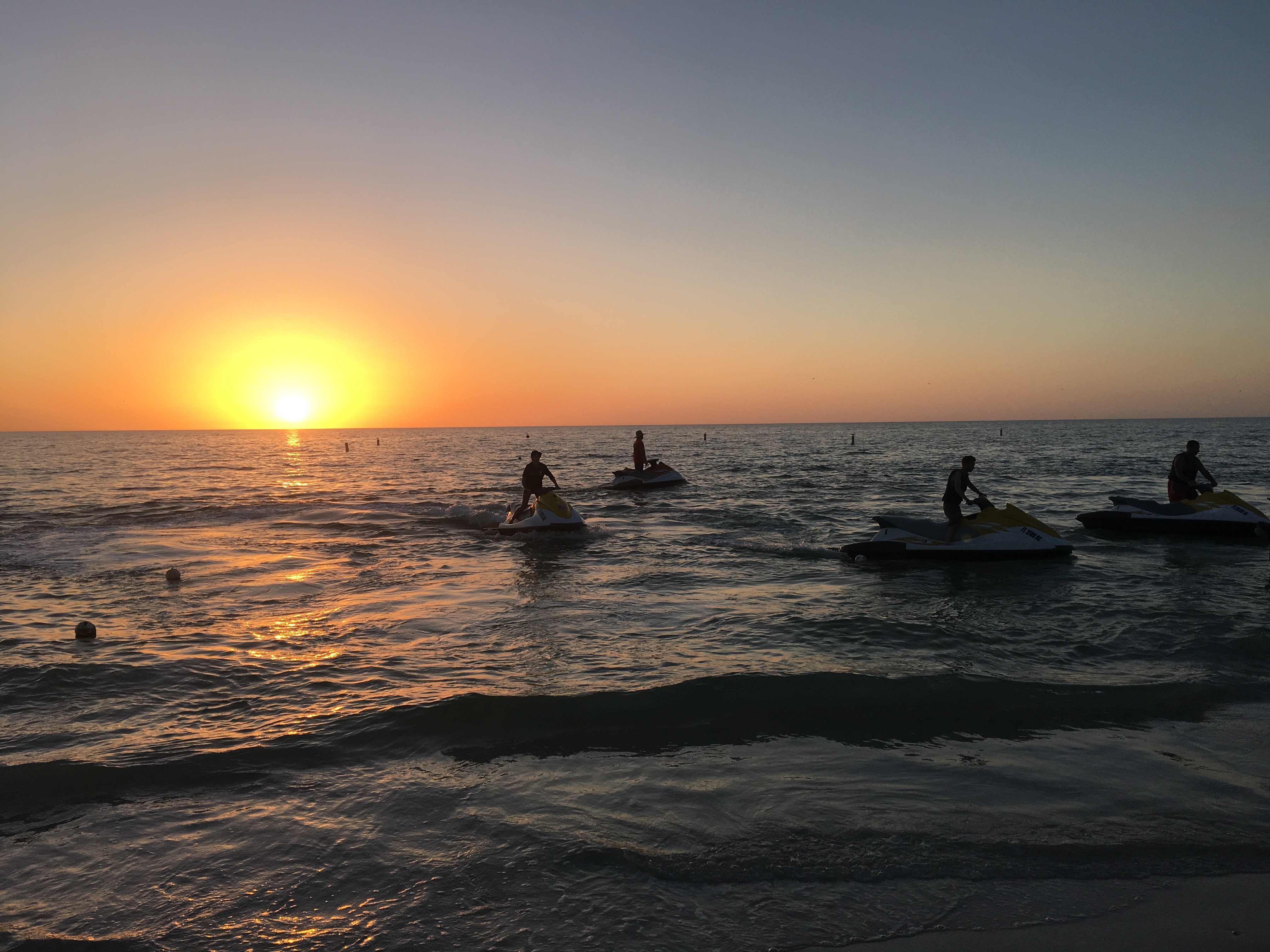 The jet ski's are coming in for the night and will be towed by pickup truck to another location. A lot of folks are leaving the beach, but a lot are coming in for dinner and drinks.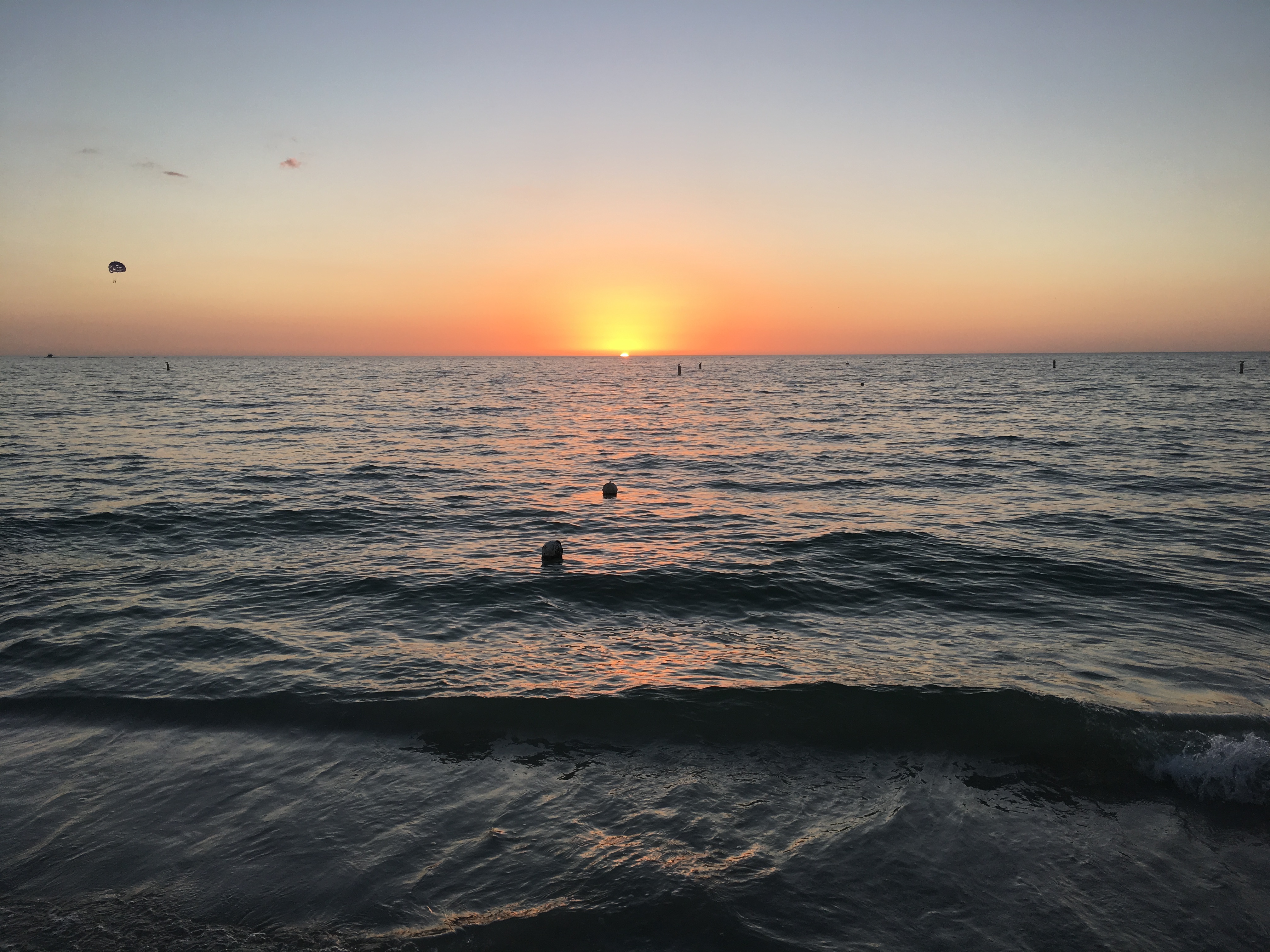 It is now sunset on the Gulf of Mexico in Bonita Springs, Florida. The time is 5:44. Looking out over 660,000 square miles is an awe-inspiring experience; Brownsville, Texas, is just across the way.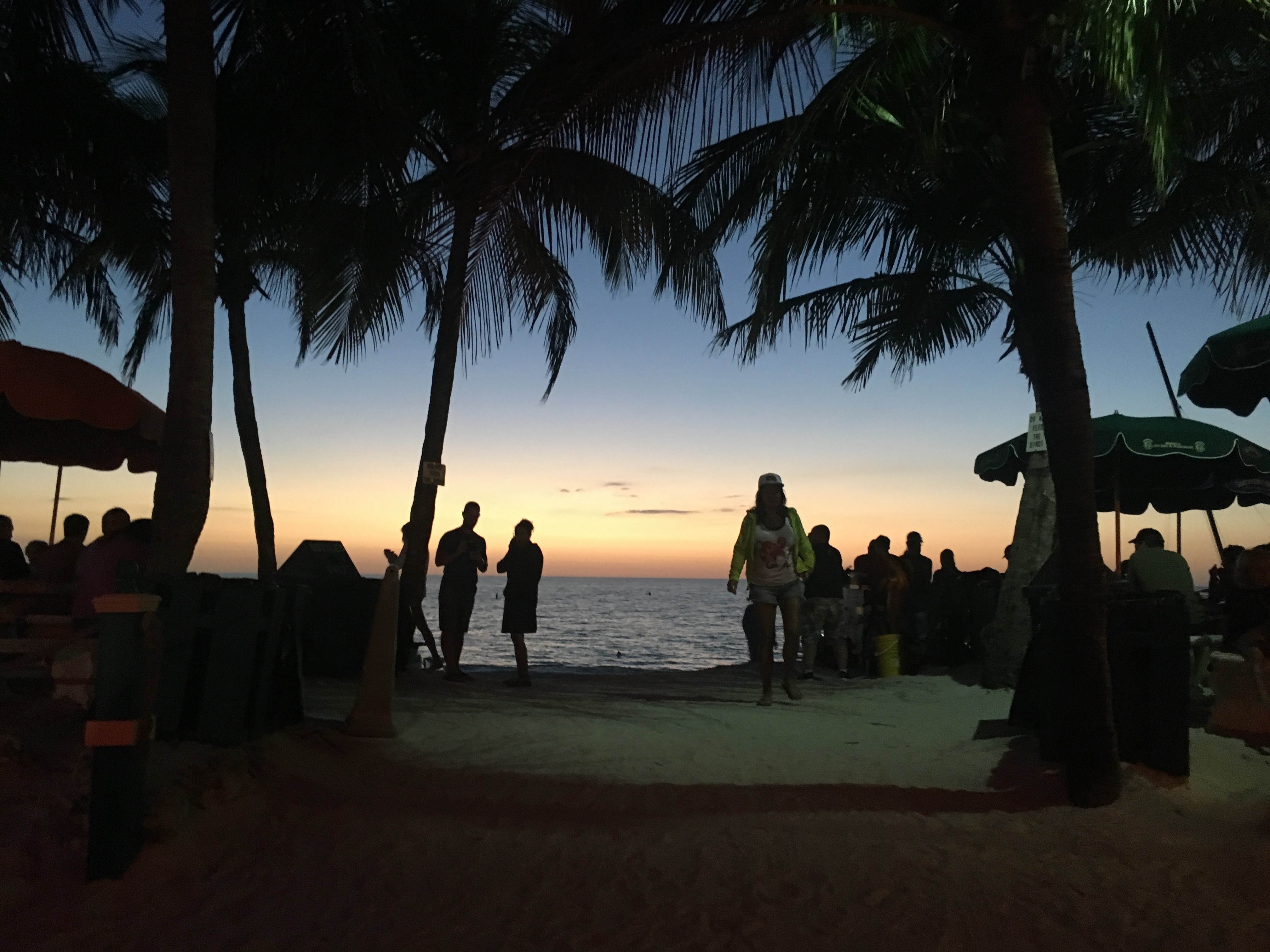 The water and the beach are largely empty now that the sun has set, and all the people have headed up closer toward the restaurant. The restaurant and the bar are even busier now that the sun has gone down. This is peak tourist season in Bonita Springs; a local who had just gotten back from a cruise told me that the best specials on food and drink run from May through September.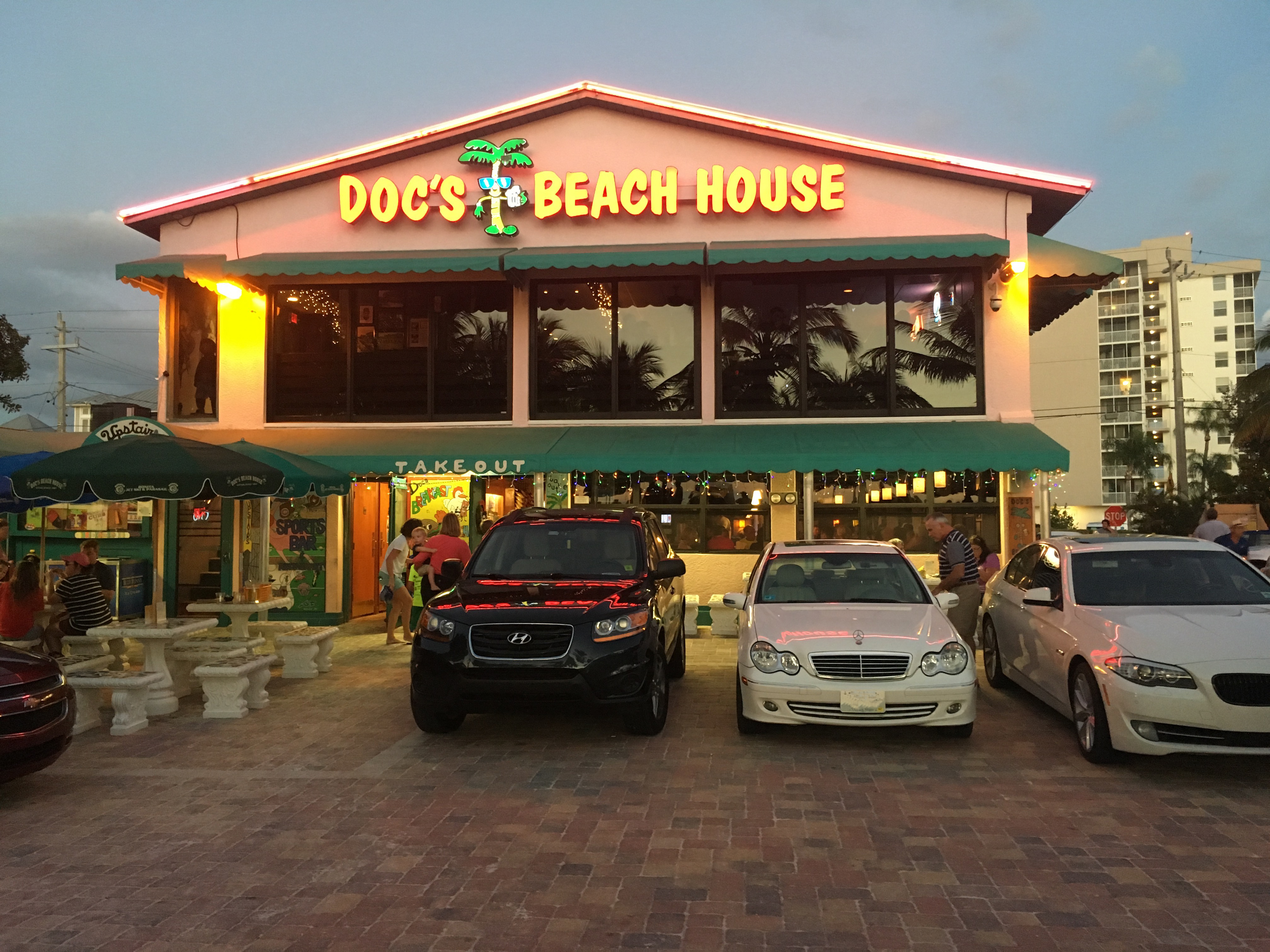 It's six o'clock at Doc's Beach House. This image shows the stairs on the left that lead to the fun sports bar upstairs where a lot of the TV's are. Doc's doesn't seem to have a set closing time, but it will open up again at 7 in the morning. Will some of these same folks be back for French toast or fish & eggs? Maybe.